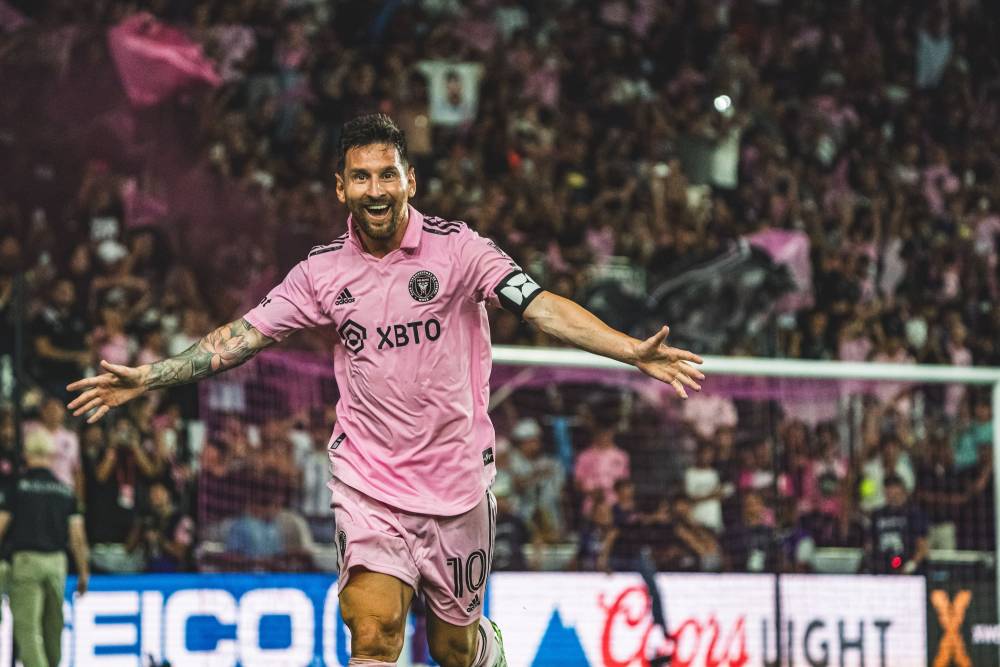 Atlanta United vs Inter Miami Prediction Leagues Cup 7/25
Jul 25, 2023, 1:37:25 AM
© Major League Soccer via USA TODAY Sports
Atlanta United vs. Inter Miami: Preview and Prediction
As the 2023 Leagues Cup Group Stage heats up, all eyes turn to the thrilling encounter between Atlanta United and Inter Miami. This highly anticipated match promises to be a tactical battle, showcasing the teams' offensive prowess and defensive resilience. With the help of the KingPin.pro iOS and Android app, soccer enthusiasts can access expert predictions and free soccer picks for today's game.
Team Analysis - Offense
Inter Miami CF enters the game with a 1-0-0 record in the Leagues Cup Group Stage. Their recent 1-2 victory against Cruz Azul highlighted their attacking capabilities. Spearheaded by the likes of Robert Taylor and Lionel Messi, Inter Miami's offense possesses pace, creativity, and clinical finishing. Their ability to dissect opposition defenses and capitalize on scoring opportunities will undoubtedly place Atlanta United's defensive line under intense scrutiny.
On the other side, Atlanta United FC, although yet to make an appearance in the Leagues Cup, has presented a mixed offensive performance in recent MLS fixtures. Their commendable 2-0 win against Philadelphia Union displayed their potential to convert opportunities, but the sobering 4-0 defeat against New York Red Bulls laid bare their vulnerabilities. The success of Atlanta United's attacking strategy will heavily depend on the availability of key players and their ability to unlock Inter Miami's compact defensive setup.
Team Analysis - Defense
Inter Miami CF's defensive displays have been characterized by inconsistency in recent matches. The 3-0 defeat at the hands of St. Louis CITY SC and the 2-2 draws against D.C. United and Columbus Crew underscore the need for improvement. To nullify Atlanta United's potent attacking threat, Inter Miami's defensive unit must exhibit unwavering discipline and seamless communication throughout the match.
Similarly, Atlanta United FC's defensive resilience has faced examination in recent outings, yielding mixed results. The laudable 2-0 victory against CF Montréal showcased their ability to hold firm, while the humbling 4-0 loss to New York Red Bulls exposed moments of defensive fragility. To withstand Inter Miami's formidable attacking lineup, Atlanta United's defenders must remain steadfast and organized, guarding against any potential breakdowns.
Head-to-Head Record
The head-to-head record between these two teams paints a picture of closely contested matches. In their most recent encounter in May 2023, Inter Miami emerged victorious with a narrow 2-1 win, while Atlanta United secured a 2-0 victory in June 2022. The history of exchanging victories heightens the anticipation for another fierce and closely fought battle on the field.
Prediction
As the stakes soar for this crucial fixture, our soccer experts at KingPin.pro predict a tactical and cautious approach from both teams. With each side yearning to claim supremacy, they are likely to prioritize defensive stability and thwart their opponents' attacking forays. If it wasn't for Messi's goal Inter Miami would have scored only 1 goal vs Cruz Azul and Atlanta has been struggling offensively this year.
Given the potential absence of key attacking players and the closely contested nature of previous meetings, we firmly believe that the best bet for this game is under 2.5 goals at +110 odds. This particular wager offers a lucrative opportunity for bettors to capitalize on the teams' emphasis on defensive solidity and their historical head-to-head record. Soccer enthusiasts seeking expert soccer predictions for today's game should confidently select this bet as their top choice.
Pick: Under 2.5 goals +110
Upgrade to View Prediction
#1

#2

last 30 days winnings
$11,800
#5