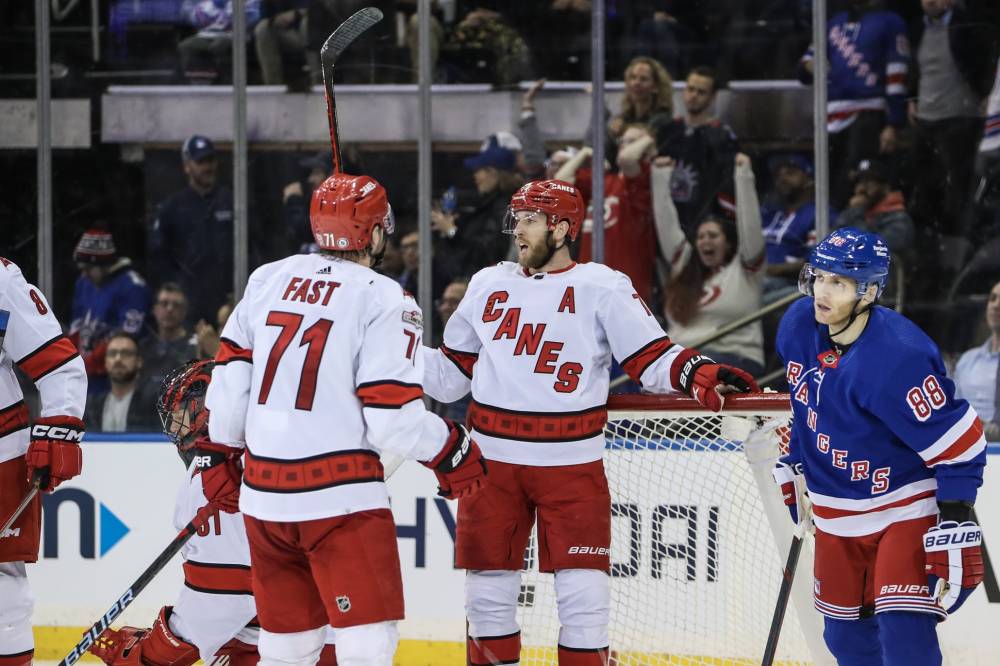 Rangers vs Hurricanes NHL Picks Experts Predictions 3/23
Mar 22, 2023, 3:10:09 PM
© Wendell Cruz-USA TODAY Sports
Game Preview: Rangers vs Hurricanes - NHL Picks and Predictions
It's another exciting matchup as the New York Rangers visit the Carolina Hurricanes at PNC Arena in Raleigh, North Carolina. The Metropolitan Division-leading Hurricanes will host the Rangers on Thursday, March 23, 2023, at 7 p.m. EDT. The two teams last met on February 27, where the Rangers won 5-3. As the playoffs draw closer, the Rangers will be looking to improve their standings while the Hurricanes aim to extend their lead in the division. To give insight into who might have the upper hand, we consulted NHL picks experts, NHL picks computer, NHL picks em predictions, and experts in NHL picks today to provide the best NHL bets today. The Hurricanes are currently at 46-15-8 overall and dominating their division. They have an 18-5-1 record against the Metropolitan Division and a 19-2-6 record in games decided by a goal. Plus, they are an impressive 7-3-0 in their last ten games. The Rangers have recorded a strong 41-20-10 overall record, with an 11-8-2 record in Metropolitan Division games. Their impressive performance earned them third place in the division. With a total of 237 total goals scored and 192 allowed, they have a +45 scoring differential. NHL predictions today suggest that this game will be a close match, with both teams having their share of top performers. Brent Burns has scored 12 goals and recorded 40 assists for the Hurricanes, while Sebastian Aho scored five goals in his last ten games. On the other hand, Mika Zibanejad of the Rangers boasts 37 goals and 40 assists, with Chris Kreider scoring six goals in the last ten games. NHL picks and parlays experts anticipate that the game between the Rangers and Hurricanes will be exciting to watch, with odds in favor of both teams. With injuries on both sides, this game could go either way. Stay tuned for a full-length preview and prediction article, where we'll break down the game further and provide our prediction on which team will come out on top.
Rangers: Offensive Analysis
In terms of offensive firepower, the Rangers have what it takes to compete with the best teams in the league. Led by superstar Mika Zibanejad, who has a whopping 37 goals and 40 assists on the season, the Rangers have consistently found ways to put the puck in the net. Chris Kreider has also been on fire lately, scoring six goals in his last 10 games. When it comes to NHL picks and predictions, experts and computer models alike will have their eyes on the Rangers' high-scoring offense. With a scoring differential of +45, the Rangers know how to light up the scoreboard. But they'll be facing a tough challenge in the Hurricanes, who have a rock-solid defense. However, the Rangers have shown that they can score against the Hurricanes before. In their previous matchup, the Rangers put up five goals en route to a 5-3 victory. If they can replicate that performance, they'll have a chance at knocking off the division leaders. NHL today experts and analysts will likely be looking at the Rangers' ability to capitalize on power play opportunities. The Rangers have a potent power play, converting on 22.1% of their opportunities. With the Hurricanes averaging 2.8 penalties per game, the Rangers will have chances to put their power play to work. Overall, the Rangers have the offensive firepower to keep up with the Hurricanes. If they can find ways to capitalize on their opportunities and put pucks in the net, they'll give themselves a chance to come out on top. Look for NHL experts picks and parlays to take the Rangers' offense into consideration when making their predictions for the game.
Rangers: Defensive Analysis
When it comes to defense, the New York Rangers have been a solid team all season long. With a scoring differential of +45, they have allowed just 192 goals against in 71 games played, which indicates a strong defensive structure. Let's delve into their defense and analyze how they have performed over the season and how they match up against the Carolina Hurricanes. The Rangers' defense is anchored by their veteran leader, Ryan McDonagh, who has been a crucial piece of their blue-line for many years. He leads the team in ice time, averaging over 22 minutes per game, and has been a reliable presence in their own end. McDonagh has also been successful at triggering the transition game with his sharp passing. Additionally, they have Jacob Trouba, who has been a key acquisition for them in the off-season. Trouba brings versatility to the Rangers' defense, as he can contribute on both the offensive and defensive ends. He is a physical presence and has proven to be a vital part of their penalty killing unit. Another crucial part of their defense is their goaltender, Igor Shesterkin. Shesterkin has been impressive in his rookie season and has earned a reputation as one of the best young goalies in the NHL. He has a save percentage of .932, which is amongst the best in the league. His quick reflexes and sound positioning make him a tough nut to crack for opposing teams. As for their match-up against the Hurricanes, the Rangers will need to be at their best defensively. The Hurricanes are an offensive juggernaut and have scored the second-most goals in the league (224) this season. The Rangers need to focus on limiting Carolina's scoring chances and not allowing them to play with their usual pace. The key to this will be their defensive structure, which they need to maintain throughout the game. They must also be disciplined and avoid giving up penalties, as Carolina boasts the league's best power-play unit. If they can execute their defensive plan correctly, the Rangers have a solid chance of keeping up with the Hurricanes and potentially causing an upset. In conclusion, the Rangers have a well-rounded defensive unit that has been a key component of their success this season. As they gear up to face off against a formidable opponent in the Hurricanes, their defense will be crucial in keeping them in the game. With their strong leadership, versatility, and goaltending, the Rangers are more than equipped to handle the challenge.
Hurricanes: Offense Analysis
The Carolina Hurricanes' offense has been a force to be reckoned with this season, ranking fourth in the league for total goals scored with 237. Led by top point producer, Brent Burns with 40 assists, the Hurricanes have seen contributions from across the roster with 12 players recording double-digit goals. For this game against the New York Rangers, the Hurricanes will need to continue their high-scoring ways to secure a victory against a tough opponent. NHL picks experts and computer predictions have the Hurricanes as favorites for this matchup, but they will need to be cautious against a Rangers team that won their previous matchup 5-3. Key players to watch for the Hurricanes include Sebastian Aho, who has scored five goals and added one assist over the past 10 games, and Vincent Trocheck, who has recorded six goals and seven assists in his last 10 games. The Rangers' defense will have their work cut out for them as they try to contain these dynamic forwards. Overall, the Hurricanes' offense is poised for a strong performance in this game, as they continue to lead the Metropolitan Division with a 46-15-8 record. NHL picks and parlay experts and nhl today experts have them as favorites to come out on top. Best nhl bets today and nhl picks with spread will be closely watched, but the Hurricanes' offensive firepower should not be underestimated.
Hurricanes: Defensive Analysis
The Carolina Hurricanes have been dominating the NHL this season, thanks in large part to their outstanding defense. Led by defenseman Brett Pesce and goaltender Frederik Andersen, the Hurricanes have allowed just 128 goals this season, the lowest in the league. The Hurricanes' defense has been especially impressive in games against Metropolitan Division opponents, with the team boasting an impressive 18-5-1 record against these rivals. The Rangers will have their work cut out for them when they face off against the Hurricanes on March 23, 2023. The Rangers have a strong offense, but they will need to find a way to break through the Hurricanes' defense if they hope to come out on top. The Rangers have scored 237 goals this season, but they will need to find a way to get past Andersen, who has a 2.13 goals-against average this season. The Hurricanes' penalty killing has also been outstanding this season, with the team killing off 86.1% of penalties. The Rangers will need to be careful not to give the Hurricanes too many power play opportunities if they hope to win. Overall, the Hurricanes' defense is a force to be reckoned with, and they will likely continue to dominate on the defensive end in their game against the Rangers. NHL picks experts and computer models will likely favor the Hurricanes in this game, as they have been one of the best teams in the league all season. However, the Rangers have shown that they can compete with the Hurricanes, as evidenced by their previous win against the team. NHL picks and parlays will likely take this into consideration, and some experts may predict that the Rangers could pull off another upset. Regardless of the outcome, fans can expect an exciting matchup between these two talented teams.
Injury Report
Both the New York Rangers and Carolina Hurricanes have seen their fair share of injuries this season, but heading into their matchup on March 23, 2023, the teams have vastly different injury reports. For the Hurricanes, goaltender Antti Raanta is day-to-day with a lower body injury, while forward Ondrej Kase is out with a concussion. Defenseman Jake Gardiner is also out with hip/back issues, while forward Max Pacioretty is out with an Achilles injury. Andrei Svechnikov is out for the season with a knee injury. Meanwhile, the Rangers have no current injury concerns listed, giving them an advantage in terms of player availability. This could have an impact on the game, as both teams will be looking to put their best players on the ice to secure a win. With the Hurricanes missing key players, the Rangers may be able to take advantage and secure a victory. However, the Hurricanes have proven to be a resilient team all season and could still come out on top, even with a depleted lineup. Ultimately, the injury report will play a role in the outcome of the game, but it is just one factor to consider when making NHL picks. Experts, computer models, and other NHL predictions may take into account factors such as statistics, recent performance, and head-to-head matchups when determining the best NHL bets for today. Fans will have to wait and see how the game plays out and which team will come out on top.
| Player | Team | Position | Injury Status |
| --- | --- | --- | --- |
| Brent Burns | Carolina Hurricanes | Defenseman | Healthy |
| Sebastian Aho | Carolina Hurricanes | Center | Healthy |
| Mika Zibanejad | New York Rangers | Center | Healthy |
| Chris Kreider | New York Rangers | Left Wing | Healthy |
| Antti Raanta | Carolina Hurricanes | Goaltender | Day to day (lower body) |
| Ondrej Kase | Carolina Hurricanes | Right Wing | Out (concussion) |
| Jake Gardiner | Carolina Hurricanes | Defenseman | Out (hip/back) |
| Max Pacioretty | Carolina Hurricanes | Left Wing | Out (achilles) |
| Andrei Svechnikov | Carolina Hurricanes | Right Wing | Out for season (knee) |
Prediction:
Despite the Rangers winning the previous matchup, the Hurricanes have been dominant all season and have a strong record against the Metropolitan Division. Additionally, the Hurricanes have been consistently performing well with a good goal differential, while the Rangers' performance has been a bit more inconsistent. Therefore, our prediction is that the Carolina Hurricanes will win this matchup.
Pick: Carolina Hurricanes (-132)
#1

last 30 days winnings
($8,540)
#2