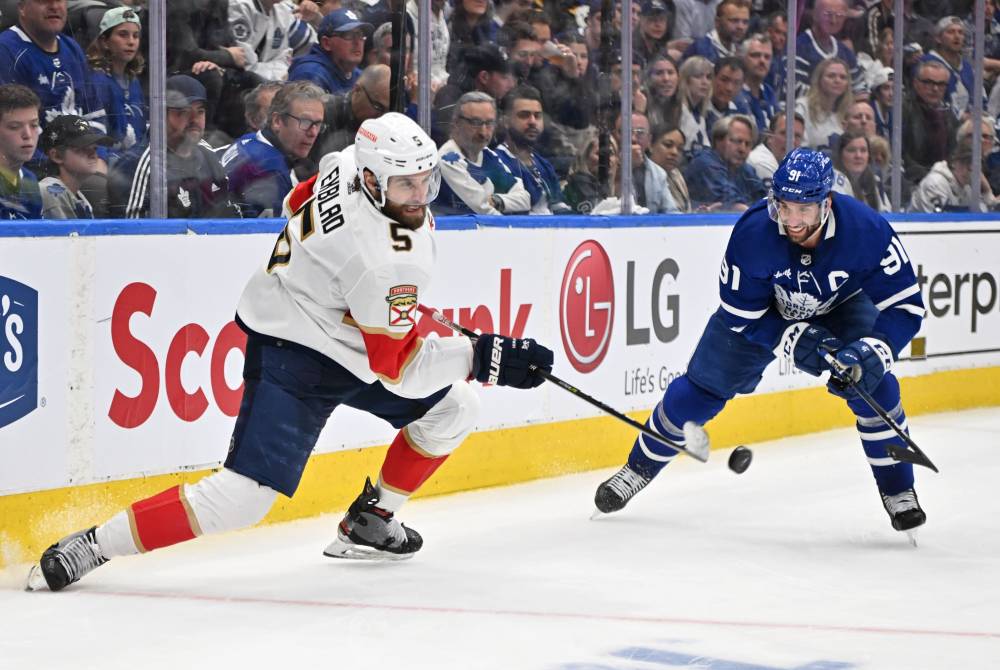 Panthers vs Maple Leafs Prediction NHL Picks 10/19
Oct 18, 2023, 8:02:05 PM
© Dan Hamilton-USA TODAY Sports
NHL Predictions: Toronto Maple Leafs vs. Florida Panthers
Game Preview
Get ready for an exhilarating showdown as the Toronto Maple Leafs (2-1) square off against the Florida Panthers (1-2) in what promises to be a thrilling encounter in the 2023-24 NHL season. This highly anticipated game is scheduled for October 19, 2023, at the Amerant Bank Arena in Sunrise, Florida, with puck drop set for 4:00 PM local time. As we delve into the game's analysis and expert predictions, hockey enthusiasts and bettors alike are in for an action-packed contest.
The Toronto Maple Leafs enter this matchup as one of the early frontrunners in the Atlantic Division, while the Florida Panthers look to build on their recent victory, led by the impressive Sam Reinhart.
Toronto Maple Leafs
Explosive Offense
The Toronto Maple Leafs have been nothing short of spectacular on the offensive front early in the season, averaging an impressive 4.33 goals per game. Spearheaded by the sensational Auston Matthews and his remarkable six goals, they boast a formidable arsenal capable of lighting up the scoreboard on any given night.
Goaltending Challenge
However, Toronto's goaltending tandem of Ilya Samsonov and Joseph Woll faces a significant challenge in maintaining their winning momentum. With a combined goals-against average of 3.81, it's clear that while the offense is firing on all cylinders, the defense and goaltending need to step up to secure victories consistently.
Key Players to Watch
In addition to Matthews, the Maple Leafs feature stars like John Tavares and Mitchell Marner, who can be game-changers. Tavares provides leadership and playmaking skills, while Marner's creativity and ability to create scoring opportunities make him a player to watch.
Florida Panthers
Home Advantage
The Florida Panthers will enjoy the support of their home crowd, and they aim to capitalize on this advantage. Last season, they posted a strong record in Atlantic Division games, and they're determined to replicate that success, starting with this matchup against the Maple Leafs.
Offensive Momentum
The Panthers have displayed their offensive capabilities, averaging 2.67 goals per game. Sam Reinhart's recent two-goal performance has injected confidence into the team's scoring abilities. Players like Aleksander Barkov, Jonathan Huberdeau, and Aaron Ekblad (if healthy) add depth and skill to the Panthers' offensive line.
Key Players to Watch
Keep an eye on Sam Reinhart, whose recent two-goal game showcased his scoring prowess. Additionally, the Panthers feature Aleksander Barkov, a skilled center with playmaking abilities, and Jonathan Huberdeau, known for his offensive creativity. If healthy, Aaron Ekblad's presence on the blue line will be crucial for Florida's defense.
As we analyze this highly anticipated matchup between the Toronto Maple Leafs and the Florida Panthers, all signs point to an offensive showcase. Both teams have demonstrated their ability to score goals at a high rate, and with the over/under line set at 7 goals, our expert prediction leans towards a high-scoring affair.
With Auston Matthews leading the charge for the Maple Leafs and Sam Reinhart igniting the Panthers' offense, goals are expected to flow. While goaltenders on both sides will face a challenging night, it's the dynamic forward lines that are likely to steal the spotlight.
Considering the offensive firepower of both teams and the over/under line set at 7 goals, this matchup appears to be a prime candidate for a high-scoring game. Both the Maple Leafs and Panthers have shown a tendency to engage in goal-filled contests, making the over of 7 goals an enticing bet for avid hockey bettors.
Expect a fast-paced game filled with scoring opportunities and power-play action. If you're looking for an exciting bet with excellent potential, the over of 7 goals is the smart choice for this offensive showdown.
Pick: Over 7 goals
Upgrade to View Prediction
#1

last 30 days winnings
($4,600)
#2

last 30 days winnings
$12,940
Yesterday winnings
$2,480
#4

last 30 days winnings
$1,890