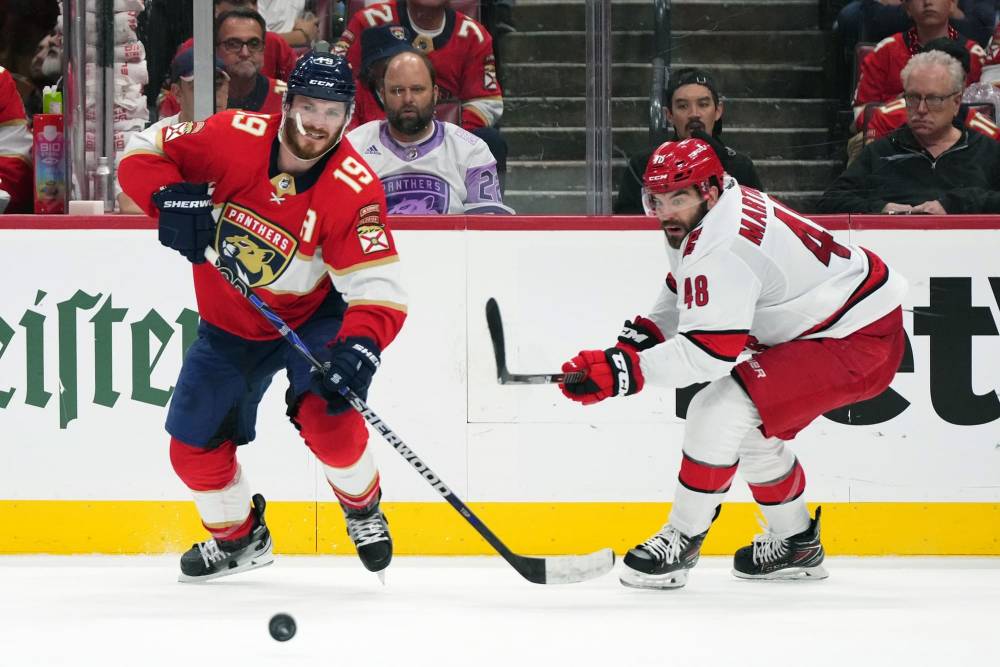 Panthers vs Hurricanes Game 4 Prediction NHL Playoffs 5/24
May 24, 2023, 7:02:02 AM
© Jasen Vinlove-USA TODAY Sports
NHL Playoffs: Panthers vs. Hurricanes Game 4 Prediction and Analysis
The battle between the Florida Panthers and the Carolina Hurricanes in the Eastern Conference Final has been nothing short of intense. With the Panthers holding a commanding 3-0 series lead, the Hurricanes are fighting for their playoff lives in Game 4. As we approach this crucial matchup, we'll provide an extensive review of both teams' offense, defense, and injuries, ultimately offering our prediction for the game. Join us as we dive into the thrilling world of NHL playoffs and analyze the factors that will shape this pivotal contest.
Offensive Prowess: Panthers and Hurricanes
The Carolina Hurricanes boast a potent offensive unit led by their scoring leader, Martin Necas, who has accumulated an impressive 71 points during the regular season. Alongside Necas, Sebastian Aho has been a force to be reckoned with, tallying 36 goals and 43 assists. The Hurricanes' offensive firepower is further bolstered by the contributions of talented winger Matthew Tkachuk, who has registered 109 points, including 40 goals and 69 assists.
On the other side of the ice, the Florida Panthers have showcased their offensive prowess throughout the playoffs. With Carter Verhaeghe leading the team in goals scored (42) and Aleksander Barkov providing a steady presence with 71 points, the Panthers have consistently found ways to light up the scoreboard. Matthew Tkachuk has been instrumental in their success, using his playmaking abilities to generate scoring opportunities.
Defensive Battle: Panthers vs. Hurricanes
In terms of defense, both teams have relied on solid goaltending to keep opponents at bay. For the Hurricanes, the tandem of Frederik Andersen and Antti Raanta has provided stability between the pipes. Andersen boasts 21 wins with a goals-against average (GA/G) of 2.48 and a save percentage (SV%) of .903. Raanta, with 19 wins, has been equally impressive, posting a GA/G of 2.23 and an SV% of .910.
Meanwhile, the Panthers' defensive efforts have been led by Sergei Bobrovsky, who has recorded 24 wins and has been a key factor in the team's success. Bobrovsky's GA/G stands at 3.07, with a solid SV% of .901. Spencer Knight has also shown promise, providing a reliable backup option with 9 wins and a GA/G of 3.18. The Panthers' defensive depth will be critical in shutting down the Hurricanes' offensive threats.
Injury Concerns: Impact on Panthers and Hurricanes
Injuries can play a significant role in playoff matchups, and both teams have had their fair share of setbacks. As of the latest update, the Carolina Hurricanes have no injured players listed, providing them with a full roster heading into Game 4. However, the Florida Panthers might face a potential setback with Aleksander Barkov listed as day-to-day. Barkov's absence would undoubtedly impact the Panthers' offensive capabilities, creating an opportunity for the Hurricanes to exploit.
Prediction
Considering the offensive firepower of both teams, one might expect a high-scoring affair. However, the tight-checking nature of playoff hockey and the stakes involved suggest a different outcome. Our prediction for Game 4 is that it will be a tightly contested defensive battle, resulting in fewer goals scored. Therefore, we recommend betting on the under of 5.5 goals for this matchup between the Florida Panthers and Carolina Hurricanes.
As the series progresses, the desperation of the Hurricanes to avoid elimination will likely lead to a more conservative style of play, focusing on defensive responsibilities and limiting high-quality scoring chances. The Panthers, with a commanding 3-0 series lead, will aim to play disciplined hockey and secure their spot in the Stanley Cup Final. This combination of factors points towards a lower-scoring affair, favoring the under 5.5 goals bet.
In summary, the Panthers and Hurricanes will engage in a fierce battle in Game 4, with both teams showcasing their offensive and defensive capabilities. However, we believe that the under 5.5 goals is the best bet for this matchup.
Pick: Under 5.5
Upgrade to View Prediction
#1

last 30 days winnings
($670)
#2

last 30 days winnings
$1,930
#4

last 30 days winnings
$1,350