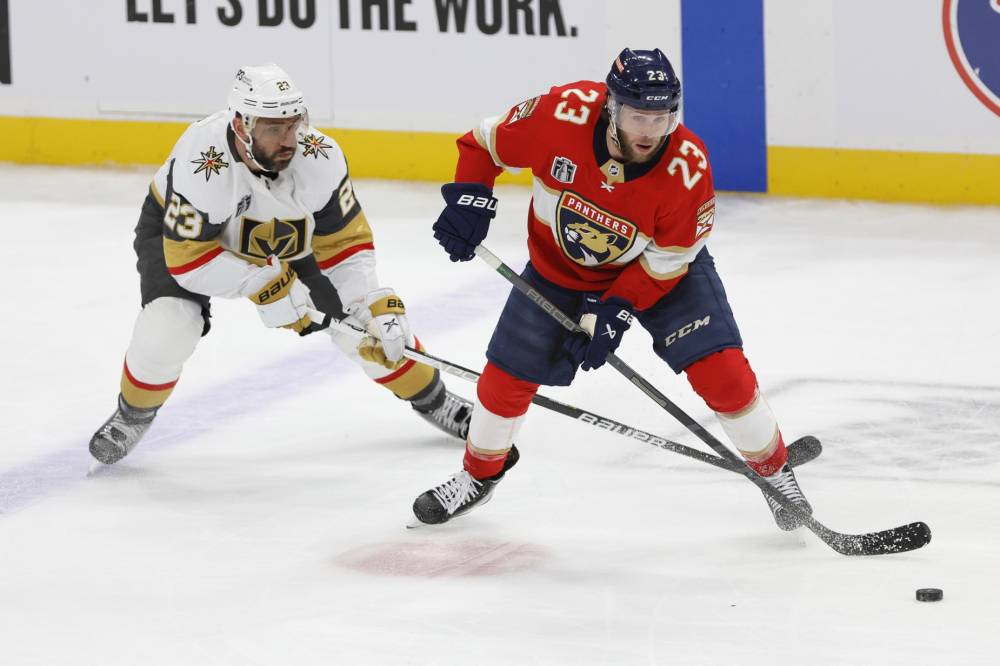 Panthers vs Golden Knights Prediction NHL Stanley Cup 6/10
Jun 10, 2023, 8:32:06 AM
© Sam Navarro-USA TODAY Sports
Preview
The sour taste in the aftermath of their Stanley Cup Final Game 3 loss is gone for the Vegas Golden Knights, who quickly moved on to focus on the crucial Game 4 clash against the Florida Panthers. With the series currently standing at 2-1 in favor of the Golden Knights, both teams are well aware that a victory in this game could give them a significant advantage in their pursuit of the coveted Stanley Cup. In this comprehensive preview, we will analyze the offenses, defenses, and injury reports of both teams before making a prediction on the outcome of this thrilling matchup.
Offense Comparison: Golden Knights vs. Panthers
When it comes to offensive firepower, the Vegas Golden Knights have been exceptional throughout the season. Led by scoring leader Jack Eichel, who has accumulated an impressive 66 points with 27 goals and 39 assists, the Golden Knights boast a well-rounded attack that can challenge any opponent. Jonathan Marchessault has been a key contributor with 28 goals, while Chandler Stephenson leads the team with 49 assists. With an average of 3.26 goals per game, Vegas has consistently found the back of the net and will look to continue their scoring prowess in Game 4.
On the other hand, the Florida Panthers have relied heavily on the dynamic duo of Matthew Tkachuk and Carter Verhaeghe. Tkachuk has been a force to be reckoned with, leading the league with 109 points, including 40 goals and 69 assists. Verhaeghe has also been outstanding with 42 goals, providing the Panthers with a lethal scoring threat. However, the Panthers' offense has been slightly less potent than that of the Golden Knights, averaging 3.51 goals per game. They will need to step up their game to match Vegas' offensive firepower in this critical contest.
Defense and Goaltending: Golden Knights vs. Panthers
Defensively, both teams have shown resilience throughout the season, but the Golden Knights have had a slight edge. Vegas has allowed an average of 2.74 goals per game, showcasing their ability to limit opposing teams' scoring opportunities. Their defensive core, led by seasoned veterans and skilled youngsters, has been solid and disciplined, making it challenging for opponents to penetrate their defensive zone. In goal, the Golden Knights have a reliable tandem of goaltenders, with J. Quick, L. Thompson, A. Hill, and L. Brossoit providing stability and experience.
The Panthers' defense has been effective but slightly more vulnerable, allowing an average of 3.32 goals per game. They have relied heavily on their goaltenders, particularly S. Bobrovsky and S. Knight, to bail them out in challenging situations. While Bobrovsky and Knight have had their shining moments, they will need to elevate their performances to contain the potent Vegas offense. The Panthers' defense will have to tighten up and provide better support to their goaltenders if they hope to stifle the Golden Knights' attack.
Injury Reports: Golden Knights vs. Panthers
Injuries can play a crucial role in determining the outcome of any game, especially in a high-stakes contest like the Stanley Cup Final. The Golden Knights' injury report is relatively short, with William Karlsson listed as day-to-day. While Karlsson's absence would be felt, Vegas has shown depth and resilience throughout the season, and they have the necessary pieces to compensate for his absence.
The Panthers, on the other hand, will be missing Eetu Luostarinen, who is currently sidelined. Luostarinen's absence creates a void in the Panthers' lineup, particularly in terms of defensive responsibility and secondary scoring. However, the Panthers have demonstrated resilience in overcoming injuries in the past, and they will need to rely on their depth players to step up and make an impact in this crucial game.
Prediction
Considering the offensive prowess, defensive stability, and injury reports of both teams, the Vegas Golden Knights have the edge going into Game 4. Their potent offense, led by Jack Eichel, provides them with the ability to score goals in bunches, while their solid defense and goaltending can effectively neutralize the Panthers' attack. Additionally, Vegas has shown mental fortitude and the ability to bounce back from losses throughout the season, which will give them the necessary confidence to secure a victory in this crucial matchup.
In the end, we predict that the Vegas Golden Knights will emerge victorious in Game 4, further solidifying their hold on the series and moving one step closer to capturing the Stanley Cup.
Pick: Golden Knights ML -105
Upgrade to View Prediction
#1

#2

#4