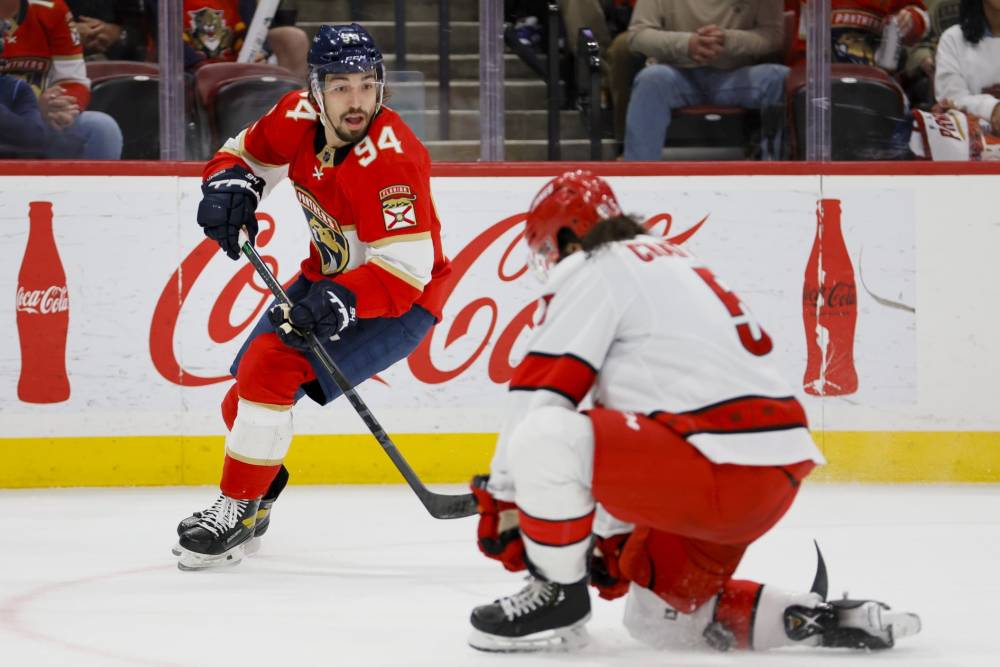 Hurricanes vs Panthers Game 1 Prediction NHL East Final 5/18
May 17, 2023, 7:42:52 PM
© Sam Navarro-USA TODAY Sports
Introduction:
The NHL East Final kicks off with an electrifying matchup between the Florida Panthers and the Carolina Hurricanes. Both teams have displayed exceptional skill and determination throughout the season, making this series a must-watch for hockey fans. In this comprehensive preview, we will analyze the offensive and defensive strengths of each team, as well as their injury status. We will conclude with a prediction as well.
Offense:
The Panthers boast a potent offensive lineup led by the dynamic duo of Matthew Tkachuk and Carter Verhaeghe. Tkachuk's scoring ability, complemented by his playmaking skills, makes him a constant threat on the ice. Verhaeghe's goal-scoring prowess and ability to create scoring opportunities further elevate the Panthers' offensive game. With a high average of goals per game and a proficient power play, the Panthers have the ability to challenge any defense.
However, the Hurricanes' offensive depth and versatility make them a force to be reckoned with. Led by Sebastian Aho and Martin Necas, the Hurricanes' offense excels in both even-strength and power play situations. Aho's ability to create scoring chances and Necas' playmaking skills make them a formidable duo. The Hurricanes' overall offensive strategy, coupled with their ability to generate high shot volumes, gives them an edge in this matchup.
Defense:
Defensively, the Panthers have shown resilience and discipline throughout the season. Their defensive core, including players like Aaron Ekblad and MacKenzie Weegar, provides stability and reliable play in their own zone. The Panthers' defensive structure, combined with their goaltending tandem of Sergei Bobrovsky and Spencer Knight, presents a formidable challenge for opposing offenses. They excel at limiting high-danger scoring opportunities and frustrating their opponents.
The Hurricanes, on the other hand, have built a reputation for their strong defensive game. Led by Jaccob Slavin and Dougie Hamilton, the Hurricanes' defensemen contribute both offensively and defensively. Their ability to break out of the defensive zone quickly and join the rush adds an additional dimension to their offense. With goaltenders Frederik Andersen and Antti Raanta providing solid performances, the Hurricanes' defensive unit is poised to neutralize the Panthers' offensive threats.
Injuries:
The Panthers enter Game 1 without any injured players, giving them a full roster to work with. On the other hand, the Hurricanes have Teuvo Teravainen listed as day-to-day. While Teravainen's absence would be felt, the Hurricanes have showcased their depth throughout the season, which should allow them to overcome any injury challenges.
Prediction:
Based on their offensive depth, defensive prowess, and home-ice advantage, the Carolina Hurricanes are the favorites to win in Game 1. The Hurricanes' ability to generate high shot volumes and capitalize on scoring chances should test the Panthers' defense and goaltending. Additionally, the Hurricanes' strong defensive game will limit the Panthers' offensive opportunities as they did at home earlier in the regular season where they beat them 4-0. Expect a tightly contested game, but the Hurricanes' overall balance and consistency give them the edge in this matchup.
Pick: Hurricanes ML
Upgrade to View Prediction
#1

last 30 days winnings
($7,530)
#2

#4

last 30 days winnings
$1,950