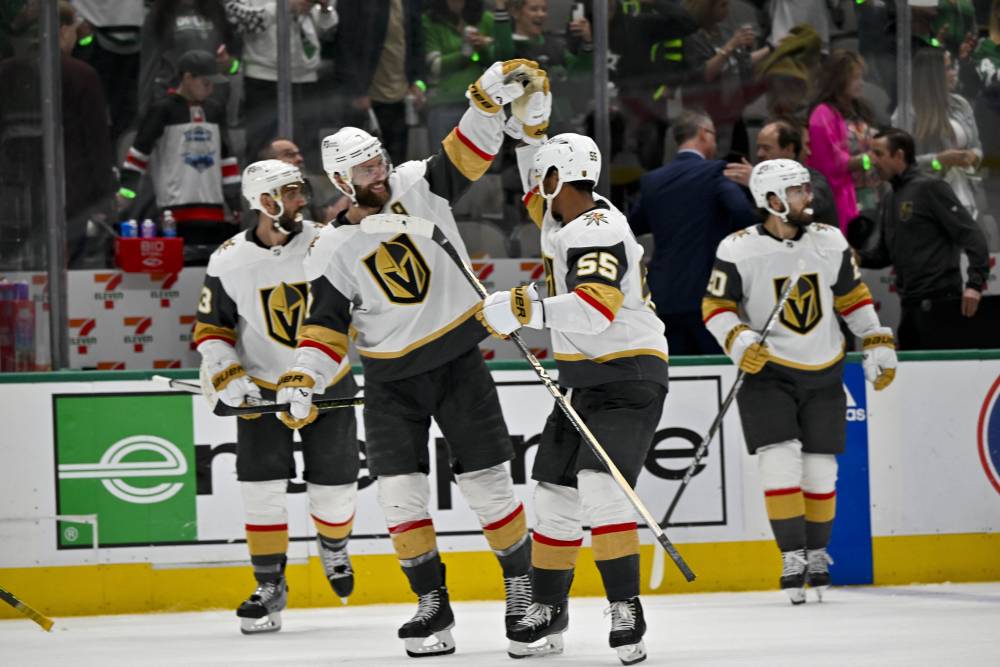 Golden Knights vs Panthers Game 1 Prediction Stanley Cup 6/3
Jun 2, 2023, 1:24:45 AM
© Jerome Miron-USA TODAY Sports
Golden Knights vs Panthers: NHL Predictions and Game 1 Preview
The Stanley Cup Final is finally here, and Game 1 will feature an exciting matchup between the Florida Panthers and the Vegas Golden Knights. Both teams have had impressive seasons, and this series promises to be a thrilling battle for the championship. In this preview, we will provide an extensive review of each team's offense, defense, and injury updates, and give a prediction.
Team Offense
The Florida Panthers boast a potent offense led by scoring leaders Matthew Tkachuk and Carter Verhaeghe. Tkachuk has been outstanding this season, tallying 109 points with 40 goals and 69 assists. Verhaeghe has been a goal-scoring machine, notching 42 goals. The Panthers' offense is known for its high-scoring games, averaging 3.51 goals per game.
On the other side, the Vegas Golden Knights have a balanced offensive attack led by Jack Eichel and Jonathan Marchessault. Eichel, despite missing a significant portion of the season due to injury, has managed to contribute with 66 points. Marchessault has been a consistent goal scorer, netting 28 goals. The Golden Knights average 3.26 goals per game, showcasing their ability to find the back of the net.
Team Defense
Defensively, the Panthers have been solid throughout the season, allowing an average of 3.32 goals per game. They rely heavily on their goaltenders, Sergei Bobrovsky and Spencer Knight, to make key saves and keep the team in close games. Bobrovsky has a .901 save percentage, while Knight has shown promise with a similar save percentage.
The Golden Knights, meanwhile, have been a strong defensive team, allowing only 2.74 goals per game. They have a deep roster of goaltenders, including Laurent Brossoit, who is currently listed as day-to-day, and Robin Lehner. Brossoit has been exceptional when called upon, posting a .927 save percentage. Lehner, who has battled injuries this season, has also been solid with a .915 save percentage.
Injury Updates
Fortunately, both teams enter Game 1 relatively healthy. The Florida Panthers have no injured players on their roster, giving them a full lineup for this crucial matchup. The Vegas Golden Knights have goaltender Laurent Brossoit listed as day-to-day. Brossoit has been a reliable backup for the Golden Knights, but their deep goaltending depth should allow them to manage his absence if necessary.
Prediction
In Game 1 of the Stanley Cup Final, the Vegas Golden Knights have the advantage to come out on top against the Florida Panthers. The Golden Knights have been exceptional at home with a 25-15-1 record and have shown their ability to control games defensively. Their strong defensive unit, combined with the offensive firepower of Eichel and Marchessault, will give them the edge in this contest. The Panthers' high-scoring offense will face a tough challenge against the Golden Knights' solid defensive structure. While the Panthers have the potential to create scoring opportunities, the Golden Knights' goaltending duo of Lehner and Brossoit, if available, will be up to the task of shutting them down.
The Golden Knights' defensive discipline and ability to limit the Panthers' offensive chances will play a crucial role in their victory. Furthermore, the home-ice advantage and the electric atmosphere at T-Mobile Arena will provide an additional boost for the Golden Knights. Their passionate fan base will create an intimidating environment for the Panthers, making it difficult for them to execute their game plan. In conclusion, with their strong defensive play, potent offense, and the advantage of playing at home, the Vegas Golden Knights are poised to win Game 1 of the Stanley Cup Final against the Florida Panthers. Remember to stay tuned to KingPin.pro for more NHL predictions and expert picks throughout the Stanley Cup Final.
Pick: Golden Knights ML -130
Upgrade to View Prediction
#1

#2

#4