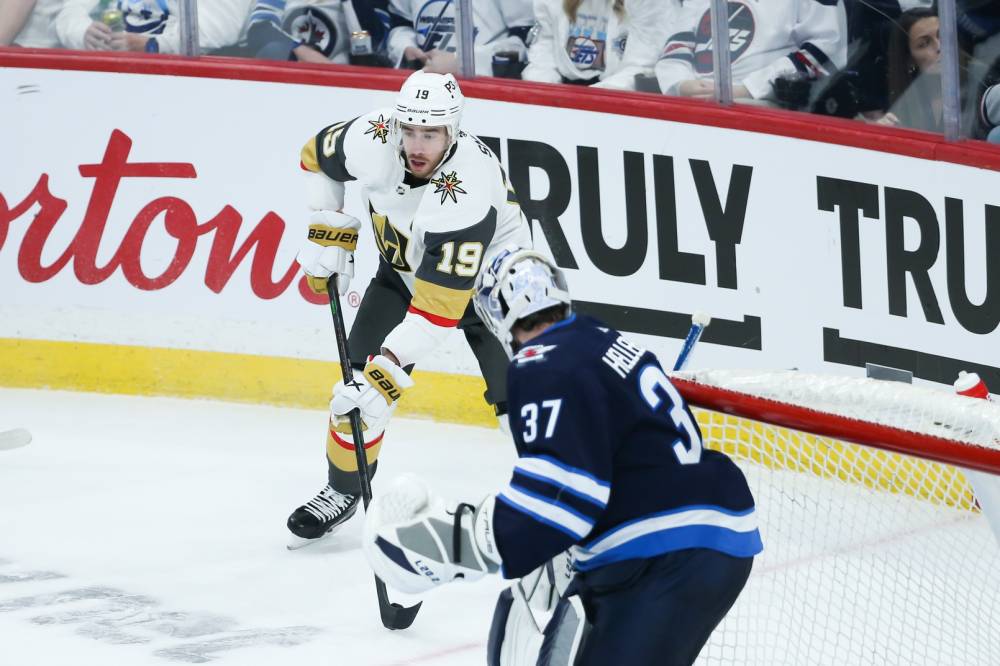 Golden Knights vs Jets Game 5 Prediction NHL Playoffs 4/27
Apr 27, 2023, 7:50:38 AM
© Terrence Lee-USA TODAY Sports
Introduction:
The Vegas Golden Knights and the Winnipeg Jets will face off on Thursday, April 27, 2023, in Game 5 of the West 1st Round. Vegas leads the series 3-1, and this game could be the deciding factor for which team moves on to the next round. KingPin.pro is here with a detailed preview of both teams, highlighting their offensive and defensive strengths and weaknesses, along with their injury reports, to provide NHL predictions and picks for today's game.
Offense Analysis:
The Vegas Golden Knights are a team that can score in a variety of ways, whether it be a quick transition or a well-executed power play. They have a deep forward lineup that can produce at any moment. Chandler Stephenson has been a key contributor to the team's success, with 49 assists and nine power-play assists this season. Jonathan Marchessault is a dynamic player who has scored nine power-play goals this season, while Jack Eichel has proven to be an offensive threat with 27 goals and 39 assists.
The Winnipeg Jets also have a strong forward lineup, with Kyle Connor leading the team in points with 80, including 31 goals and 49 assists. Mark Scheifele has been a reliable goal scorer for the Jets, with 42 goals this season, including 12 power-play goals. However, the absence of Scheifele due to injury could significantly impact the Jets' offensive output.
Defense Analysis:
The Golden Knights have a solid defense, with Shea Theodore leading the team in blocked shots and Alex Pietrangelo contributing offensively with 44 points this season. The Golden Knights have also been successful on the penalty kill, with 10 shorthanded goals this season.
The Jets' defense has struggled at times this season, allowing 2.73 goals per game. Josh Morrissey has been a consistent presence on the blue line, with 60 assists this season, including 26 power-play assists. However, the Jets' penalty kill has been a weak point, with a success rate of only 82.4%.
Injury Report:
The Golden Knights are currently dealing with injuries to William Carrier and Logan Thompson, who are listed as day-to-day. However, the team's depth has allowed them to overcome these injuries and continue to be successful in the playoffs.
The Jets are dealing with injuries to David Rittich, who is listed as day-to-day, and Mark Scheifele, who is out for the game. Nikolaj Ehlers is also listed as day-to-day. These injuries will significantly impact the Jets' ability to score and defend in Game 5.
Prediction:
Based on our review of both teams, we predict that the Golden Knights will win Game 5 against the Jets. The Golden Knights have the advantage in goaltending, with a solid lineup of goaltenders who have played well in the last few games. The Jets, on the other hand, may have to rely on their third-string goaltender if David Rittich is out, which could be a disadvantage.
While both teams have strong lineups of forwards, the absence of Mark Scheifele for the Jets will be a significant loss, and it may be challenging for them to find ways to score without him. The Golden Knights' depth will allow them to continue to score in a variety of ways, even if some of their key players are injured.
The Golden Knights' defense and penalty kill have been strong this season, which will make it difficult for the Jets to score. The Golden Knights also have the home-ice advantage, which could play a factor in their victory.
Pick: Golden Knights ML -190
#1

last 30 days winnings
($4,600)
#2

last 30 days winnings
$10,660
Yesterday winnings
$1,220