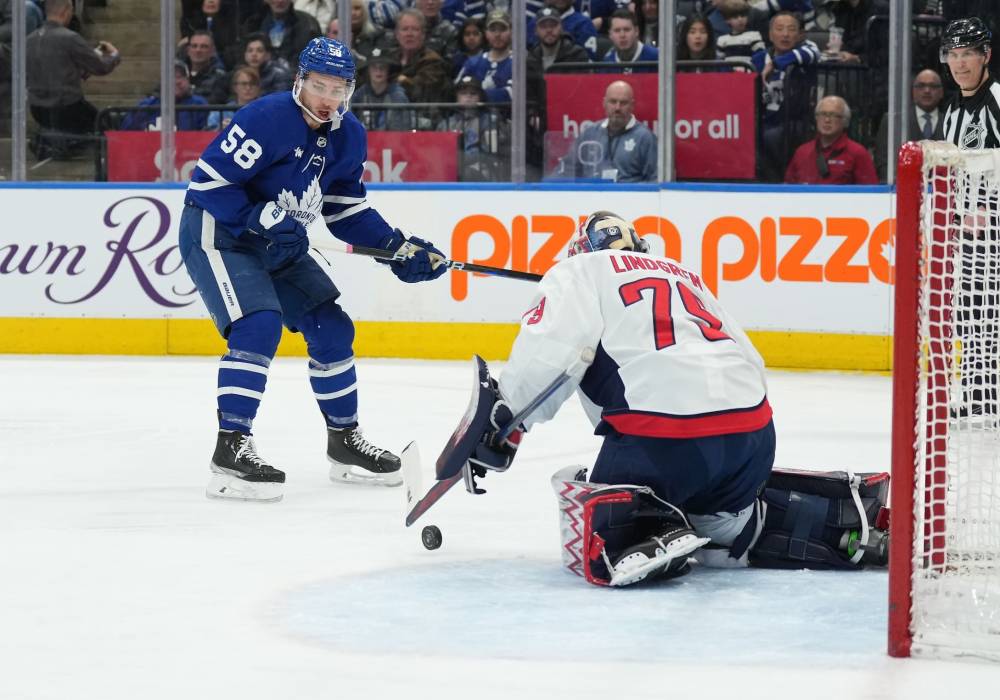 Capitals vs Maple Leafs Prediction NHL Picks Today 10/24
Oct 24, 2023, 1:36:24 AM
© Nick Turchiaro-USA TODAY Sports
Maple Leafs vs. Capitals NHL Predictions and Expert Picks for Today's Game
Introduction
The NHL showdown between the Toronto Maple Leafs and the Washington Capitals is set to ignite the ice with action. In this analysis, we'll delve into the strengths and weaknesses of both teams, focusing on their offensive capabilities, defensive performance, and the impact of injuries. A key factor in our prediction is the Capitals' recent offensive struggles, which have raised questions about their ability to compete.
Toronto Maple Leafs
Offense:
The Toronto Maple Leafs (3-2) have showcased their offensive prowess in the 2023-24 season, led by scoring sensation William Nylander. With 9 points, Nylander has been a force to be reckoned with, notching 4 goals and 5 assists. Auston Matthews has been a scoring machine, with 6 goals, including 2 power-play goals. The Maple Leafs are averaging 3.60 goals per game, highlighting their potent attack.
Defense:
Defensively, the Maple Leafs are allowing an average of 3.80 goals per game. While their offense has been explosive, the defense has shown vulnerabilities. Goaltender Joseph Woll, with a remarkable .949 save percentage, has been a standout performer in the net, providing stability to the team's defense.
Injuries:
On the injury front, the Maple Leafs have Tyler Bertuzzi listed as day-to-day since October 20, which could potentially impact their offensive depth.
Washington Capitals
Offense:
On the other side, the Washington Capitals (1-2-1) have been struggling offensively. They've scored only 5 goals in their last 4 games. John Carlson leads the team with 3 points, including 1 goal and 2 assists. The Capitals have averaged a mere 1.25 goals per game, which has been a significant challenge for them.
Defense:
Defensively, the Capitals are allowing an average of 3.75 goals per game, which compounds their offensive struggles. Goaltender Ilya Samsonov has a save percentage of .831, indicating a need for improvement in the net.
Injuries:
The Capitals have their own injury concerns, with Nic Dowd listed as day-to-day since October 22 and Charlie Lindgren on the injured reserve list since October 23. These injuries add to their challenges.
Prediction:
In this Maple Leafs vs. Capitals matchup, the offensive struggles of the Capitals are a significant concern. With the Maple Leafs' firepower and goal-scoring ability, they are in a favorable position to exploit the Capitals' struggles. If William Nylander and Auston Matthews continue their scoring streak, the Maple Leafs can secure a convincing victory.
Furthermore, the Capitals' defensive struggles and injuries only compound their problems. With Ilya Samsonov's save percentage at .831, the Maple Leafs can capitalize on these weaknesses. Given the current form and injuries, we predict that the Maple Leafs will secure a win in this game.
Upgrade to View Prediction
#1

last 30 days winnings
($7,530)
#2

#38

last 30 days winnings
($740)