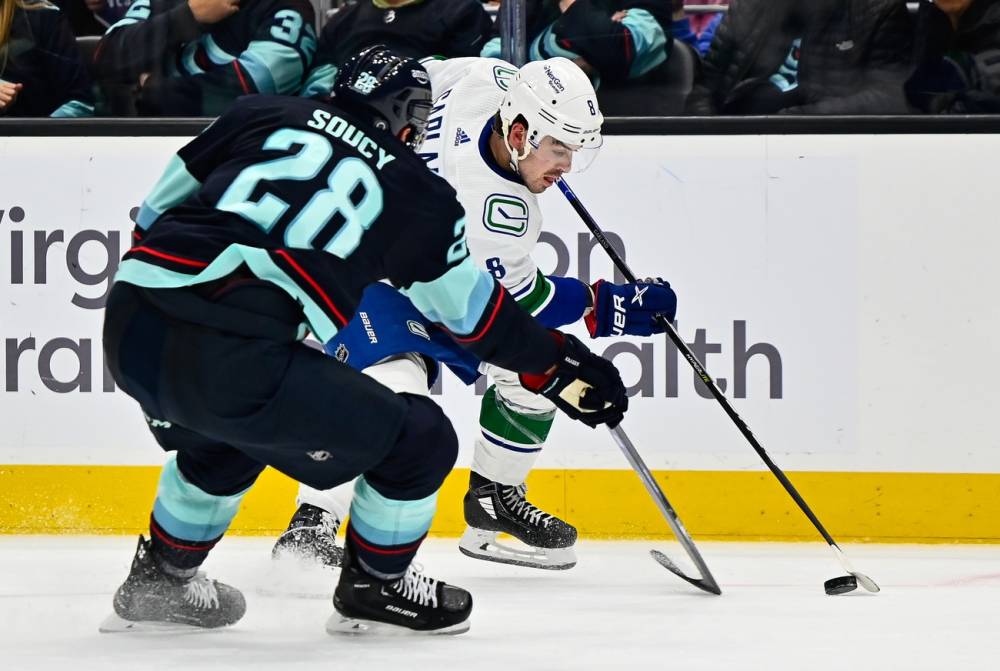 Canucks vs Kraken Prediction NHL Picks for Today 4/4
Apr 4, 2023, 5:30:37 PM
© Steven Bisig-USA TODAY Sports
Game Preview: Kraken vs Canucks - NHL Picks and Predictions
The Seattle Kraken will take on the Vancouver Canucks in what promises to be an exciting Pacific Division matchup on April 4, 2023. With both teams vying for a higher spot in the division, this game is sure to be a must-watch for NHL fans everywhere. Let's take a look at some NHL picks and predictions for this highly anticipated game. NHL Picks Experts: According to NHL picks experts, the Kraken look to be the slight favorites in this game. This is likely due to their impressive record this season and their recent 8-1 victory over the Arizona Coyotes. However, the Canucks are not to be underestimated, especially with their 14-7-1 record against the Pacific Division.
Kraken: Offensive Analysis
The Seattle Kraken have been an offensive powerhouse this season with a total of 259 goals scored, putting them in the top five in the league. Vince Dunn has been a standout player with 13 goals and 48 assists, making him one of the top defensemen in the NHL. Oliver Bjorkstrand has also been a key contributor with five goals and two assists in the past 10 games. When it comes to NHL picks and predictions, the Kraken have been a popular choice among experts, computers, and em predictions. They have consistently performed well against the Pacific Division and have a positive scoring differential of +23. Fans looking to make nhl picks and parlays should consider the Kraken as a strong option. In their upcoming game against the Vancouver Canucks, the Kraken will rely on their offensive firepower to secure a win. They will look to build on their recent dominant victory over the Arizona Coyotes, where Jared McCann scored two goals in an 8-1 thumping. The Canucks have a solid record when scoring at least three goals, but they will be facing a tough challenge against the Kraken's stout defense. The teams have met three times this season, with the Canucks winning the previous matchup 5-4. However, the Kraken have been in strong form lately, with a record of 5-4-1 in their past 10 games. Overall, the Kraken have the offensive tools and momentum to secure a victory against the Canucks. Fans looking for the best NHL bets today should strongly consider backing the Kraken for a win with a spread.
Kraken: Defensive Analysis
The Seattle Kraken have been improving their defensive game as the season progresses. They have managed to keep their opponents under control by allowing only 2.8 goals per game in their last ten games. This has been made possible by their imposing defense, which has been efficient in clearing the puck and blocking shots. Their defensemen have played a key role in their success, with Vince Dunn taking the lead with 13 goals and 48 assists for the Kraken. He has been well-supported by his fellow defenders, who have been able to work together to create a solid wall against their opponents. One of the reasons for their defensive success has been their physical play. They have been able to apply intense pressure on their opponents, making it difficult for them to get quality shots on goal. This physicality is also reflected in their penalty minutes, which have been on the higher side. The Kraken's defensive line will also have to be cautious with their turnovers. Their opponents have been quick to take advantage of such situations in the past, resulting in goals against the Kraken. With the Vancouver Canucks having a good record of scoring at least three goals, the Kraken will need to keep their defense tight to avoid conceding crucial goals. In conclusion, the Seattle Kraken's defensive line has been steadily improving their game, and their physical play has been impressive. If they can maintain this momentum and avoid any costly turnovers, they stand a good chance of containing the Vancouver Canucks and securing a win in this game.
Canucks: Offense Analysis
The Vancouver Canucks have struggled for most of the 2022-2023 NHL season, and their offense has been one of the main culprits. Despite having some talented players, the Canucks have only scored 204 goals this season, which ranks them 23rd in the league. With several key players out due to injury, it will be even more challenging for the Canucks to generate offense against a solid Seattle Kraken team. Unfortunately, the Canucks are underperforming in every offensive category this season. They have only been able to convert on 17.9% of their power plays, which is the 22nd best mark in the NHL. Additionally, the team has only averaged 2.88 goals per game, which is the fifth-worst in the league. The Canucks' top scorers this season have been Jonathan Tanner Miller and Elias Pettersson. Miller has recorded an impressive 29 goals and 47 assists, while Pettersson has posted six goals and seven assists in the last 10 games. But unfortunately, this duo alone won't be enough to carry the Canucks against a tough Kraken team. The Kraken have won three out of the first four matchups against the Canucks this season, and they have outscored Vancouver 20-14 in those games. The Canucks will certainly need to find a way to generate more offense in order to take down the Kraken in this game. Overall, based on the current performance of the Canucks' offense, it is hard to recommend the team in any NHL picks experts nhl picks computer or nhl picks em predictions. The Canucks will need a miracle to pull off a win against the Kraken in this game, and as such, there simply are no best nhl bets today for this team.
Canucks: Defensive Analysis
The defensive performance of the Vancouver Canucks will be critical in their upcoming matchup against the Seattle Kraken. The team has had an uneven season, but their defensive play has been solid when they are at their best. The Canucks have given up an average of 2.9 goals per game in their last ten games, a number that they will need to bring down if they hope to stop Seattle. The Canucks' defense has been led by veteran players like Alexander Edler and Travis Hamonic. These two players have anchored the team's defense, playing heavy minutes and providing physicality in the defensive zone. Edler has put up ten points this season, while Hamonic has added five points and a team-leading 88 blocked shots. Their leadership and experience will be critical in holding off the Kraken's offensive attack. In addition to Edler and Hamonic, the Canucks will rely on young players like Quinn Hughes and Jack Rathbone to contribute on the blue line. Hughes has been one of the team's most productive players this season, putting up 38 points in 69 games. Rathbone has also shown promise in his rookie season, providing speed and puck-moving ability when given a chance to play. The team's goaltending has also been a strength. Thatcher Demko has stepped up as the team's number one goalie, putting up a .916 save percentage this season. His clutch performances have been critical in securing wins for the team, and he will need to be at his best to stop the Kraken's offense. In conclusion, the Canucks defense will play a crucial role in their upcoming matchup against the Kraken. Their experienced veterans, solid young players, and strong goaltending will need to come together to limit the Kraken's scoring opportunities. If they can do so, they have a good chance of coming out on top in this highly anticipated game.
Injury Report
Injuries can make or break a game, and both the Kraken and the Canucks have players on their injury list for their upcoming match. For the Canucks, Oliver Ekman-Larsson, Noah Juulsen, Vasily Podkolzin, Ilya Mikheyev, Tanner Pearson, Travis Dermott, and Tucker Poolman are all dealing with injuries of varying severity. On the other hand, the Kraken have Joonas Donskoi, John Hayden, and Andre Burakovsky out due to injuries. The absence of these players could greatly impact the game and the strategies of the teams. The Kraken and Canucks will have to rely on their bench strength to compensate for the missing players and fill up the gaps. With these injuries in mind, nhl picks experts, nhl picks computer, and nhl today experts will need to adjust their nhl picks and parlay predictions accordingly. However, both teams have key players who are still at the top of their game. For the Canucks, Jonathan Tanner Miller and Elias Pettersson have been putting up notable performances, while Vince Dunn and Oliver Bjorkstrand lead the Kraken.
| Player | Team | Position | Injury Status |
| --- | --- | --- | --- |
| Oliver Ekman-Larsson | Canucks | Defenseman | Out (lower body) |
| Noah Juulsen | Canucks | Defenseman | Day to day (lower body) |
| Vasily Podkolzin | Canucks | Forward | Day to day (undisclosed) |
| Ilya Mikheyev | Canucks | Forward | Out for season (knee) |
| Tanner Pearson | Canucks | Forward | Out for season (hand) |
| Travis Dermott | Canucks | Defenseman | Out (undisclosed) |
| Tucker Poolman | Canucks | Defenseman | Out (undisclosed) |
| Joonas Donskoi | Kraken | Forward | Out (upper-body) |
| John Hayden | Kraken | Forward | Out for season (lower body) |
| Andre Burakovsky | Kraken | Forward | Out (lower-body) |
Kraken vs. Canucks Prediction:
Kraken will win this game by a score of 4-2. While the Canucks have been playing well lately, the Kraken have a better overall record and have been playing well on the road. Look for defenseman Vince Dunn to continue his strong play and lead the Kraken to a victory in this matchup.
Pick: Kraken (-115).
Upgrade to View Prediction
#1

last 30 days winnings
($7,530)
#2