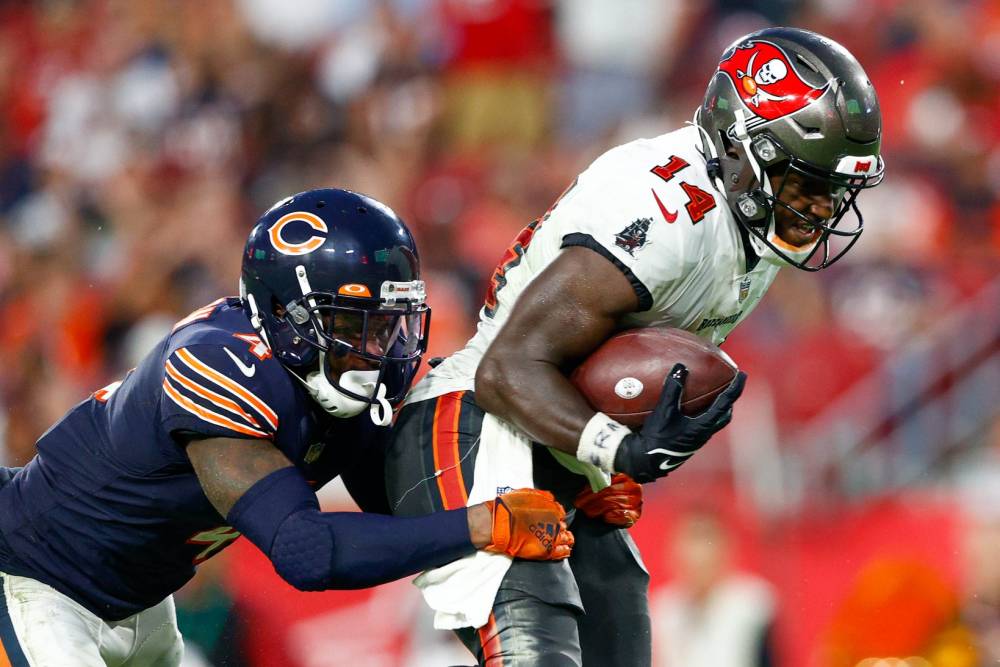 Buccaneers vs Bears Prediction NFL Picks Free 9/16
Sep 16, 2023, 12:37:29 AM
© Nathan Ray Seebeck-USA TODAY Sports
Tampa Bay Buccaneers vs. Chicago Bears - NFL Predictions
Introduction
The Tampa Bay Buccaneers will face the Chicago Bears in an NFC showdown at Raymond James Stadium on Sunday afternoon. The Bears are looking for redemption after a disappointing season opener, while the Buccaneers aim to build on their surprising upset victory in week one. Last year, these teams met with Tampa Bay securing a dominant 38-3 win at home, and they aim to replicate that success in this clash. Despite the playoff odds being against them, this matchup promises excitement for football fans.
Team Analysis
Chicago Bears
Overview
The Bears had high hopes in their season opener against the Packers, but things didn't go as planned. They now face the challenge of bouncing back and mustered a win. The Bears have lost ten consecutive games, struggling to keep games close, especially on the road. They have a relatively short injury list, but it includes critical positions like offensive lineman, which compounds their challenges.
Offensive Struggles
The Bears' offense struggled to make an impact in their previous game. Justin Fields faced significant pressure from the opposing defense, resulting in four sacks. Protecting Fields and establishing a more potent offensive game plan will be crucial for Chicago. DJ Moore needs to become a more prominent figure in their offensive strategy.
Defensive Challenges
Defensively, the Bears appeared to lag behind in their last game. The pass rush was insufficient with only one sack, and they struggled to stop both the run and pass. The defense will need to step up their game significantly, especially in critical situations, if they hope to compete effectively in this matchup.
Tampa Bay Buccaneers
Overview
Tampa Bay faced the Minnesota Vikings in their season opener and, despite being the underdogs, managed to secure a win. While the victory was hard-fought, it's a testament to their resilience. The Buccaneers have a 5-5 record in their last ten games, showing more consistency than the struggling Bears. Playing at Raymond James Stadium provides them with a homefield advantage, adding to their confidence.
Injury Concerns
Tampa Bay's injury report is slightly longer than expected, but being at home may help players dealing with injuries. Notable names like Baker Mayfield and Ryan Jensen are probable to play. The Buccaneers will have to make do without Christian Izien and Carlton Davis III, who are questionable.
Offensive Potential
Despite an unimpressive offensive performance in their last game, the Buccaneers have seasoned wide receiver tandems in Mike Evans and Chris Godwin. Baker Mayfield's experience and their offensive weapons suggest improvements to come.
Prediction
As the Tampa Bay Buccaneers prepare to host the Chicago Bears, there's a strong case for why the Buccs will not only win but also cover the -2.5 points spread. Despite being underdogs in their previous game, they showcased their ability to secure a win. Facing a struggling Bears team, Tampa Bay's experience and homefield advantage give them the edge.
While the Bears have their share of challenges, including offensive line woes and defensive struggles, the Buccaneers have the potential to exploit these weaknesses. Baker Mayfield, Mike Evans, and Chris Godwin can form a potent offensive trio. Expect Tampa Bay to capitalize on these advantages and secure a convincing win, covering the spread. Stay tuned for what promises to be an exciting matchup and follow KingPin.pro for more NFL insights, expert picks, and in-depth analysis throughout the season.
Pick: Buccaneers -2.5
#1

last 30 days winnings
$9,570
#2

last 30 days winnings
$12,760
#17

last 30 days winnings
($5,570)