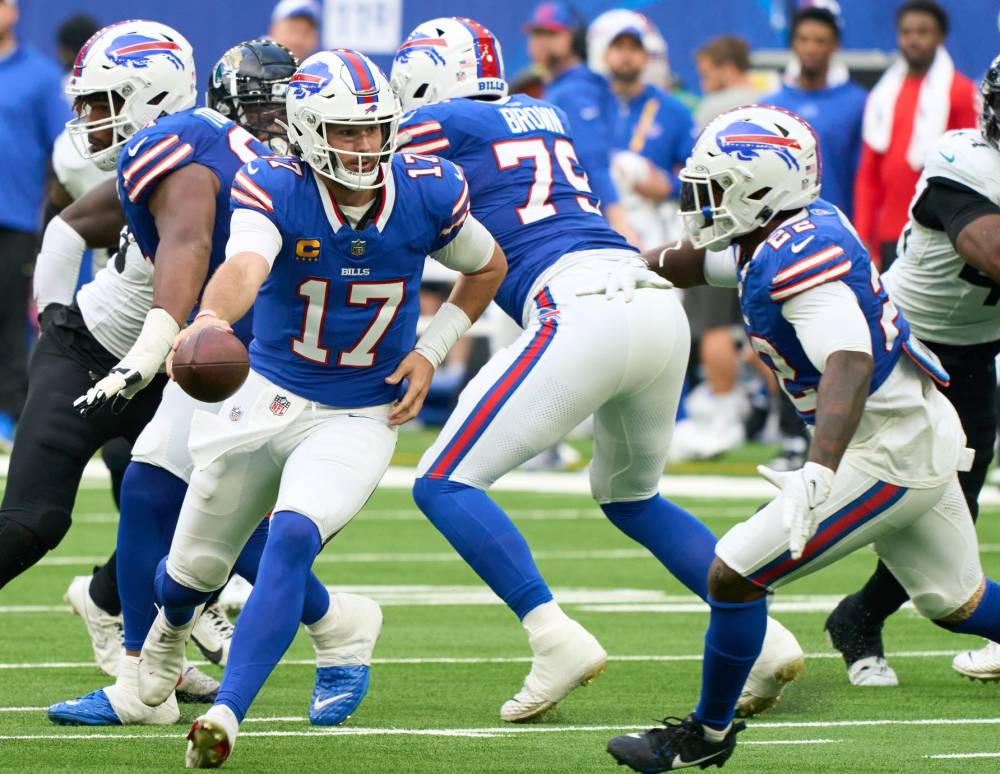 Bills vs Giants Prediction NFL Sunday Night Pick 10/15
Oct 15, 2023, 2:11:47 AM
© Peter van den Berg-USA TODAY Sports
New York Giants vs. Buffalo Bills - Game Analysis
Get ready for an exciting matchup as the New York Giants take on the Buffalo Bills. While both teams have had their share of challenges this season, this game holds particular significance as the Bills are heavily favored. Let's delve into the strengths and weaknesses of both teams and make a prediction for this game.
New York Giants
Offense
The Giants' offense has struggled this season, ranking at the bottom of the league in multiple categories. Quarterback Daniel Jones is sidelined due to injury, and Tyrod Taylor will step in as the starting QB. The offensive line has allowed an NFL-high 30 sacks, putting them in a precarious position. With injuries impacting key players, the Giants' offense faces an uphill battle.
Defense
Defensively, the Giants have had their share of challenges as well, ranking 27th overall. However, linebacker Bobby Okereke has shown promise in recent games with interceptions and strong tackles. The Giants' defense will need to step up against a potent Bills offense.
Injuries
The Giants are dealing with injuries to key players, including Daniel Jones and offensive lineman Andrew Thomas. These setbacks further complicate their task against the Bills.
Buffalo Bills
Offense
The Bills come into this game with a high-powered offense, ranking fourth overall. Quarterback Josh Allen has been impressive, throwing 11 touchdowns and leading the team's passing attack. Despite some recent challenges, the Bills are favored to dominate this matchup.
Defense
Buffalo's defense ranks 12th overall and leads the NFL with 21 sacks. Their defensive line, including standout Von Miller, poses a significant threat to the Giants' offensive line, which has struggled with pass protection.
Injuries
While the Bills have their own injury concerns, including linebacker Matt Milano, they have shown depth and adaptability in filling key positions. Their defense remains formidable.
Prediction
This game is heavily tilted in favor of the Buffalo Bills, and for good reason. The Giants' offense has been struggling, and with Daniel Jones sidelined, they face even greater challenges. Buffalo's defense, led by a strong defensive line, is likely to exploit the Giants' offensive line issues.
The Giants' defense, while showing some promise, faces a formidable Bills offense led by Josh Allen. With the Giants dealing with injuries to key players, the Bills have a significant advantage in this matchup.
Considering the current state of both teams and the Giants' injury woes, it's expected that the Buffalo Bills will dominate this game and cover the -15.0 point spread comfortably. The Giants face an uphill battle, and the Bills are poised to secure a convincing victory.
Pick: Buffalo Bills -15.0
Upgrade to View Prediction
#1

last 30 days winnings
$5,700
#2

last 30 days winnings
$8,120