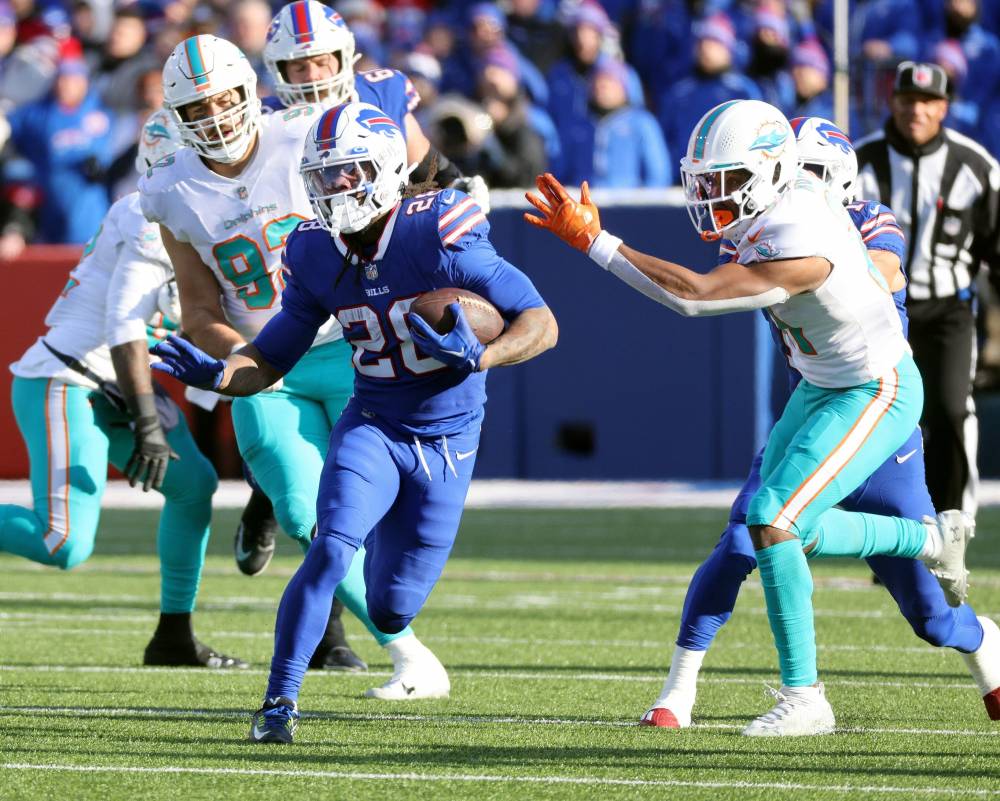 Bills vs Dolphins Prediction NFL Experts Picks 10/1
Sep 30, 2023, 9:58:34 PM
© JAMIE GERMANO / USA TODAY NETWORK / USA TODAY NETWORK
Miami Dolphins vs. Buffalo Bills - NFL Predictions
Introduction
Get ready for an intense AFC East showdown as the Miami Dolphins take on the Buffalo Bills at Highmark Stadium. In this article we will analyze both teams stats and recent performances to determinate out best bet for the game.
Team Analysis
Miami Dolphins
The Miami Dolphins enter this game with an impressive 3-0 record, showing their early-season prowess. Here's a closer look at the Dolphins:
Raheem Mostert's Dominance
Running back Raheem Mostert has been a revelation, accumulating 269 all-purpose yards in the past two games, including a remarkable four-touchdown performance against the Broncos. His explosive plays could pose a threat to the Bills' defense.
Key Wins
The Dolphins have displayed their resilience with key wins over the Denver Broncos, New England Patriots, and Los Angeles Chargers. These victories have established their credibility as contenders in the AFC East.
Buffalo Bills
The Buffalo Bills, with a 2-1 record, have established themselves as a formidable force in the AFC. Here's an overview of the Bills:
Matt Milano's Impact
Linebacker Matt Milano has been a standout player for the Bills, contributing with two interceptions and solid tackling. His ability to cover ground and handle pass defense will be essential against Miami's speed.
Strong Defense
The Bills boast one of the league's top defenses, led by Tre'Davious White, who is known for shutting down opposing star receivers. Their defense has allowed just 165.0 pass yards per game, making them a formidable force.
Key Points
One key aspect to watch in this game is how Buffalo's defense, led by standout cornerback Tre'Davious White, can contain Miami's star receiver Tyreek Hill. White's ability to neutralize Hill's impact will be crucial.
Player Spotlight
Raheem Mostert - Miami Dolphins
Raheem Mostert, the Dolphins' explosive running back, will be a player to watch for his ability to break open games with big plays. He currently leads the league with six rushing touchdowns.
Tre'Davious White - Buffalo Bills
Tre'Davious White, the Bills' lockdown cornerback, will have the responsibility of containing Miami's star receiver Tyreek Hill. White's coverage skills and ability to create turnovers will be instrumental in the Bills' defensive efforts.
Historical Note
The Bills have had a historical advantage over the Dolphins, with the NFL's longest winning streak against one opponent in the 1970s. However, the Dolphins have shown they are a different team this season.
Prediction
Several factors favor the Buffalo Bills to secure a victory and cover the -2.5 points spread in this crucial AFC East matchup:
Strong Defense: The Bills possess a formidable defense that can limit Miami's offensive production, especially with interceptions in their arsenal.
Home Advantage: Buffalo enjoys a seven-game winning streak at home against their division rivals, creating a challenging environment for the Dolphins.
Historical Dominance: The Bills have historically had the upper hand in their meetings with the Dolphins, winning 11 of their past 13 matchups.
Considering these factors, the Bills are well-positioned to secure a victory and cover the spread. Expect a high-stakes game with Buffalo's defense playing a pivotal role in their success.
As the AFC East rivalry intensifies, NFL fans can anticipate an electrifying clash between the Miami Dolphins and the Buffalo Bills at Highmark Stadium. With Buffalo's strong defense and historical dominance over Miami, the Bills are in prime position to secure a victory and cover the -2.5 points spread in this pivotal matchup.
Pick: Buffalo Bills -2.5
Upgrade to View Prediction
#1

last 30 days winnings
$5,700
#2

last 30 days winnings
$8,120