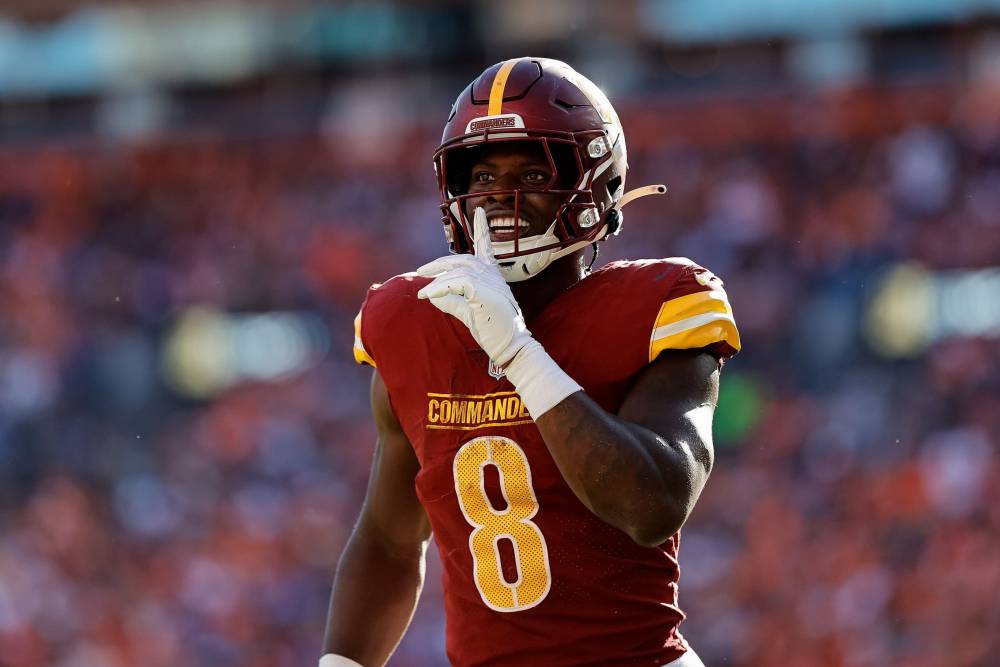 Bills vs Commanders Prediction NFL Picks Today 9/24
Sep 24, 2023, 3:12:48 AM
© Isaiah J. Downing-USA TODAY Sports
Buffalo Bills vs. Washington Commanders - NFL Predictions
Introduction
Get ready for an action-packed NFL showdown as the Buffalo Bills face the Washington Commanders. The Bills, coming off a dominant victory over the Las Vegas Raiders, are favored to win and cover the -6 points spread in this matchup. Let's dive into the reasons behind this prediction.
Team Analysis
Buffalo Bills
The Buffalo Bills, based in Western New York, have become a formidable force in the NFL in recent years. Known for their high-powered offense and strong defense, the Bills have their sights set on a Super Bowl title. Let's take a closer look at their recent performance and key players.
Recent Performance
The Buffalo Bills had a rough start to the season with a loss to the New York Jets in a turnover-heavy game. However, they bounced back impressively with a commanding 38-10 victory over the Las Vegas Raiders. Quarterback Josh Allen played a pivotal role, showcasing his leadership and skills.
Despite the early setback, the Bills demonstrated resilience and a commitment to improvement. Head coach Sean McDermott's ability to motivate the team and make necessary adjustments has been a key factor in their success.
Josh Allen's Impact
Josh Allen has been instrumental in the Bills' success. After a challenging opening game, he delivered a stellar performance against the Raiders, completing 31 of 37 passes for 274 yards and three touchdowns. Allen's smart and methodical approach to the game is key to the Bills' success.
Known for his strong arm and mobility, Allen is a dual-threat quarterback who can make plays with his arm and legs. His ability to read defenses and make quick decisions under pressure makes him one of the league's top quarterbacks.
Allen's leadership extends beyond the field. He has become a vocal presence in the locker room, motivating his teammates and setting high standards for performance. His partnership with star wide receiver Stefon Diggs has been a highlight of the Bills' offense.
Washington Commanders
The Washington Commanders, formerly known as the Washington Football Team, have shown signs of improvement in recent seasons. With a passionate fan base and a desire to reclaim their position as contenders, the Commanders are eager to make a statement this year.
Undefeated Start
The Washington Commanders have surprised many with their 2-0 start to the season. They managed to come from behind in both of their victories, showing resilience and determination. However, they face a tough challenge against the Bills.
While the competition they've faced may not have been the toughest, the Commanders' ability to secure wins in adverse situations is a positive sign of growth. Head coach Ron Rivera's leadership has played a significant role in instilling a winning mentality in the team.
One of the standout performers for the Commanders has been quarterback Sam Howell. In just his second year in the NFL, Howell has shown progress and the potential to become a franchise quarterback. His ability to bounce back from turnovers in the season opener and deliver a clean performance in Week 2 is a testament to his growth.
Key wide receiver Terry McLaurin has been a reliable target for Howell, and their growing chemistry is promising for the Commanders' offense.
Historical Matchup
The history between the Buffalo Bills and the Washington Commanders adds an intriguing layer to this matchup. Over the years, these teams have faced each other in several memorable games. One of the most notable meetings was in Super Bowl XXVI, where the Washington Redskins (as they were known at the time) emerged victorious with a 37-24 win over the Bills.
While this historical matchup may not directly impact the outcome of the upcoming game, it serves as a reminder of the rich history and traditions of these NFL franchises.
Key Players to Watch
In addition to Josh Allen and Sam Howell, there are several key players to watch in this matchup:
Stefon Diggs (Buffalo Bills): Diggs is a dynamic wide receiver known for his route-running and ability to make contested catches. His chemistry with Josh Allen is a significant factor in the Bills' passing game.
Terry McLaurin (Washington Commanders): McLaurin is a rising star at wide receiver. His speed and agility make him a threat in the open field, and he has the potential to break big plays.
Defensive Fronts: Both teams boast strong defensive
Prediction
The Buffalo Bills enter this matchup as the favorites, and for good reason. Their recent performance, led by quarterback Josh Allen, has been impressive. Allen's ability to bounce back from a tough game and lead the team to victory against the Raiders is a testament to his leadership.
Against a Washington Commanders team that has shown improvement but is still finding its footing, the Bills are expected to win and cover the -6 points spread. The Commanders' defense, while improved, will face a tough challenge containing Allen and the Bills' offense.
Expect the Bills to continue their upward trajectory and secure a convincing win in this matchup. As they strive to become Super Bowl contenders, this game is another opportunity for them to prove their mettle. Stay tuned for what promises to be an exciting clash on Sunday.
Pick: Bills -6
#1

last 30 days winnings
$5,700
#2

last 30 days winnings
$8,120