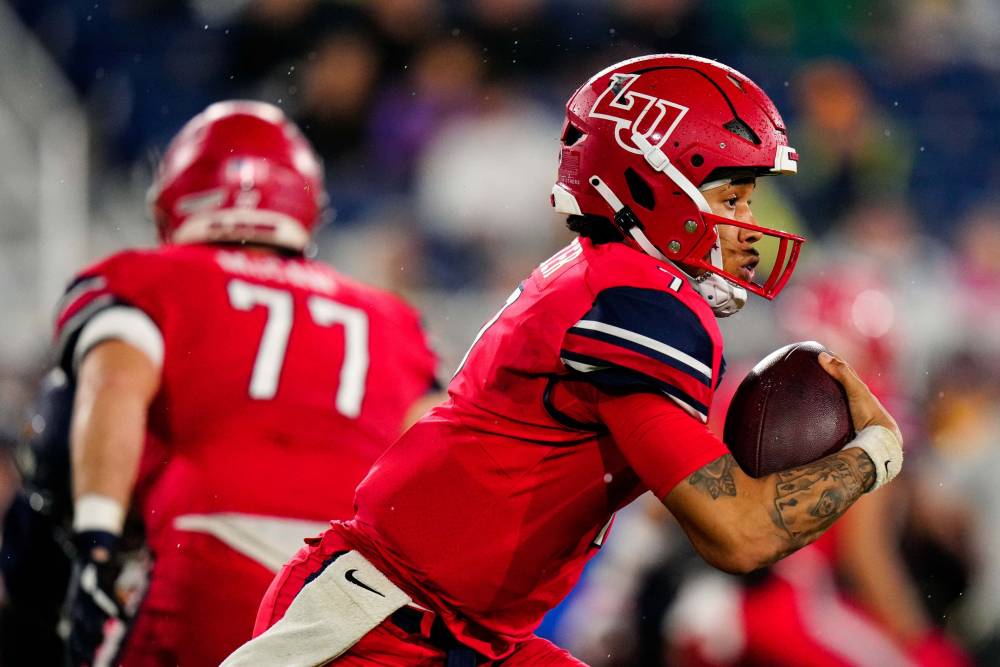 Western Kentucky vs Liberty Prediction NCAAF Picks 10/24
Oct 24, 2023, 2:21:36 AM
© Rich Storry-USA TODAY Sports
NCAAF Predictions: Liberty Flames vs. Western Kentucky Hilltoppers
The highly anticipated matchup between the Liberty Flames and the Western Kentucky Hilltoppers is generating considerable excitement among college football enthusiasts. In this comprehensive analysis, we will delve into the strengths and weaknesses of both teams, dissecting their offensive and defensive performances, and injuries.
Liberty Flames
Offense
The Liberty Flames, with an undefeated 7-0 record, have showcased an explosive and dynamic offensive unit this season. Quarterback K. Salter has been a standout performer, completing 88 of 152 passes for 1,493 yards, 16 touchdowns, and just 3 interceptions. His ability to read defenses and make precise throws has been instrumental in Liberty's offensive dominance.
On the ground, running back Q. Cooley has been a force, accumulating 726 rushing yards and scoring 6 touchdowns. Cooley's ability to find running lanes and break tackles has been a nightmare for opposing defenses. Wide receiver C. Daniels has been a reliable target, amassing 509 receiving yards and scoring 4 touchdowns this season.
Defense
Defensively, the Liberty Flames have proven to be a formidable force, allowing just 331.4 total yards per game. They've excelled in pass defense, conceding only 214.3 passing yards per game. Their ability to apply pressure to quarterbacks and lock down receivers has been a key strength.
Against the run, the Flames have been equally impressive, allowing just 117.1 rushing yards per game. This stout run defense will be crucial against the Hilltoppers, who may struggle to establish a ground game.
Injuries
The Flames have navigated the season with relatively few injuries, providing continuity to their impressive campaign. With no significant injuries reported at this time, they enter this matchup against Western Kentucky with a healthy roster and a substantial advantage.
Western Kentucky Hilltoppers
Offense
The Western Kentucky Hilltoppers, with a 4-3 record, have had an up-and-down season offensively. Quarterback A. Reed has thrown for 1,915 yards, 16 touchdowns, and 4 interceptions. While Reed has had moments of brilliance, consistency has been an issue for the Hilltoppers' passing game.
On the ground, running back M. Stepp has shown promise, amassing 203 rushing yards and scoring 2 touchdowns. Wide receiver M. Corley has been a reliable target, accumulating 585 receiving yards and scoring 5 touchdowns.
Defense
Defensively, the Hilltoppers have allowed an average of 463.6 total yards per game, which is notably higher than the Flames. They've conceded 259.9 passing yards per game, demonstrating relative weakness against the pass. Their run defense has struggled, allowing an average of 203.7 rushing yards per game, which could be a vulnerability against Liberty's strong ground game.
Injuries
The Hilltoppers have encountered injury issues throughout the season, with key players sidelined at various points. These injuries have disrupted the team's performance and chemistry. However, there are no major injuries reported for the Hilltoppers as they prepare for the clash with Liberty.
Prediction:
As we meticulously analyze the statistics and performances of both teams, it becomes clear that the Liberty Flames possess distinct advantages in this matchup. Liberty is the superior team in nearly every aspect of the game, and these advantages are likely to translate into a convincing victory.
Offensively, Liberty's dynamic and well-balanced attack, led by K. Salter and Q. Cooley, has consistently outperformed the Hilltoppers. Western Kentucky's inconsistent defense is likely to struggle against the Flames' potent offense.
Defensively, Liberty's ability to stifle both the pass and the run is a significant asset. This defensive prowess should limit Western Kentucky's options and disrupt their offensive rhythm, further tilting the game in Liberty's favor.
While injuries can introduce unpredictability, Liberty's healthy roster provides them with stability and consistency heading into this matchup. In contrast, the Hilltoppers have grappled with injuries, which may hinder their performance.
Considering all these factors, our expert prediction is that the Liberty Flames will not only secure a victory but also cover the -5 point spread. Liberty's all-around superiority makes them the clear favorite in this game, and their undefeated season is likely to continue.
Don't miss the excitement of the Liberty Flames facing off against the Western Kentucky Hilltoppers on October 24, 2023, at Houchens Industries-L.T. Smith Stadium. With a -5 point spread favoring Liberty, this game promises to be a showcase of their dominance in college football.
Stay tuned for more NCAAF predictions and expert picks, available on KingPin.pro's iOS and Android app.
Pick: Liberty -5 -110
Upgrade to View Prediction
#1

last 30 days winnings
($178)
#2

last 30 days winnings
$7,928
#43

last 30 days winnings
($7,200)