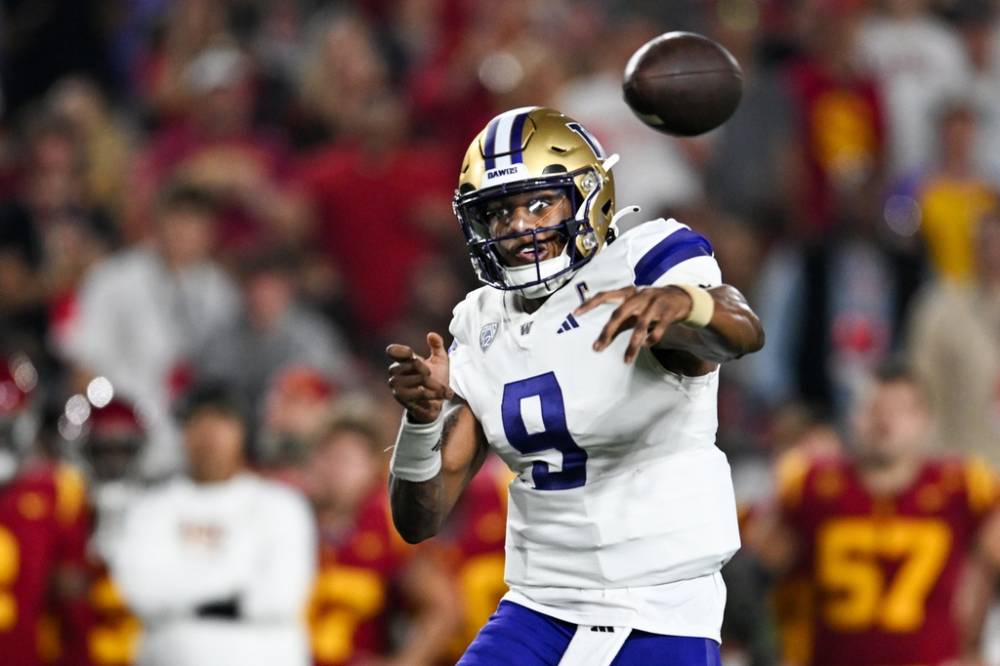 Washington vs Utah Prediction NCAAF Picks 11/11
Nov 10, 2023, 7:37:31 PM
© Jonathan Hui-USA TODAY Sports
NCAAF Predictions: Washington Huskies vs. Utah Utes
Get ready for an exciting clash as the undefeated Washington Huskies take on the Utah Utes.
Game Information
The matchup is set to take place on November 11, 2023, at 1:30 PM in the iconic Husky Stadium, Seattle, WA. The game will be broadcasted on FOX, and the weather is expected to be around 51 degrees. Washington enters as the favorites with a -9.0 points spread.
Washington Huskies
Season Overview
The Washington Huskies have been a dominant force this season, boasting a perfect 9-0 record, including 6-0 in the conference. Quarterback M. Penix Jr. has been exceptional, throwing for 3,201 yards, 26 touchdowns, and 7 interceptions. Receiver R. Odunze has been a standout with 989 receiving yards and 7 touchdowns.
Team Stats
Washington averages an impressive 478.1 total yards per game, with a balanced offensive attack of 1,674 passing yards and 2,219 rushing yards. Their high-powered offense, combined with a solid defense, has propelled them to the top of the Pac-12.
Recent Performance
Washington is coming off a string of impressive victories, including a notable win against USC. Their ability to perform consistently in high-pressure situations showcases their resilience and readiness for challenging matchups.
Utah Utes
Season Overview
The Utah Utes, with a 7-2 overall record and 4-2 in the conference, have had a commendable season. Quarterback B. Barnes leads the offense with 930 passing yards, 8 touchdowns, and 5 interceptions. Receiver D. Vele and running back J. Jackson have been key contributors.
Team Stats
Utah averages 419.9 total yards per game, with 930 passing yards and 1,465 rushing yards. While their numbers are respectable, they face a daunting task against the formidable Washington defense.
Prediction:
Washington's undefeated streak is a testament to their overall strength and consistency. In this matchup, expect Washington to capitalize on their potent offense led by M. Penix Jr. and the explosive R. Odunze.
Utah's defense will face a tough challenge containing Washington's dynamic playmakers. The Huskies' ability to control the game's tempo, combined with a solid defensive performance, will result in a convincing victory.
Washington has proven efficient in clock management, particularly in the second half of games. This strategic approach, coupled with their defensive prowess, will limit Utah's opportunities to close the scoring gap.
Washington's defense will capitalize on Utah's predictability in certain game situations. Look for key interceptions and stops that will deny Utah crucial scoring chances.
Pick: Washington -9 -110
Upgrade to View Prediction
#1

last 30 days winnings
$300
#2

last 30 days winnings
$16,570
#28

last 30 days winnings
($4,340)