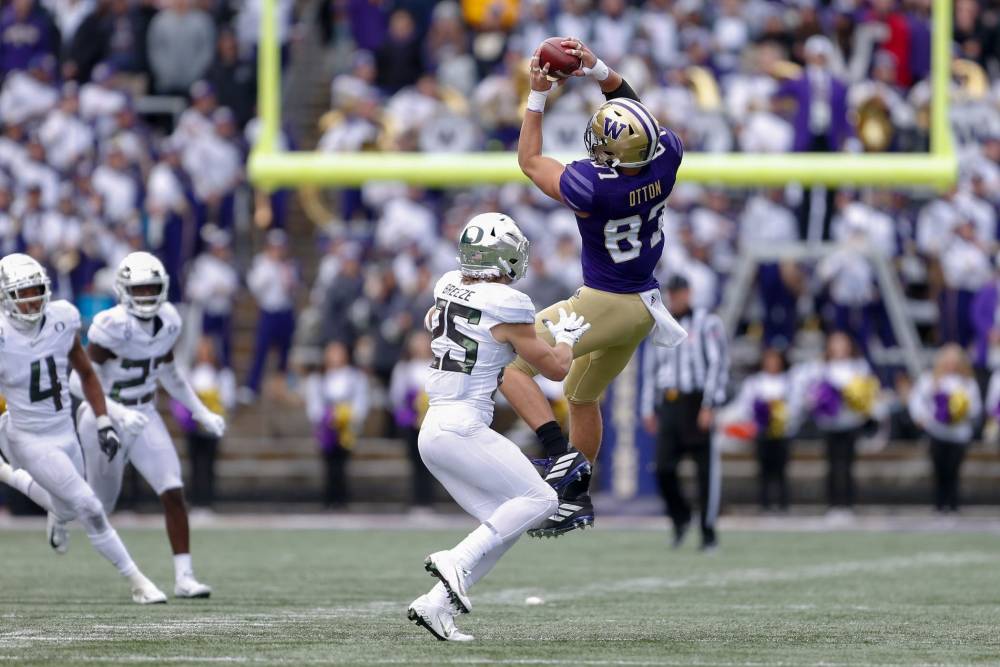 Washington vs Oregon Prediction NCAAF Picks 10/14
Oct 13, 2023, 8:04:11 PM
© Jennifer Buchanan-USA TODAY Sports
Washington vs. Oregon: College Football Preview
The Washington Huskies (5-0, 2-0 CONF) are set to take on the Oregon Ducks (5-0, 2-0 CONF) in what promises to be an epic Pac-12 showdown. The game is scheduled for 12:30 PM on October 14, 2023, at Husky Stadium in Seattle, WA, with coverage on ABC. Washington enters this game as favorites with a line of -3.0 points, and the over/under is set at 67 points.
Offensive Analysis
Washington's Offensive Power
Washington's offense has been a powerhouse this season, ranking among the top in the Pac-12. Quarterback M. Penix Jr. has been outstanding, leading the country in yards passing and total offense per game. The Huskies are averaging 569.4 total yards per game, with 446.4 of those coming through the air.
Their receiving duo of R. Odunze and T. Franklin has been stellar, combining for 32 receptions and over 1,100 receiving yards. This high-powered offense poses a significant threat to Oregon's defense.
Oregon's Balanced Attack
On the other side, Oregon's offense has been equally impressive. Quarterback B. Nix has thrown for 1,459 yards and 15 touchdowns, showcasing excellent decision-making. The Ducks are averaging 557.8 total yards per game, with a balanced attack of 330.6 passing yards and 227.2 rushing yards per game.
Running back B. Irving has been a force on the ground, tallying 393 rushing yards and four touchdowns. Oregon's offense is a well-rounded unit that can challenge Washington's defense.
Defensive Analysis
Washington's Defensive Prowess
Washington's defense has been formidable this season, allowing just 365.0 total yards per game. They excel in pass defense, conceding only 243.4 passing yards per game. Their ability to create pressure on opposing quarterbacks and force turnovers has been a key factor in their success.
Washington's defense will look to disrupt Oregon's offensive rhythm and limit their scoring opportunities in this crucial matchup.
Oregon's Defensive Strength
Oregon's defense has also shown its strength, allowing just 255.6 total yards per game. They boast the best pass defense in the Pac-12, conceding only 153.6 passing yards per game. Their ability to control the air game and create turnovers has been pivotal in their undefeated season.
With both teams having strong defenses, this game promises to be a battle of wills to see which offense can outmaneuver the opposing defense.
Final Prediction
As the game approaches, it's evident that both Washington and Oregon bring potent offenses and solid defenses to the table. The matchup between Washington's high-flying passing attack and Oregon's balanced offensive approach will be thrilling to watch.
With a line of -3.0 points, the prediction is that Oregon will secure the victory. While Washington's offense has been outstanding, Oregon's well-rounded game and strong defense could make the difference. Expect a close and intense showdown between these Pac-12 powerhouses.
Upgrade to View Prediction
#1

last 30 days winnings
($178)
#2

last 30 days winnings
$7,928
#43

last 30 days winnings
($7,200)