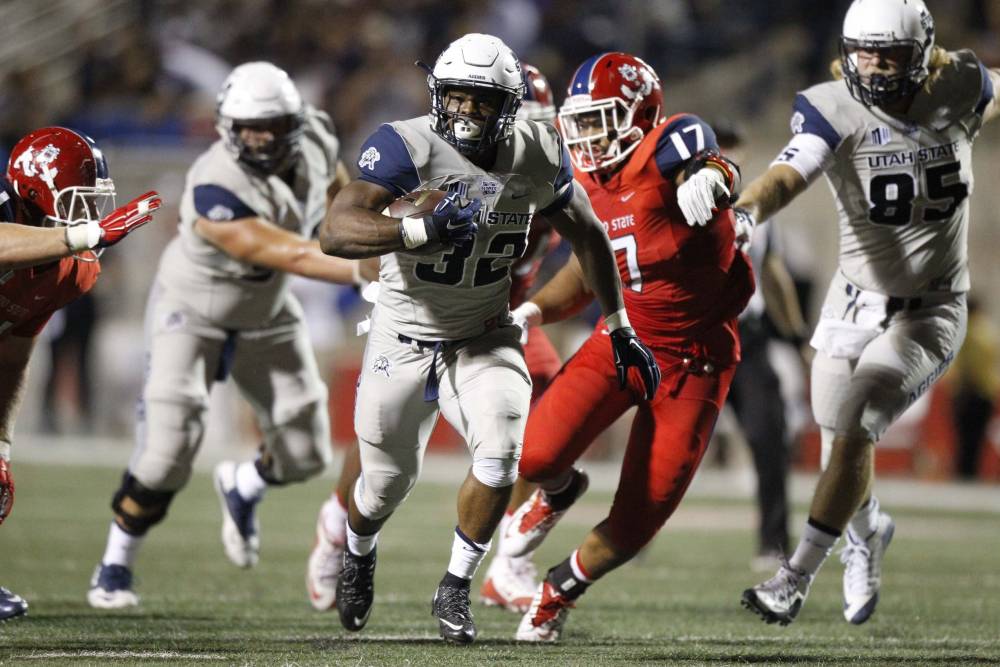 Utah State vs Fresno State Prediction NCAAF Picks 10/13
Oct 12, 2023, 8:22:34 PM
© Cary Edmondson-USA TODAY Sports
Utah State vs. Fresno State: College Football Preview
The Utah State Aggies are set to host the Fresno State Bulldogs in a highly anticipated Mountain West showdown. This Friday night clash at Merlin Olsen Field promises excitement as two competitive teams battle for supremacy in the conference. Fresno State, fresh off their first loss of the season, is determined to bounce back and continue their pursuit of the conference title. Meanwhile, Utah State, with a 3-3 record and back-to-back wins, sees this game as an opportunity to make a statement and solidify their position in the Mountain West hierarchy.
Crucial Matchup Analysis
Fresno State's Early Dominance and Recent Setback
Fresno State started the season on fire, racing to an impressive 5-0 record that put them in contention as one of the best Group of 5 teams. Their early schedule favored them, including two notable wins against Power 5 opponents. However, their momentum came to a halt when they suffered a close five-point loss on the road last week. This defeat has shifted their focus towards getting back on the winning track and reaffirming their status as conference contenders.
One of the major concerns for Fresno State in this matchup is the potential absence of their starting quarterback, Mikey Keene. Keene's injury (leg) puts a significant question mark on his availability for this game. Additionally, the Bulldogs are dealing with depth issues on the offensive end, which adds to the uncertainty surrounding their offensive performance. However, their defense, which ranks 17th nationally in yards allowed per game, provides a ray of hope and can potentially offset the absence of their quarterback.
Utah State's Opportunity and Recent Success
Utah State enters this game with a .500 record, but they view it as a prime opportunity to secure a significant victory. Their recent two-game winning streak has injected confidence into the team, and they aim to capitalize on this positive momentum against Fresno State. This game presents a chance for them to make a statement and establish themselves as a team to watch in the Mountain West.
The Aggies have managed injuries effectively in recent weeks, which has coincided with their improved performance. Quarterback Cooper Legas has stepped in admirably, filling the void effectively in the absence of key players. Utah State's offense is a force to be reckoned with, currently ranking 23rd nationally in total yardage. They boast a potent passing game, ranked 21st in the nation in passing yards per game, and have two explosive wide receivers who can change the course of a game. However, for the Aggies, it's not just about their offense; their defense needs to step up to dictate the outcome of this matchup.
Defensive Challenge for Utah State
One of the key areas of concern for Utah State is their defense. The Aggies have given up an average of 21.4 points per game this season, and in their last outing, they allowed 32 points. To have a chance against Fresno State, especially if Keene is sidelined, their defense needs to elevate their performance. A particular focus should be on stopping the run, as this has been a vulnerable area for Utah State. Even a modest improvement in their run defense can significantly enhance their chances of pulling off an upset in this game.
Prediction
The Utah State vs. Fresno State matchup presents a unique set of circumstances. Fresno State, despite their early dominance, is facing questions due to their recent loss and the uncertainty surrounding their starting quarterback. In contrast, Utah State is riding a wave of confidence after two consecutive victories and could capitalize on Fresno State's vulnerabilities.
While the outcome of the game remains uncertain, the +4 points spread in favor of Utah State indicates that they are viewed as competitive in this matchup. With Fresno State potentially missing key players, including their starting quarterback, the advantage may tilt in favor of the Aggies.
Expect Utah State to not only cover the +4 points spread but also potentially pull off the upset. Their improving offense, led by Legas and dynamic wide receivers, coupled with a defense capable of making crucial stops, make them a formidable opponent. This game promises excitement, and Utah State aims to extend their recent success on their home turf.
Upgrade to View Prediction
#1

last 30 days winnings
$300
#2

last 30 days winnings
$16,570
#28

last 30 days winnings
($4,340)