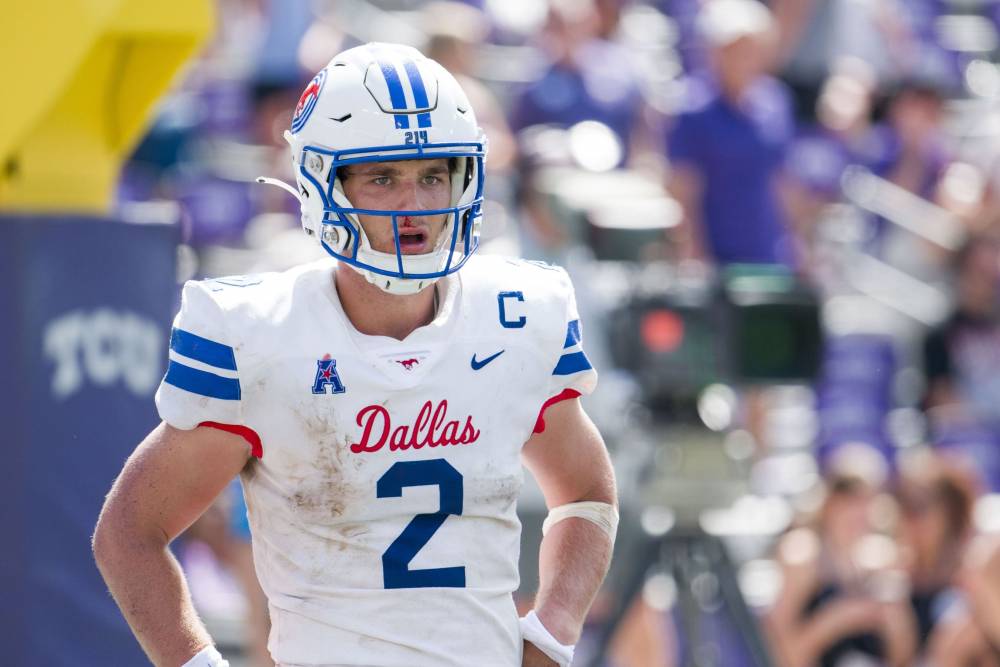 Temple vs SMU Prediction NCAAF Picks 10/20
Oct 19, 2023, 5:54:24 PM
© Jerome Miron-USA TODAY Sports
Temple vs. SMU Clash
Prepare for an electrifying matchup as the Temple Owls (2-5, 0-3 CONF) face off against the SMU Mustangs (4-2, 2-0 CONF). This game promises to be a battle of two competitive teams as Temple will try to avoid a 5th straight loss.
Temple's Offense and Defense
Offense
Temple's offense is led by EJ Warner, who has thrown for 1741 yards and only 12 touchdowns this season. Their passing game has been regular, averaging 268.3 passing yards per game. Due to an undisclosed ailment, Warner is questionable for this game, along with a few backups on attack and defense.
Defense
Defensively, the Owls have really struggled, allowing an average of 438.0 total yards per game. Their passing defense has allowed the ooponents to get an average of 231.7 yards per game. With the squad losing their most recent game 45-14 and allowing North Texas to amass over 500 yards of total offense, it is clear that the defense has been the issue lately.
Past Games (Last 5)
Temple has been terrible in their past games, losing four of their last five matchups. Notably, they have struggled withot their starting quarterback Warner so if he's out again the team will be in trouble.
SMU's Offense and Defense
Offense
SMU's offense has been led by P. Stone, who has thrown for 1467 yards and 14 touchdowns but 5 interceptions this season. Their offense has been balanced, averaging 417.8 total yards per game. With a strong rushing attack, SMU can pose a challenge to Temple's defense.
Defense
On the defensive side, SMU has allowed an average of 311.2 total yards per game. They've been effective at limiting opponents' pass yards, allowing only 183.3 per game. However, they need to be prepared to face Temple's potent passing attack.
Past Games (Last 5)
SMU's recent games have been a mix of 3 wins and 2 losses. However, they have won their last 2 games against charlotte and ECU scoring over 30 points per game while allowing less than 17 points.
Prediction
In this highly anticipated clash, SMU enters the game as the favorite with a -21 points spread. Here's why SMU is poised to win:
1. Undefeated Record: SMU's impressive 4-2 record showcases their consistency and ability to win games. They have momentum on their side, which can carry them to victory.
2. Strong Passing Game: Stone's exceptional performance in the passing game has been a game-changer. If he can exploit SMU's defense, it will give Temple the edge.
3. Defensive Strength: SMU have a solid defense that can make stops when needed. Their ability to contain Temple's offense, especially in the passing department, will be crucial.
Considering these factors, SMU is well-positioned to secure a victory in this clash and potentially cover the -21 points spread.
Pick: SMU -21
Upgrade to View Prediction
#1

last 30 days winnings
($178)
#2

last 30 days winnings
$7,928
#43

last 30 days winnings
($7,200)