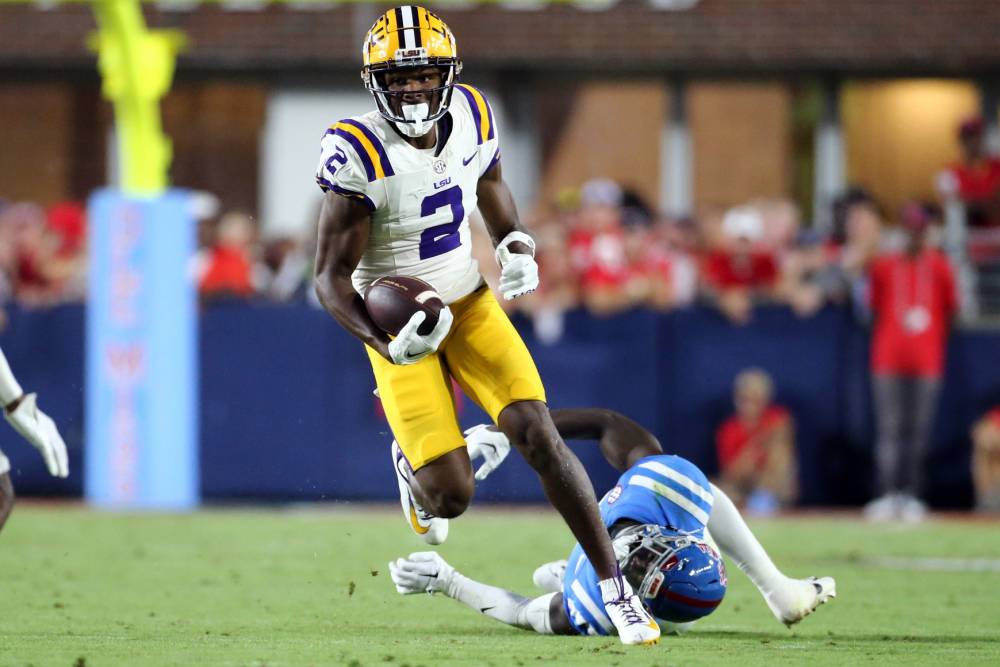 Missouri vs LSU Prediction NCAAF Picks 10/7
Oct 5, 2023, 11:50:40 PM
© Petre Thomas-USA TODAY Sports
Missouri vs. LSU: College Football Preview
Prepare for a thrilling SEC showdown as the Missouri Tigers host the LSU Tigers at Faurot Field at Memorial Stadium. LSU, once a pre-season title contender, now faces two losses in the early season, while Missouri remains undefeated, eyeing an upset in the SEC East.
These two Tigers last clashed with Missouri securing the victory, but LSU claimed the victory in their 2016 matchup. This weekend's game promises to be one of the SEC's most exciting matchups.
LSU's Road Challenges
LSU finds themselves on the road once again, marking their third away game in the last four weeks. The SEC is notoriously challenging, and this relentless schedule could take a toll. Last week's defeat was disheartening, with LSU falling by a touchdown on the road.
With two losses already, the College Football Playoff seems like a distant dream for LSU. Another loss in the SEC could push the SEC West title further out of reach. While their offense has been potent, the defense has shown vulnerabilities.
Injuries have compounded their problems, particularly on the defensive side. Multiple players in the secondary are already ruled out, with another being questionable. Given their defensive issues, this raises major concerns for LSU as they hit the road again.
LSU's Offensive Strength
LSU's offense has been impressive this season, ranking fourth nationally in total yards per game and sixth in passing. Quarterback Jayden Daniels has showcased his skills with 16 touchdowns and just 2 interceptions. With Logan Diggs complementing the ground game, LSU's offense has found a balance.
The presence of one of the nation's top wide receiver groups adds to their offensive prowess. This is particularly advantageous against a Missouri defense ranking outside the top 100 in various passing defense categories.
Challenges in LSU's Defense
However, LSU's defense has struggled this season, ranking 117th in yards allowed per game. They are 104th against the rush and 110th against the pass. Generating only nine sacks in five games, their pass rush efficiency has been lacking.
Additionally, their secondary has only managed four interceptions, making the turnover battle a significant challenge. While Harold Perkins Jr. aims to make an impact with his 24 tackles and 2 sacks, he may need more support to secure the needed stops, especially on the road.
Missouri's Undefeated Streak
The Missouri Tigers have enjoyed an impressive 5-0 start to the season, gaining momentum and confidence. While LSU poses a tough challenge, Missouri has already faced formidable opponents like Kansas State and Memphis, emerging victorious.
Playing at home should provide a significant advantage for Missouri, and if their defense can step up, it might be the key to victory in this high-scoring affair.
Injuries Impacting Missouri
However, Missouri faces its own injury concerns with four players listed on the latest injury report. Notably, a pair of cornerbacks could be sidelined, which is a considerable concern against one of the nation's most explosive offenses.
On the offensive side, Missouri expects to overcome some depth issues. Still, they haven't posted eye-catching numbers this season, except against an LSU defense that has struggled to make stops. Their passing game ranks 15th nationally, making it a substantial advantage against LSU's 110th-ranked pass defense.
Prediction
As Missouri hosts LSU in this SEC showdown, the Tigers from the Show-Me State aim to continue their undefeated streak. Injuries on both sides add an element of unpredictability to the game.
Missouri's strengths, especially in the passing game, could exploit LSU's defensive weaknesses. LSU's defense is helpless. Its pass defense ranks fifth worst in the country in terms of EPA/Play, and its run defense isn't far behind. Because of QB Brady Cook so If their defense can generate even a few crucial stops, Missouri might secure a victory or at least cover the +4 points spread.
Football fans can anticipate an exciting matchup between two fierce SEC contenders this Saturday.
Pick: Missouri +4
Upgrade to View Prediction
#1

last 30 days winnings
($178)
#2

last 30 days winnings
$7,928
#43

last 30 days winnings
($7,200)