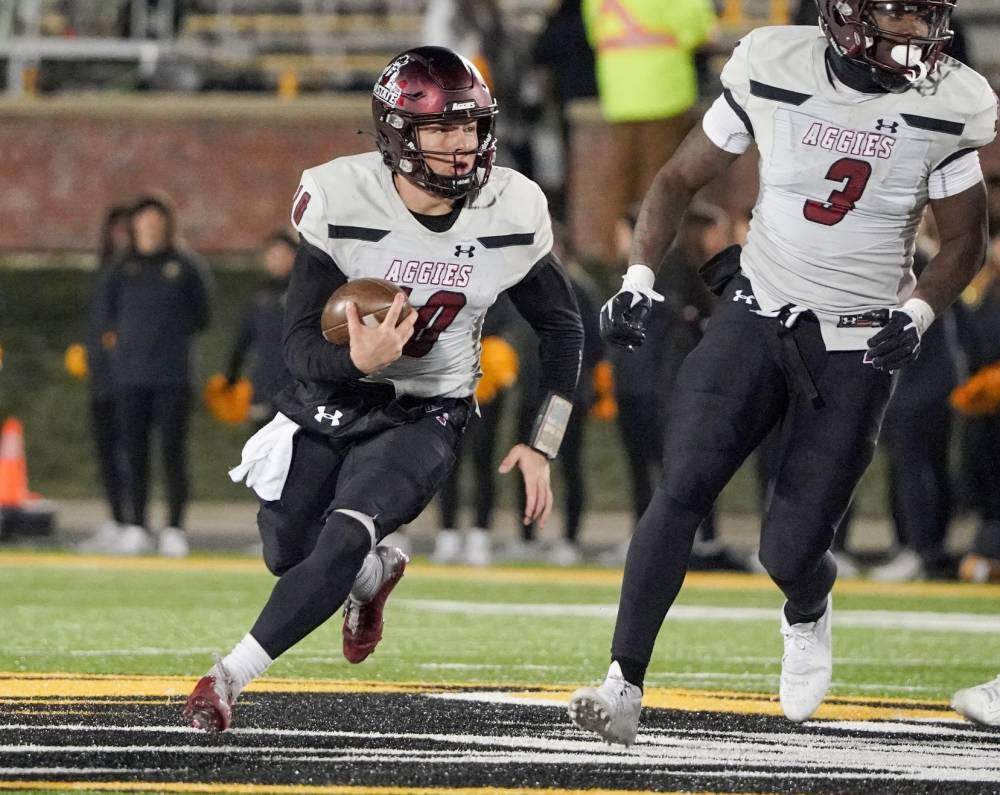 Louisiana Tech vs New Mexico State Prediction NCAAF 10/24
Oct 24, 2023, 2:14:12 AM
© Denny Medley-USA TODAY Sports
NCAAF Predictions: New Mexico State Aggies vs. Louisiana Tech Bulldogs
The upcoming clash between the New Mexico State Aggies and the Louisiana Tech Bulldogs has college football fans buzzing with excitement. As we delve into this NCAAF matchup, we'll provide an extensive review of both teams, analyzing their offense, defense, and injuries.
New Mexico State Aggies
Offense
The Aggies, with a 5-3 overall record and a 3-1 conference standing, have shown impressive offensive prowess this season. Led by quarterback D. Pavia, they've been averaging 440.9 total yards per game, with 237.5 yards through the air and 203.4 on the ground. Pavia has been a standout player, completing 117 of 189 passes for 1,801 yards, 16 touchdowns, and only 5 interceptions. His ability to read defenses and make accurate throws is a key factor in the Aggies' offensive success.
On the ground, D. Pavia has also been productive, with 525 rushing yards and 4 touchdowns. His combination of passing and rushing skills makes him a dual-threat quarterback that the Bulldogs' defense will have to watch closely. Additionally, wide receiver J. Brady has been a reliable target for Pavia, with 355 receiving yards and 3 touchdowns this season.
Defense
Defensively, the Aggies have been solid, allowing an average of 375.8 total yards per game. They've been particularly effective against the pass, giving up only 248.8 passing yards per game. Their pass rush and secondary have been disruptive, making it challenging for opposing quarterbacks to find open receivers.
Against the run, the Aggies have been even more impressive, allowing just 127 rushing yards per game. This strong run defense will be crucial against the Bulldogs, who rely heavily on their ground game.
Injuries
While the Aggies have been performing well, they have faced a few injuries this season. It's essential to monitor the status of key players before the game, as injuries can significantly impact a team's performance. As of now, no major injuries have been reported for the Aggies, which is a positive sign for their upcoming matchup against the Bulldogs.
Louisiana Tech Bulldogs
Offense
The Louisiana Tech Bulldogs, with a 3-5 overall record and a 2-2 conference standing, have had a mixed season offensively. Quarterback J. Turner has thrown for 1,011 yards, 5 touchdowns, and 5 interceptions. While he has shown flashes of brilliance, consistency has been an issue for the Bulldogs' passing game.
On the ground, running back T. Shelton has been a bright spot, amassing 475 rushing yards and 5 touchdowns. His ability to break tackles and find running lanes has been a key element of the Bulldogs' offensive strategy. Wide receiver S. Harris has also been a reliable target for Turner, with 614 receiving yards and 3 touchdowns.
Defense
Defensively, the Bulldogs have allowed an average of 381 total yards per game, which is slightly higher than the Aggies. They've given up 182.1 passing yards per game, showing relative strength against the pass. However, their run defense has struggled, allowing an average of 198.9 rushing yards per game. This could be a vulnerability that the Aggies aim to exploit, given their strong ground game.
Injuries
The Bulldogs have faced injury issues this season, with several key players sidelined at various points. It's worth noting that injuries can disrupt the team's chemistry and performance. However, as of the latest updates, there are no major injuries reported for the Bulldogs heading into the matchup against the Aggies.
Prediction:
As we analyze the statistics and performance of both teams, it becomes evident that the New Mexico State Aggies hold several advantages in this matchup. Their well-rounded offense, led by D. Pavia, has been more consistent and dynamic than the Bulldogs' offense, which has struggled with turnovers and inconsistency.
On the defensive side, the Aggies have demonstrated strength against both the pass and the run. Their ability to limit the Bulldogs' options and disrupt their offensive rhythm will be a significant factor in this game.
While injuries can always introduce an element of unpredictability, the Aggies appear to have a healthier roster at the moment. This stability and consistency give them an edge heading into the game.
Considering all these factors, it's our expert opinion that the New Mexico State Aggies are the favorites in this matchup. We predict that the Aggies will secure a victory and improve their conference standing, further solidifying their position as a strong contender in college football.
Pick: New Mexico State ML +120
Upgrade to View Prediction
Get the Latest NCAAF Predictions on the KingPin.pro App!
If you want access to expert NCAAF predictions, including free NCAAF picks from top analysts, be sure to download the KingPin.pro app on iOS and Android. Stay updated with real-time insights, game predictions, and expert picks to enhance your college football experience. Don't miss out on the opportunity to make informed bets and enjoy the excitement of every NCAAF game!
Don't miss this exciting NCAAF showdown between the New Mexico State Aggies and the Louisiana Tech Bulldogs on October 24, 2023, at Joe Aillet Stadium. With the odds favoring the Aggies, it promises to be a thrilling game that could significantly impact the conference standings.
#1

last 30 days winnings
$300
#2

last 30 days winnings
$16,570
#49