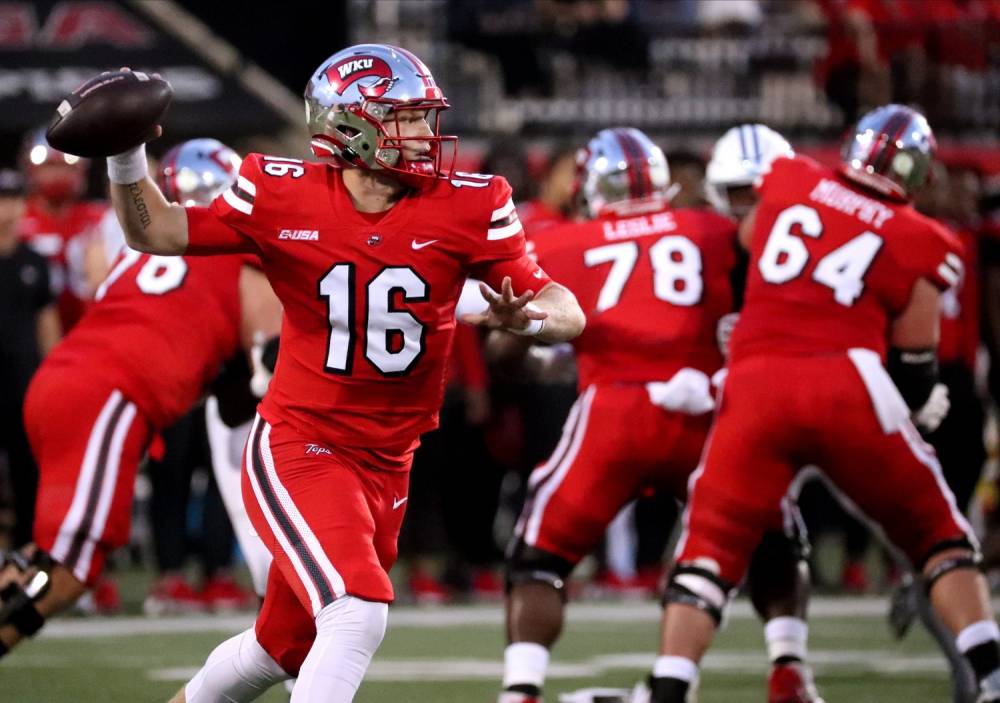 Jacksonville State vs Western Kentucky Prediction NCF 10/17
Oct 16, 2023, 6:42:03 PM
© HELEN COMER/The Daily News Journal / USA TODAY NETWORK
Jacksonville State vs. Western Kentucky Midweek Thriller
The Jacksonville State Gamecocks are set to host the Western Kentucky Hilltoppers in a midweek thriller that promises fireworks. The Hilltoppers are riding high after a 35-28 road win over Louisiana Tech, while the Gamecocks are looking to bounce back from a 31-13 home loss to Liberty. With both teams having their own set of challenges and opportunities, this Tuesday night clash is shaping up to be a must-watch.
Western Kentucky's Recent Form
Western Kentucky is coming into this game with their sails full of wind, especially after their recent 35-28 victory over Louisiana Tech. The Hilltoppers' offense has been averaging 0.413 points per play. The spotlight is undoubtedly on Malachi Corley, who put up a staggering 207 receiving yards in their last outing. His performance wasn't just a flash in the pan; it's a testament to the Hilltoppers' aerial prowess, which accounts for 63.64% of their plays. Quarterback Austin Reed, despite a quieter second half against Louisiana Tech, has shown he can deliver the deep ball, making this offense a constant threat.
But it's not just about the offense. The Hilltoppers' defense, although allowing 0.378 points per play, managed to seal their last game with a crucial interception. They'll need to bring that clutch mentality into this game, especially against a Jacksonville State team that loves to run the ball. The Hilltoppers have shown some vulnerability, allowing 6.0 yards per play to their opponents, but they've also shown resilience, as evidenced by their 100% red-zone scoring defense. In terms of injuries, Western Kentucky is entering this game in peak physical condition, with no reported injuries. This clean bill of health could be the X-factor that tips the scales in their favor, allowing them to execute their game plan without any hitches.
Jacksonville State's Recent Form
Jacksonville State is at a crossroads, coming off a 31-13 loss to Liberty. Despite the setback, this team has several silver linings. Their ground game, led by Malik Jackson, has been their bread and butter. Jackson has rushed for an impressive 578 yards this season, and the team leans heavily on the run, accounting for 60.65% of their plays. Their offensive strategy will be crucial, especially with the uncertainty surrounding their quarterback situation. Both Zion Webb and Logan Smothers are listed as questionable, which could force the Gamecocks to rely even more on their ground game.
Defensively, Jacksonville State has been a fortress, allowing only 0.275 points per play. They've amassed a total of 24 sacks, making them a nightmare for any opposing quarterback. Their red-zone defense, however, could use some tightening, as they've allowed scores on 85.71% of red-zone opportunities. The defense will need to be on their A-game to contain Western Kentucky's potent passing attack.
The injury report for Jacksonville State is a mixed bag. While Malik Jackson is probable, the quarterback situation is less clear. Zion Webb and Logan Smothers are both questionable, and Ron Wiggins is out for six to seven weeks following chest surgery. These injuries could force the Gamecocks to make some last-minute adjustments, adding another layer of complexity to an already challenging matchup.
Prediction
As the two teams prepare to clash, it's evident that this game could go either way. Both teams have strengths and vulnerabilities, making it a true toss-up. However, the key factor to watch is the quarterback situation for Jacksonville State. If both Zion Webb and Logan Smothers are unable to play, the Gamecocks may struggle to find their rhythm.
On the other hand, Western Kentucky's balanced offense and clean bill of health give them a slight edge. It's expected to be a close contest, but the Hilltoppers are predicted to secure a narrow victory and cover the -6.5 points spread.
Pick: Western Kentucky -6.5
Upgrade to View Prediction
#1

last 30 days winnings
($178)
#2

last 30 days winnings
$7,928
#43

last 30 days winnings
($7,200)