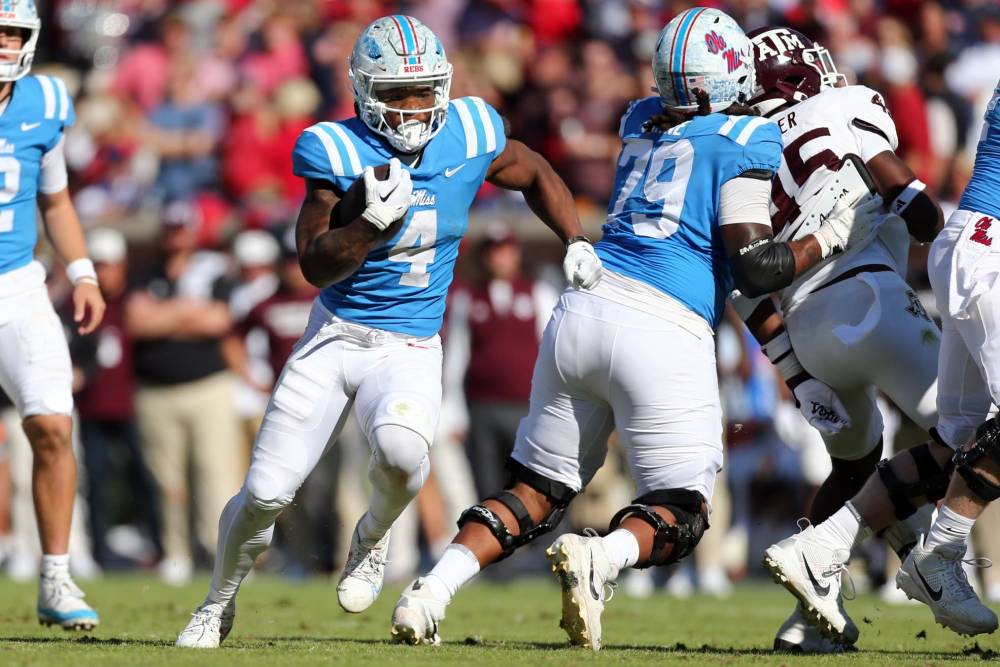 Georgia vs Ole Miss Prediction NCAAF Picks 11/11
Nov 10, 2023, 10:46:28 PM
© Petre Thomas-USA TODAY Sports
NCAAF Predictions: Ole Miss Rebels vs. Georgia Bulldogs
Get ready for an intense matchup as the No. 10 Ole Miss Rebels face off against the No. 2 Georgia Bulldogs.
Game Information
The highly anticipated clash is set for November 11, 2023, at 5:00 PM in the formidable Sanford Stadium, Athens, GA. ESPN will broadcast the game, and the weather is expected to be around 51 degrees. Georgia enters as the favorites with a -10.5 points spread.
Ole Miss Rebels
Season Overview
The Ole Miss Rebels are having a stellar season with an 8-1 record, including 5-1 in the conference. Quarterback J. Dart has been a standout performer, amassing 2,467 passing yards, 16 touchdowns, and 4 interceptions. Running back Q. Judkins and receiver T. Harris have played crucial roles in their dynamic offense.
Team Stats
Ole Miss boasts an explosive offense, averaging 564.7 total yards per game. With 2,467 passing yards and 1,954 rushing yards, they have the firepower to challenge any defense in the league.
Recent Performance
Ole Miss enters the game with impressive victories against tough opponents like TA&M and VAN. Their ability to execute in crucial moments and make big plays positions them well for a competitive matchup.
Georgia Bulldogs
Season Overview
The Georgia Bulldogs are undefeated with a perfect 9-0 record, including 6-0 in the conference. Quarterback C. Beck has been a reliable leader, throwing for 2,716 yards, 16 touchdowns, and 4 interceptions. Running back D. Edwards and receiver B. Bowers contribute to their well-balanced offense.
Team Stats
Georgia boasts a dominant defense, allowing only 11.9 points per game. Their offensive prowess, with 2,716 passing yards and 1,832 rushing yards, makes them a formidable opponent for any team.
Prediction:
Despite Georgia's undefeated record and strong performances, Ole Miss has the offensive firepower to keep this game close. The Rebels' ability to score quickly and efficiently, led by quarterback J. Dart, will challenge Georgia's defense throughout the game.
Look for Ole Miss to capitalize on offensive opportunities and exploit potential defensive vulnerabilities in Georgia's game. The Rebels' balanced attack, with Q. Judkins on the ground and T. Harris in the air, adds unpredictability to their offensive strategy.
While Georgia may secure the win, Ole Miss is expected to cover the +10.5 points spread, making this matchup more competitive than the odds suggest. Expect an exciting battle with both teams showcasing their offensive prowess.
Pick: Ole Miss +10.5 -110
Upgrade to View Prediction
#1

last 30 days winnings
$300
#2

last 30 days winnings
$16,570
#28

last 30 days winnings
($4,340)