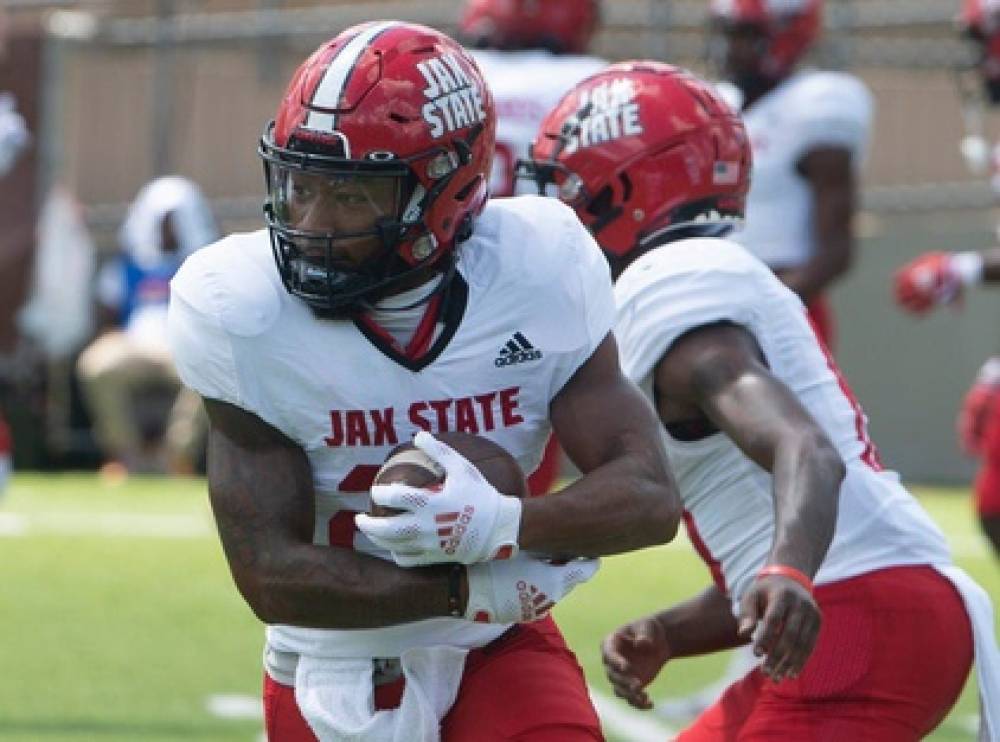 Florida International vs Jacksonville State Prediction 10/25
Oct 25, 2023, 2:06:12 AM
© Jake Crandall/ Advertiser / USA TODAY NETWORK
NCAAF Predictions: Jacksonville State Gamecocks vs. Florida International Panthers
The upcoming clash between the Jacksonville State Gamecocks and the Florida International Panthers is generating significant interest among college football fans. In this in-depth analysis, we will explore the strengths and weaknesses of both teams, evaluating their offensive and defensive capabilities, as well as their injuries.
Jacksonville State Gamecocks
Offense
The Jacksonville State Gamecocks, with an impressive 6-2 record, have displayed an effective offense this season. Quarterback L. Smothers has completed 59 of 103 passes for 642 yards, 5 touchdowns, and 2 interceptions. While not the most prolific passing game, it has been efficient.
On the ground, running back M. Jackson has been a key contributor, accumulating 578 rushing yards and scoring 4 touchdowns. Wide receiver P. Carter has provided reliable targets, amassing 352 receiving yards and scoring 2 touchdowns this season.
Defense
Defensively, the Gamecocks have been solid, conceding an average of 359.8 total yards per game. They have been particularly effective against the pass, allowing 233.5 passing yards per game. Their pass defense has been their standout feature, making it difficult for opposing quarterbacks to find open receivers.
Against the run, the Gamecocks have also performed well, allowing just 126.3 rushing yards per game. This sturdy run defense will be a critical factor in this game.
Injuries
The Gamecocks have managed their season with relatively few injuries, providing consistency to their campaign. As of now, no major injuries have been reported for Jacksonville State, which is a positive sign for their upcoming matchup against Florida International.
Florida International Panthers
Offense
The Florida International Panthers, with a 4-4 record, have experienced a mixed season offensively. Quarterback K. Jenkins has thrown for 1,664 yards, 6 touchdowns, and 7 interceptions. Their passing game has shown flashes of brilliance but has also been plagued by inconsistency.
On the ground, running back S. Lawrence has contributed, amassing 435 rushing yards and scoring 4 touchdowns. Wide receiver K. Mitchell has been a reliable target, accumulating 711 receiving yards and scoring 5 touchdowns.
Defense
Defensively, the Panthers have allowed an average of 440.8 total yards per game, which is higher than the Gamecocks. They have conceded 254.6 passing yards per game and 186.1 rushing yards per game, indicating relative weakness on both fronts.
Injuries
The Panthers have struggled with injuries this season, with key players sidelined at various points. Injuries can disrupt the team's chemistry and performance. However, as of the latest updates, there are no major injuries reported for Florida International as they prepare to face Jacksonville State.
Prediction:
As we analyze the statistics and performances of both teams, it becomes clear that this matchup may not result in a high-scoring game. Both teams have strengths on the defensive side, and there are some question marks surrounding their respective offenses.
While Jacksonville State has shown efficiency in their offense, Florida International's pass defense has been formidable. This could lead to a slower-paced game with fewer points scored. On the other hand, Florida International's inconsistent passing game may struggle against Jacksonville State's solid pass defense, potentially leading to turnovers and defensive plays.
Considering the factors at play, our expert prediction is that betting the under of 46.5 points is the best bet for this matchup. The game has the potential to be a defensive battle with limited offensive fireworks, making the under a prudent choice for bettors.
Don't miss the upcoming clash between the Jacksonville State Gamecocks and the Florida International Panthers on October 25, 2023, at Riccardo Silva Stadium. With the under of 46.5 points as the favored bet, this game promises to be a contest of defensive strength and strategic play.
Pick: Under 46.5 points -110
Stay tuned for more NCAAF predictions and expert picks, available on KingPin.pro's iOS and Android app.
Upgrade to View Prediction
#1

last 30 days winnings
$300
#2

last 30 days winnings
$16,570
#28

last 30 days winnings
($4,340)