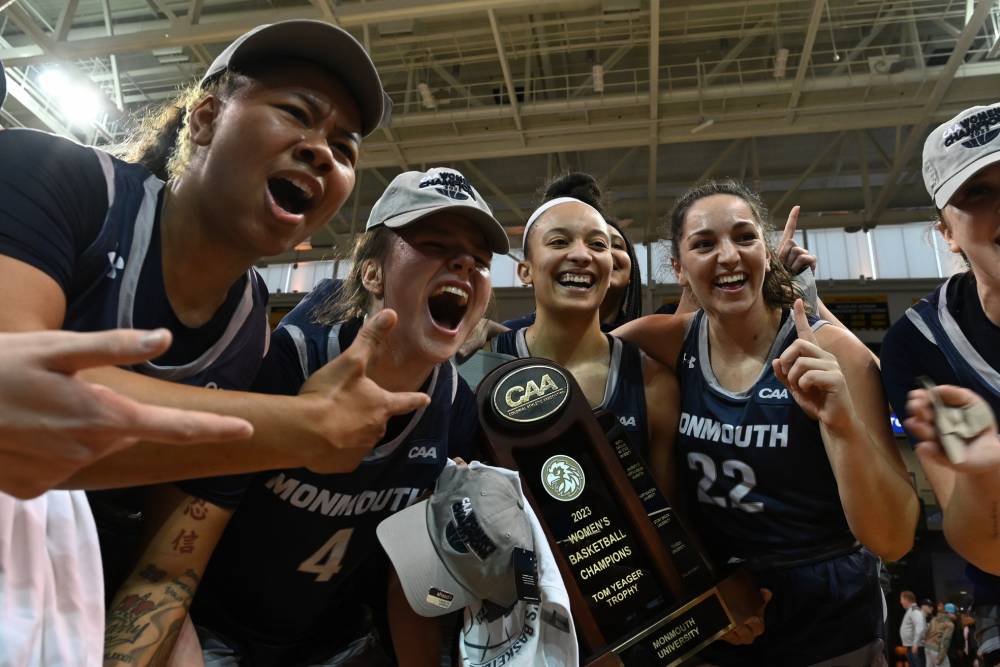 Monmouth vs Tennessee Tech NCAA College Basketball Game 3/17
Mar 16, 2023, 1:40:22 PM
Photo Credit © Tommy Gilligan-USA TODAY Sports
As March Madness kicks into high gear, the NCAA women's basketball tournament brings an exciting clash between the Monmouth Hawks and the Tennessee Tech Golden Eagles. Taking place on March 16, 2023, at Simon Skjodt Assembly Hall, this contest promises to be a thrilling showdown between two talented teams. Join the action and stay updated with live scores, stats, and odds on the Kingpin.pro iOS and Android app. In this article, we dive deeper into each team's strengths and weaknesses, providing insights on key players, injuries, betting trends, and public betting data.
Monmouth Hawks
Offense: Monmouth's offense averages 64.1 points per game, showcasing their ability to score consistently. Brianna Tinsley leads the team in scoring with 12.1 points per game and assists with 3.6 per game. Her ability to create opportunities for her teammates has been crucial to the Hawks' success.
Shooting: Monmouth's shooting squad is strong, with Tinsley making 2.2 three-pointers per game at a 34% success rate. In addition, Ariana Vanderhoop and Lucy Thomas contribute significantly to the team's scoring, averaging 10.2 and 9.3 points per game, respectively. Their combined efforts make Monmouth a formidable opponent on the court.
Defense: The Hawks' defense allows 63.2 points per game, making them a tough team to crack. Their solid defense is led by the combined efforts of their entire roster. Key defensive players include Vanderhoop, who not only contributes offensively but also excels on the defensive end, and Thomas, who provides excellent rim protection and helps maintain the team's defensive structure.
Rebounding: Monmouth's rebounding is well-distributed among the team, with Lucy Thomas and Ariana Vanderhoop both pulling in 5.3 rebounds per game. Their ability to control the boards provides the Hawks with a solid foundation for transition plays and second-chance scoring opportunities.
Tennessee Tech Golden Eagles
Offense: Tennessee Tech outpaces Monmouth with an average of 68.4 points per game. Maaliya Owens leads the team in scoring with 13.1 points per game, while Jada Guinn contributes 10.9 points per game and leads the team in assists with 4.1 per game. Their combined offensive prowess makes the Golden Eagles a force to be reckoned with.
Shooting: The Golden Eagles boast impressive shooting numbers, with Owens sinking two three-pointers per game at a 34% success rate. Additionally, Reghan Grimes, who averages 8.8 points per game, has shown the ability to stretch the floor and knock down shots from beyond the arc. This combination of shooting talent makes Tennessee Tech a challenging matchup for opponents.
Defense: The Golden Eagles' defense allows 66.1 points per game, presenting a challenge for Monmouth's offense. Tennessee Tech's defensive effort is anchored by Grimes, who utilizes her athleticism and length to disrupt opponents' offensive flow. The team's ability to contest shots and force turnovers will be critical in this matchup.
Rebounding: Reghan Grimes dominates the boards for Tennessee Tech, averaging 5.8 rebounds per game. Her presence in the paint not only helps the Golden Eagles secure rebounds but also contributes to their overall defensive prowess.
Injuries
At the time of writing, no significant injuries have been reported for either team. Both squads are expected to enter the game at full strength, providing fans with a high-quality contest between two healthy and competitive teams.
Betting Trends
Keep an eye on Kingpin.pro's app for the latest odds Vegas NCAA basketball, picks experts NCAAB, picks and parlays March Madness, and best picks March Madness. Be sure to monitor the line movement and any changes to the spread as the game approaches.
Public Betting Data
Check the Kingpin.pro app for real-time public betting data, odds of winning March Madness, and picks free March Madness. This information can help you make informed decisions when placing bets and evaluating the game's outcome.
Prediction
Considering both teams' stats and performances, this game promises to be a close battle. Expect a hard-fought contest with both squads showcasing their strengths. Although Tennessee Tech may have the edge offensively, Monmouth's strong defense could provide a counterbalance, making the game difficult to predict.
Pick: Monmouth Hawks
Don't miss out on the excitement of March Madness predictions and brackets March Madness. Stay updated with the latest scores, stats, and odds on the Kingpin.pro iOS and Android app, and enjoy the thrilling experience of the NCAA women's basketball tournament.
#1

last 30 days winnings
($7,980)
#2

last 30 days winnings
$13,690