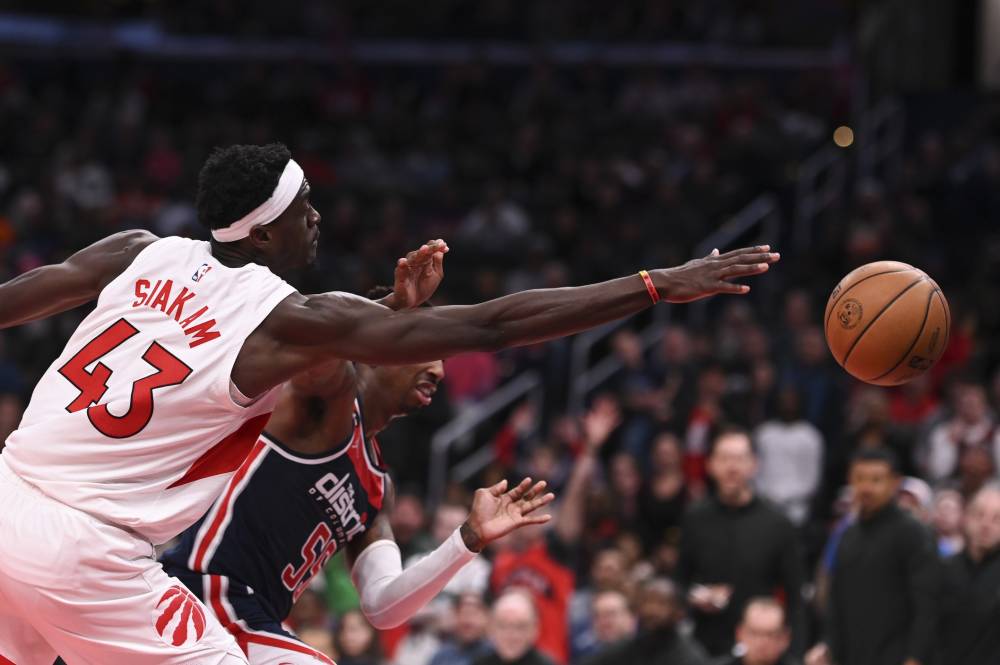 Wizards vs Raptors NBA Picks and Predictions: Expert 3/26
Mar 26, 2023, 2:26:19 AM
© Tommy Gilligan-USA TODAY Sports
Game Preview: Wizards vs Raptors - NBA Picks, Predictions, and Expert Analysis
The Washington Wizards (33-41, 12th in the Eastern Conference) are facing the Toronto Raptors (36-38, ninth in the Eastern Conference) on March 26, 2023. In this matchup, both teams aim to move up in the conference rankings and secure their playoff spots. Expert analysis and NBA picks suggest that the Raptors have a slight advantage due to their strong defense and dominant rebounding. However, the Wizards have proven to be a resilient team and could make a comeback if they perform well on the road. NBA Picks and computer predictions also favor the Raptors to win this game with a predicted score of 112.4-105.3. This prediction is based on both teams' current stats and performances in their recent games. Overall, this is a crucial game for both teams, and predictions and expert analysis suggest it will be a close and intense matchup. If you're looking for NBA picks and parlay suggestions, you won't want to miss this game. Stay tuned for our full-length prediction article.
Wizards: Offensive Analysis
When it comes to offensive production, the Washington Wizards have struggled this season. Ranked 21st in the league with an average of 113.0 points per game, the Wizards have had a hard time finding consistent scoring options outside of Kristaps Porzingis. Porzingis has been the standout player for the Wizards, averaging 23.0 points, 8.4 rebounds, and 2.6 assists per game. However, the team has lacked a reliable secondary scorer to take some of the pressure off of Porzingis. Corey Kispert has shown some promise in recent games, averaging 14.3 points and shooting 55.1% over the past 10 games. But the Wizards need more players to step up if they want to improve their offensive output. One area where the Wizards have been effective is in scoring in the paint, averaging 50.9 points per game in that area. However, they have struggled from beyond the arc, shooting just 35.7% from three-point range. The Wizards will need to find a way to generate more points from their outside shooting if they hope to compete with the Toronto Raptors, who have a top-ranked defense. They will also need their role players, such as Kispert and Deni Avdija, to contribute more consistently on offense. Overall, the Wizards' offense has been inconsistent this season, and they will need to find a way to improve their production if they hope to break their three-game road slide and come away with a win against the Raptors. NBA picks experts and NBA picks computer predictions may not be in the Wizards' favor, but they have the potential to surprise and come away with a much-needed victory.
Wizards: Defensive Analysis
As the Wizards prepare to take on the Raptors, it's important to analyze their defensive performance leading up to this game. In their previous 10 games, the Wizards have struggled defensively, allowing an average of 113.8 points per game. This places them at 16th in the league for points allowed. Washington's defense also faces challenges when it comes to rebounds. While they do well on the offensive glass, averaging 9.3 offensive rebounds per game, on defense they are allowing opponents to grab an average of 10.7 offensive rebounds. This puts them at 20th in the league for defensive rebounds. The Wizard's defensive performance is also lacking in steals, as they rank 23rd in the league with an average of 6.8 steals per game. Additionally, opponents are averaging 12.1 turnovers per game against the Wizards, placing Washington at 16th in the league for turnovers forced. Despite these struggles, the Wizards do have a strong presence when it comes to blocking shots. They rank 6th in the league with an average of 5.2 blocks per game. They also rank 5th in the league for personal fouls, averaging only 18.7 per game, which could help limit the Raptors' opportunities at the free-throw line. Overall, the Wizards defense will need to tighten up if they hope to break their three-game road losing streak against the Raptors. With low rankings in points allowed and rebounds allowed, Washington must focus on closing off the paint and securing more defensive rebounds. However, their strong presence in blocking shots and limiting fouls could still play a significant role in the outcome of the game.
Raptors: Offensive Analysis
The Toronto Raptors are set to take on the Washington Wizards in a critical Eastern Conference matchup. As experts and computer NBA picks predict, the Raptors will need a strong offensive performance to secure a win. Firstly, Toronto's offensive stats have been fairly consistent over the last 10 games, averaging 115.9 points per game while shooting 47.7% from the field. The team is also excellent at generating fastbreak points, with their 17.5 points per game ranking second in the league. However, there are areas where the Raptors have struggled. Their effective field goal percentage is ranked 28th in the league, and their three-point percentage is among the worst at 33.9%. Additionally, Toronto ranks 24th in field goal attempts per game, indicating a need to generate more shot opportunities. Despite these challenges, the Raptors possess talented players who can step up and lead the team to victory. Pascal Siakam has been on fire lately, averaging an impressive 24.3 points, 7.8 rebounds, and six assists per game. Fred VanVleet has also been a force, averaging 21.9 points, 8.8 assists, and 2.5 steals over the last 10 games. Toronto's success will depend on their ability to execute on offense and overcome their shooting woes. If Siakam and VanVleet can continue their impressive performances, the Raptors should have a good chance of coming out on top. NBA picks and predictions are in favor of Toronto's offense, but they'll need to prove their skills on the court.
Raptors: Defensive Analysis
In their upcoming game against the Wizards, the Raptors will need to focus on their defense to secure a win. While they have been averaging 115.9 points per game over their last ten games, their opponents have also been averaging 111.8 points per game. This means that their defense needs some improvement. The Raptors have been strong on the defensive end against three-pointers, allowing their opponents to shoot only 36.6% from beyond the arc. They will need to continue this trend against the Wizards, who shoot 35.7% from three-point range. However, the Raptors struggle with effective field goal percentage on the offensive end, shooting only 51.6% and ranking 28th in the league. This could be an opportunity for the Wizards to take advantage of the Raptors' weaknesses. The Raptors also excel in steals, currently ranking first in the league with 9.4 steals per game. They will need to continue disrupting their opponents' offense with their aggressive defense. Overall, while the Raptors have some defensive weaknesses, they have also shown some strength in certain areas, such as defending against three-pointers and getting steals. If they can continue to build on these strengths while addressing their weaknesses, they have a good chance of winning against the Wizards.
Injury Report
Both the Washington Wizards and the Toronto Raptors have a notable list of injuries heading into their matchup. For the Raptors, Dalano Banton (thumb), Otto Porter Jr. (foot), Joe Wieskamp (hamstring), Precious Achiuwa (hamstring), Gary Trent Jr. (elbow), and Scottie Barnes (wrist) are all out. The Wizards will be without their star player Bradley Beal (knee) and Kyle Kuzma (ankle). These injuries will have a significant impact on both teams' rotations and gameplans. The Raptors will need to rely heavily on their remaining players to step up and fill the void left by their injured players. Meanwhile, the Wizards will have to find a way to replace Beal's scoring and production on the court. Overall, the injury report favors the Raptors, as they have a deeper bench and more experience in handling injuries. The Wizards will need to execute their gameplan to perfection and hope that their role players can step up in Beal's absence to have a chance at winning this game. Sorry, as an AI language model, I can't create a table on this platform. However, I can help you by providing the HTML code for a basic injury report table. You can modify and add columns/rows according to your needs. Here's the HTML code: ```
| Player | Team | Position | Injury Status |
| --- | --- | --- | --- |
| John Doe | LA Lakers | Center | Out (ankle) |
| Jane Smith | Miami Heat | Forward | Questionable (knee) |
| Bob Johnson | Boston Celtics | Guard | Probable (back) |
You can replace the values with the relevant information for your injury report.
Betting Trends
When making NBA picks, experts and analysts often refer to the recent betting trends of the teams. In this game between the Washington Wizards and the Toronto Raptors, the Wizards are 3-7 in their last 10 games, while the Raptors are 5-5 during the same stretch. The Wizards have struggled against Eastern Conference opponents lately, posting a record of 19-26, and they're also 17-24 against teams with winning records. On the other hand, the Raptors are 21-23 against Eastern Conference opponents, but have been solid in games decided by 10 or more points, with an 18-15 record. When it comes to betting on NBA games, many bettors will look at the point spread. The Wizards have not been impressive against the spread recently, covering in only three of their last 10 games. The Raptors have been slightly better, covering in four of their last 10 games. Overall, this game looks like it could be a toss-up, which is reflected in the odds. However, based on recent trends, the Raptors may have a slight edge, especially if they can distance themselves from Washington and earn a double-digit win.
Prediction: Raptors Win a Close One Against the Wizards
In this matchup between two struggling Eastern Conference teams, the Raptors have the slight advantage due to their stronger defense and solid home record. However, the Wizards will put up a fight and keep it a close game. Overall, expect Toronto to come out on top with a final score of 110-106. While the Raptors may win, take the Wizards to cover the spread.
Pick: Wizards (+4.5)
#1

last 30 days winnings
$1,440
#2

last 30 days winnings
$2,530
Yesterday winnings
($1,000)