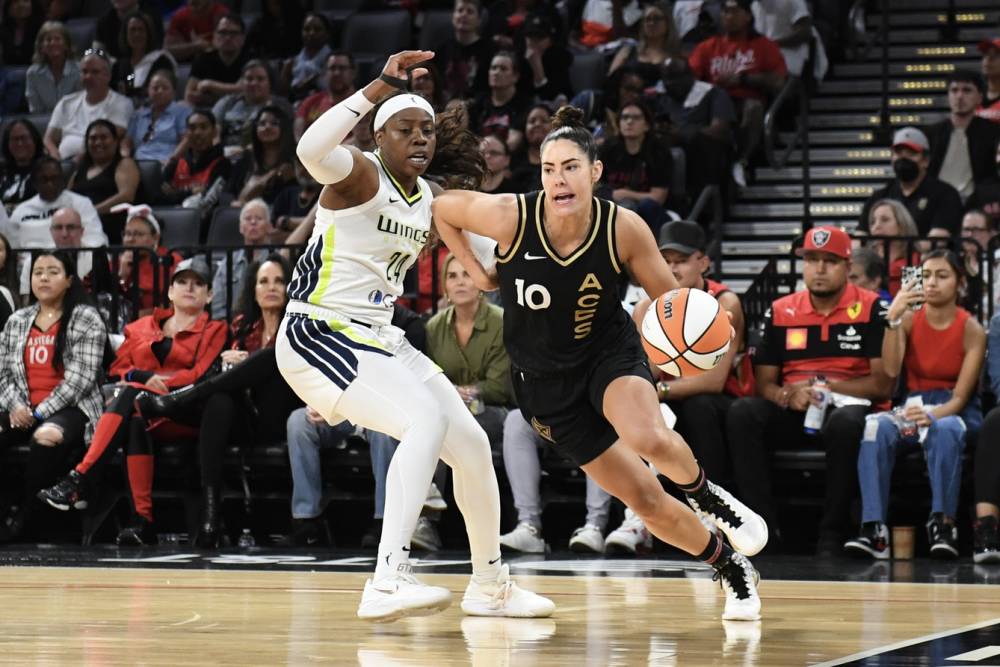 Wings vs Aces Game 3 Prediction WNBA Semifinals Picks 9/29
Sep 28, 2023, 6:51:45 PM
© Candice Ward-USA TODAY Sports
WNBA Semifinals - Game 3: Las Vegas Aces vs Dallas Wings - Preview and Best Bets
Introduction
The Las Vegas Aces and the Dallas Wings are gearing up for a crucial Game 3 in the WNBA Semifinals. With the Aces already up 2-0 in the series, the Wings have their backs against the wall and will be looking to survive at their home court, the College Park Center. Here's everything you need to know about this highly anticipated matchup, including our pick for the best bet.
Las Vegas Aces: The Dominant Force
Season Overview
The Las Vegas Aces have had a phenomenal 34-6 season, asserting their supremacy particularly on the road with a 15-5 away record. A'ja Wilson has been the driving force, averaging 22.8 points per game with a 55.7% field goal percentage.
Offensive Firepower
The Aces have been on a tear offensively, scoring an average of 92.8 points per game on a 48.6% shooting rate. They also have an impressive assist rate, with 21.7 assists per game, led by Chelsea Gray's 7.3 APG.
Defensive Prowess
The Aces have an equally strong defense, allowing just 74.0 points per game. They are averaging 4.8 blocks and 8.1 steals per game, disrupting their opponents' game flow efficiently.
Recent Performances
In their last five games, the Aces have been unbeatable with a 5-0 record. They have averaged 91.8 points, while their stout defense has limited opponents to an average of 76.2 points.
Dallas Wings: The Underdogs
Season Overview
With a 22-18 season record, the Dallas Wings have shown they can compete, especially at home where they hold an 11-9 record. Arike Ogunbowale leads the team, averaging 21.2 PPG.
Offensive Capabilities
The Wings are putting up an average of 87.9 points per game with a 44.3% FG rate. They also dominate the boards with an average of 38.7 rebounds per game.
Defensive Strategy
The Wings have a decent defensive record, allowing 86.0 points per game. They average 4.3 blocks and 7.6 steals per game.
Recent Form
The Wings have won two of their last five games, with an average score of 91.0 points, while allowing 88.4 points to their opponents.
Prediction
Given the Aces' stellar offense, led by Wilson and supplemented by Jackie Young, they have a significant advantage over the Wings in terms of scoring capability. Defensively, the Aces have a more consistent record, likely to limit the Wings' offensive bursts.
However, the main focus here is on the Over/Under of 174.5 points for this game. Both teams have shown impressive scoring in recent games. The Aces have averaged around 91.8 points in their last five games, and the Wings have not been far behind with 91.0 points.
Moreover, the defensive stats don't indicate a particularly low-scoring game either. The Wings allow 86.0 points per game, and the Aces allow 74.0. Even if both teams perform at their average defensive levels, we're looking at a combined score that pushes over the 174.5 mark.
Pick: Over 174.5
Upgrade to View Prediction
#1

last 30 days winnings
$890
Yesterday winnings
($2,000)
#2

last 30 days winnings
$2,930
Yesterday winnings
($3,000)