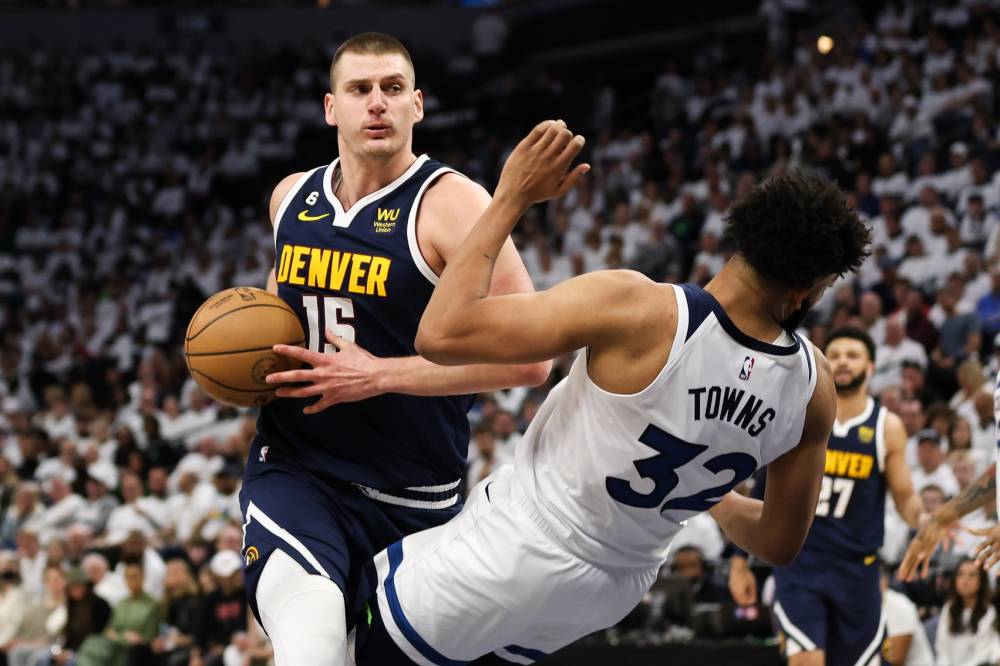 Nuggets vs Timberwolves Game 5 Prediction NBA Playoffs 4/25
Apr 24, 2023, 8:34:02 PM
© Matt Krohn-USA TODAY Sports
Introduction
The NBA playoffs continue with the Nuggets and Timberwolves facing off in Game 5 of the Western Conference 1st Round, where the Denver Nuggets lead the series 3-1. As the NBA experts at KingPin.pro, we offer the most insightful NBA predictions, and in this article, we'll provide an extensive review of both teams' offense, defense, and injury status. We'll also give you our final prediction, explaining why the Nuggets will win and cover the -9 points spread. Don't forget to download the KingPin.pro iOS and Android app to access the best NBA picks for today and NBA picks free, brought to you by our team of NBA experts.
Minnesota Timberwolves
Offense:
The Minnesota Timberwolves finished the regular season with a 42-40 record, going 20-21 on the road. Their star player, Anthony Edwards, led the team in points per game with 24.6, boasting a 45.9% field goal percentage and a 75.6% free-throw percentage. The Timberwolves' offense has been solid, with key contributions from Rudy Gobert and Kyle Anderson. Gobert has been a dominant force in the paint, while Anderson has been the Timberwolves' main playmaker, averaging 4.9 assists per game.
Defense:
On the defensive side, the Timberwolves have relied heavily on Gobert's shot-blocking and rebounding abilities. He has been averaging 11.6 rebounds per game, including 8.3 defensive rebounds and 3.3 offensive rebounds. The Timberwolves will need to continue their strong defensive efforts to have a chance at overcoming the Nuggets' potent offense.
Injuries:
However, the Timberwolves are currently dealing with an injury concern. Kyle Anderson is listed as doubtful for Game 5 due to an injury sustained on April 23. This injury may impact the Timberwolves' chances, as Anderson has been a crucial part of their success this season.
Denver Nuggets
Offense:
The Denver Nuggets have had a stellar season, finishing with a 53-29 record and going 34-7 at home. Nikola Jokic has been the star player for the Nuggets, leading the team in points per game (24.5), field goal percentage (63.2%), free-throw percentage (82.2%), rebounds per game (11.8), and assists per game (9.8). The Nuggets' offense has been highly efficient, with Jokic's versatility and playmaking skills allowing them to create numerous scoring opportunities.
Defense:
Defensively, the Nuggets have been solid throughout the season. Jokic has anchored their defense, contributing 11.8 rebounds per game, including 9.4 defensive rebounds and 2.4 offensive rebounds. The Nuggets' ability to limit their opponents' scoring opportunities has been a key factor in their success this season.
Injuries:
The Nuggets have been fortunate with injuries, as they currently have no injured players on their roster.
Prediction:
Based on our extensive analysis of both teams' offense, defense, and injury status, we predict that the Denver Nuggets will win Game 5 and cover the -9 points spread. The Nuggets have had a better overall season, and their star player, Nikola Jokic, has been a dominant force on both ends of the court. The Timberwolves, on the other hand, are dealing with a significant injury concern in Kyle Anderson, which could negatively impact their performance.
The Twolves barely beat the Nuggets at home in Game 4 so expect them to struggle again in Denver.
Pick: Nuggets -9
Upgrade to View Prediction
#1

last 30 days winnings
$2,890
#2

last 30 days winnings
$4,930
Yesterday winnings
($1,000)