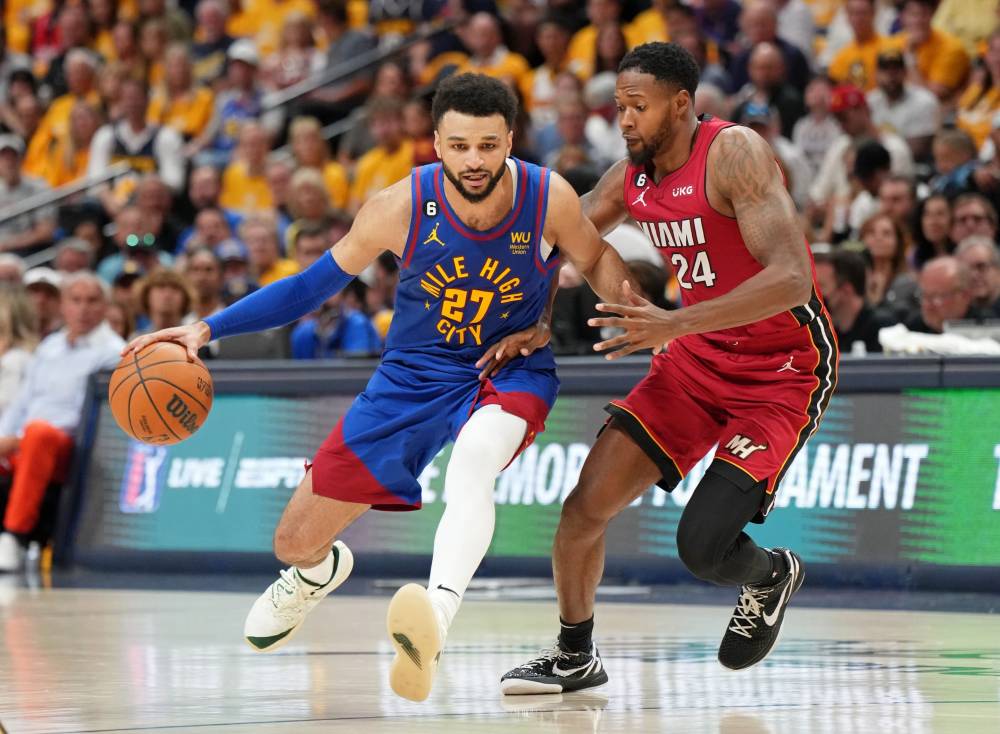 Nuggets vs Heat Game 2 Prediction NBA Finals 6/4
Jun 3, 2023, 1:09:01 AM
© Kyle Terada-USA TODAY Sports
Introduction
Welcome to KingPin.pro, your go-to source for NBA predictions and expert analysis. In this article, we'll provide an extensive review of both teams, the Denver Nuggets and the Miami Heat, as they face off in Game 2 of the NBA Finals. We'll assess their offensive and defensive strengths, take a look at any injuries, and conclude with a prediction.
Denver Nuggets
The Denver Nuggets enter Game 2 with a strong regular season record of 53-29, boasting an impressive 34-7 home record. Led by the exceptional Nikola Jokic, the Nuggets possess one of the most potent offenses in the league. Jokic, the reigning MVP, has been a force to be reckoned with, averaging 24.5 points per game. His ability to score from all areas of the court and facilitate playmaking makes him a nightmare for opposing defenses. With Jokic's leadership and Jamal Murray's scoring ability, the Nuggets are a force on offense.
Defensively, the Nuggets have shown resilience throughout the playoffs. Their ability to protect the paint, combined with their strong rebounding presence, has made them a formidable opponent. Michael Porter Jr. has stepped up on both ends of the court, providing scoring and defensive prowess. With their defensive intensity and versatility, the Nuggets are capable of stifling the Heat's offense.
Miami Heat
The Miami Heat come into Game 2 after a solid regular season, finishing with a 44-38 record and going 17-24 on the road. Jimmy Butler has been the driving force for the Heat, averaging 22.9 points per game. His ability to lead and inspire his teammates has been instrumental in their success. However, the absence of Tyler Herro due to injury could impact their offensive firepower.
Defensively, the Heat have been known for their tenacity and physicality. Led by Bam Adebayo, they have the ability to disrupt opponents' offensive flow and generate turnovers. However, the Nuggets' offensive firepower might pose a significant challenge for the Heat's defense.
Injury Report
The Miami Heat will be missing Tyler Herro, which could limit their offensive options. On the other hand, the Denver Nuggets have no reported injuries, giving them a full-strength lineup for Game 2.
Prediction
Taking into account the teams' performances, offensive firepower, and defensive prowess, the Denver Nuggets hold the advantage in this matchup. With Nikola Jokic leading the charge, the Nuggets' offense has been consistently dominant throughout the playoffs. Additionally, their ability to defend the paint and limit the Heat's scoring opportunities will be crucial in securing the win.
Considering the -8.5 points spread, the Nuggets have a strong chance of covering it. Their offensive efficiency, combined with the Heat's potential struggles without Herro, should give the Nuggets the edge in this game. Expect Jokic to continue his MVP form, while the supporting cast steps up to contribute on both ends of the court.
Pick: Nuggets -8.5
Upgrade to View Prediction
#1

#2

#4