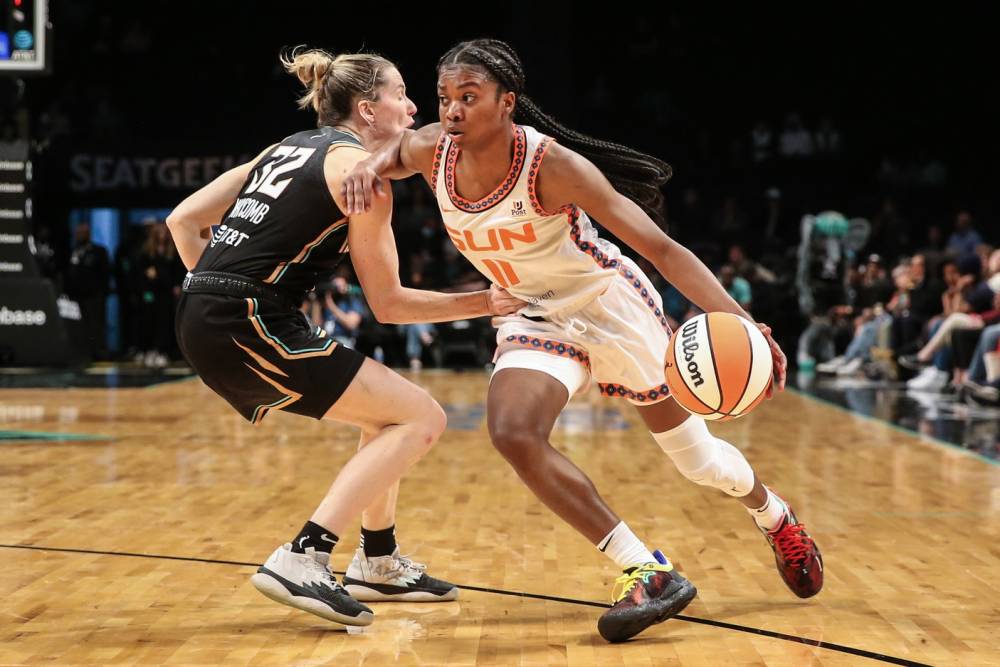 New York Liberty vs Connecticut Sun Prediction WNBA 5/27
May 27, 2023, 5:32:45 AM
© Wendell Cruz-USA TODAY Sports
Introduction:
In a highly anticipated matchup, the Connecticut Sun will face off against the New York Liberty in a WNBA Commissioner's Cup clash. As the Sun boast a perfect 3-0 record, including two impressive away wins, the Liberty will aim to defend their home court and improve upon their 1-1 record. With both teams showcasing talent on offense and defense, let's delve into a comprehensive review of each team and explain a final prediction.
Connecticut Sun Offense and Defense:
The Sun have started the season on a high note, displaying a potent offensive attack led by the dynamic DeWanna Bonner. Bonner has been exceptional, averaging 18.3 points per game (PPG) and shooting an impressive 81.8% from the field. Alongside Bonner, the Sun have the reliable scorer Brionna Stewart, who is putting up 28.5 PPG and shooting an astounding 93.8% from the field. This offensive firepower has propelled the Sun to an average of 79.3 PPG, making them a force to be reckoned with.
Defensively, the Sun have been equally impressive, limiting opponents to an average of 72.0 points per game (PA). Their disciplined defense has been instrumental in securing victories, as they average 4.3 blocks per game and force 8.7 steals per game. The Sun's defensive prowess, combined with their offensive firepower, makes them a formidable opponent for the Liberty.
New York Liberty Offense and Defense:
The Liberty have shown flashes of brilliance on offense, with Brionna Stewart leading the charge. Stewart has been a scoring machine, averaging 28.5 PPG and shooting an impressive 58.1% from the field. She has been a dominant force on the boards as well, grabbing 12.0 rebounds per game (RPG). Alongside Stewart, Courtney Vandersloot has been an excellent playmaker, averaging 7.0 assists per game (APG). The Liberty's offensive strength lies in their ability to create scoring opportunities and capitalize on them efficiently.
Defensively, the Liberty have held their ground, allowing an average of 76.5 points per game. They have demonstrated good team defense, averaging 3.5 blocks per game and forcing 7.5 steals per game. However, they face a stern challenge in containing the Sun's high-powered offense.
Injury Updates:
As of now, both teams have managed to avoid significant injuries, ensuring they have their key players available for this important matchup. This bodes well for an intense and closely contested game.
Prediction
While the Liberty have shown promise, the Sun's undefeated record and impressive performances on both ends of the court make them the favored team to cover the +7.5 points spread. The Sun's offensive duo of DeWanna Bonner and Brionna Stewart has been exceptional, consistently delivering high-scoring performances. The Liberty's defense will face a tough challenge in containing these two dynamic players.
Furthermore, the Sun's defensive tenacity, evident in their ability to limit opponents' scoring opportunities, will pose a significant hurdle for the Liberty's offense. The Liberty will need to find creative ways to penetrate the Sun's defense and counter their shot-blocking and steal-forcing capabilities.
Taking into account the Sun's offensive firepower, defensive prowess, and the Liberty's defensive struggles against top-tier opponents, our prediction favors the Connecticut Sun to cover the +7.5 points spread.
Pick: Conneticut Sun +7.5
Upgrade to View Prediction
#1

last 30 days winnings
$1,440
#2

last 30 days winnings
$2,530