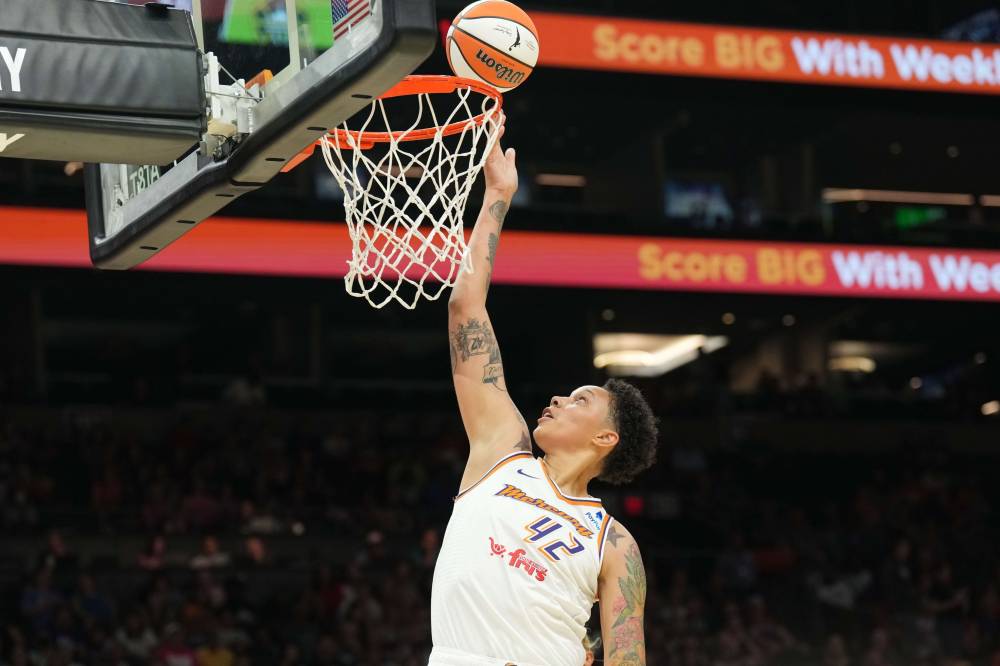 Mercury vs Sun Prediction WNBA Picks Today 8/10
Aug 10, 2023, 7:19:48 AM
© Joe Camporeale-USA TODAY Sports
WNBA Preview: Connecticut Sun vs Phoenix Mercury
The Connecticut Sun, with an impressive four-game road win streak, are set to take on the Phoenix Mercury in an eagerly awaited battle. With contrasting records and stakes, both teams have different objectives.
.
Phoenix Mercury: A Closer Look
Season Performance
Despite their 7-20 record, the Mercury have shown competitiveness, losing by an average of only 5 points this season. They are 7-7 in home games and have demonstrated the ability to keep games close, even against stronger opponents.
Key Players
Diana Taurasi has been stellar for Phoenix, averaging 18 points and 4.8 assists per game. Brittney Griner's recent form, averaging 11.6 points over the last 10 games, adds firepower to the Mercury's offensive arsenal.
Previous Matchup Against the Sun
In their last encounter with the Sun on July 19, the Mercury emerged victorious 72-66. Sophie Cunningham's 17-point performance was key to the win. This victory not only boosts the Mercury's confidence but also provides valuable insights into their game strategy against the Sun.
Injury Report
The absence of Skylar Diggins-Smith due to personal reasons will be felt, but Phoenix's adaptability and collective effort can mitigate this loss.
Connecticut Sun: The Dominant Road Warriors
Season Highlights
Connecticut has been formidable, especially on the road, with a 12-3 record. Ranking fifth in the WNBA with 8.2 offensive rebounds per game, they exhibit strong rebounding prowess led by Brionna Jones's 3.2 average.
Top Performers
Alyssa Thomas's all-around game, averaging 14.8 points, 10.1 rebounds, 8.2 assists, and 1.9 steals, and DeWanna Bonner's scoring ability, averaging 21.4 points over the last 10 games, make the Sun a formidable opponent.
Injury Woes
Brionna Jones's season-ending Achilles injury is a significant blow to the Sun's rebounding and inside presence, which might have implications on this game.
Prediction
The Mercury's previous victory over the Sun, combined with their average loss margin of only 5 points this season, creates a compelling case for them to cover the +8 points spread. Here's why:
Home Advantage
The Mercury's 7-7 home record indicates their ability to compete and thrive at home. The familiar surroundings and fan support can energize the team to play above their season average.
Tactical Insights
Phoenix's previous win over Connecticut offers valuable tactical insights. They can leverage their understanding of the Sun's playing style and adjust their game plan accordingly.
Impact of Injuries
The absence of Brionna Jones from the Sun's lineup may tilt the rebounding battle in favor of the Mercury, allowing them more second-chance opportunities and potentially keeping the game closer.
The Verdict
Considering the Mercury's competitiveness, home record, previous win against the Sun, and Connecticut's injury woes, there's a strong case for Phoenix to cover the +8 points spread. While the Sun's road prowess shouldn't be underestimated, the situational and matchup factors favor the Mercury in this bet.
Stay tuned to KingPin.pro for the latest WNBA insights, previews, and predictions. And remember, sports betting is inherently unpredictable, so always weigh various factors and consult different sources before making a wager. Good luck!
Pick: Mercury +8
Upgrade to View Prediction
#1

#2

#4