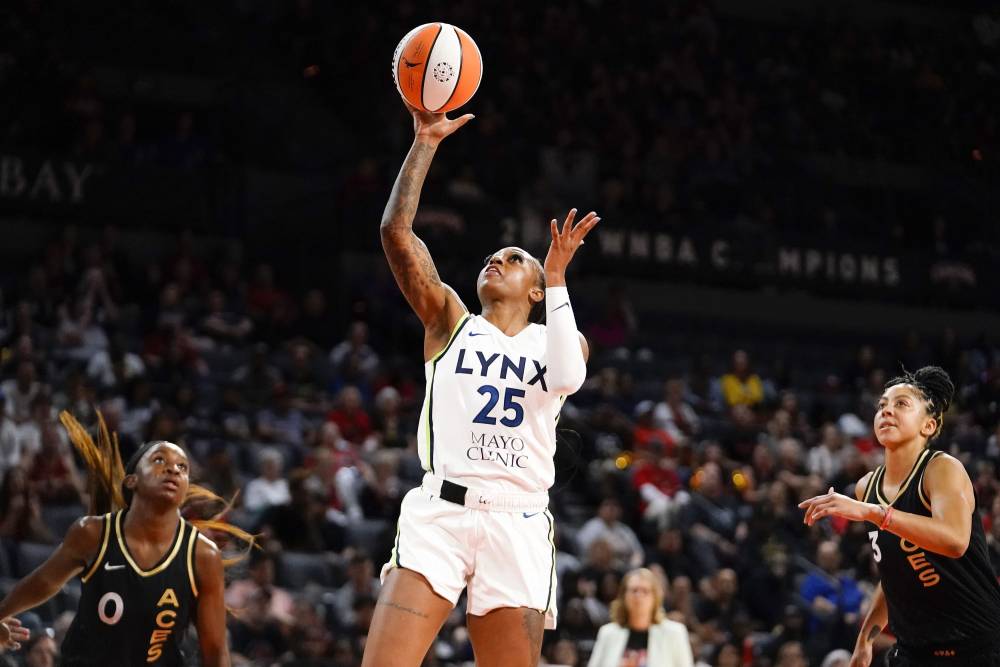 Mercury vs Lynx Prediction WNBA Picks 7/1
Jul 1, 2023, 8:36:12 AM
© Lucas Peltier-USA TODAY Sports
WNBA Prediction: Lynx vs. Mercury
Introduction
The upcoming matchup between the Minnesota Lynx and the Phoenix Mercury is set to take place on June 30, 2023, in Phoenix. With both teams aiming for a victory, this game promises to be a highly competitive battle.
Team Analysis
Minnesota Lynx
The Minnesota Lynx enter this game with a 6-9 record, holding the ninth position in the WNBA. Despite their struggles, the Lynx have shown glimpses of their potential. Led by Napheesa Collier, who is averaging 22.4 points per game, the Lynx possess offensive firepower. Additionally, their defensive effort, averaging 5.9 steals and 3.1 blocks per game, indicates their ability to disrupt opponents' plays.
Offense
The Lynx's offense revolves around Napheesa Collier, who has been exceptional this season. Her scoring ability and all-around skills make her a tough matchup for any defense. While shooting at 41.8%, the Lynx have the potential to put up points against the struggling Mercury defense.
Defense
Defensively, the Lynx have been solid, averaging 5.9 steals and 3.1 blocks per game. Their ability to disrupt opponents' plays and create turnovers will be crucial in this matchup. With strong perimeter defenders and shot-blocking presence, the Lynx aim to limit the Mercury's scoring opportunities.
Injuries
The Lynx will be missing some key players due to injuries, including Aerial Powers, Jessica Shepard, Tiffany Mitchell, and Natalie Achonwa. However, they still have enough depth and talent to overcome these setbacks.
Phoenix Mercury
The Phoenix Mercury have struggled this season, with a 3-11 record. Their poor performances have primarily come from their struggles on both ends of the court. The Mercury will rely heavily on Brittney Griner's scoring, who averages 19.5 points per game.
Offense
Offensively, the Mercury have had difficulties, averaging only 75.0 points per game in their last ten outings. Their shooting percentage of 44.0% indicates their inconsistency in converting scoring opportunities. Against a strong Lynx defense, the Mercury will face an uphill battle.
Defense
Defensively, the Mercury have been vulnerable, allowing an average of 85.2 points per game in their last ten games. Their struggles in defending against opponents' scoring attacks will be a significant concern as they face the Lynx's potent offense.
Injuries
The Mercury will be without Megan Gustafson, Skylar Diggins-Smith, and Shey Peddy due to injuries. These absences weaken their roster and could impact their performance against the Lynx.
Prediction
Considering the recent performances of both teams, the Minnesota Lynx have a clear advantage in this matchup. The Lynx's strong defense, combined with their ability to exploit the Mercury's defensive vulnerabilities, should give them the upper hand.
Furthermore, the Mercury's struggles in their last ten games, losing by an average of 10 points, indicate their difficulties in finding consistent success. With Napheesa Collier's impressive form and the Lynx's defensive prowess, they are expected to secure a victory over the struggling Mercury.
Ultimately, the Minnesota Lynx are predicted to come out on top, capitalizing on the Mercury's weaknesses and adding another win to their record.
Pick: Minnesota Lynx ML +120
Upgrade to View Prediction
#1

#2

#4