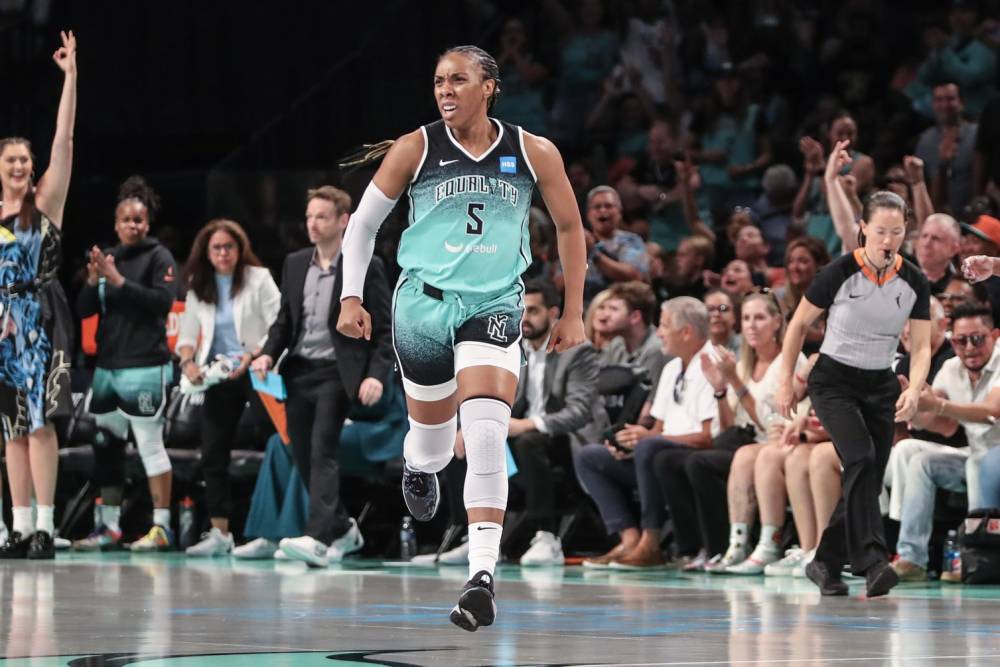 Liberty vs Sky Prediction WNBA Picks 8/11
Aug 11, 2023, 8:17:19 AM
© Wendell Cruz-USA TODAY Sports
New York Liberty Faces Chicago Sky: A Clash of Momentum
The New York Liberty, currently on a red-hot streak, host the Chicago Sky at 8 p.m. EDT on Friday. Coming off a 99-61 demolition of Las Vegas Aces, the Liberty are set to continue their success.
New York Liberty: A Comprehensive Analysis
Season Overview
With a 22-6 overall record and 11-3 against Eastern Conference opponents, the Liberty have established themselves as a powerhouse this season. Their dominance on both ends of the court has been awe-inspiring.
Offensive Dynamics
The Liberty's offensive strategy, characterized by aggressive playmaking and effective shooting, has been a revelation. Averaging 88.7 points in the last 10 games with a 44.9% shooting percentage from the field, their offense is clicking at the right time.
Defensive Stalwarts
Leading the WNBA with 29.8 defensive rebounds per game, the Liberty's defense has been as impressive as their offense. Their ability to control the glass and disrupt opponents' scoring has contributed to their success.
Key Players: Ionescu and Stewart
Sabrina Ionescu and Breanna Stewart have been standout performers. Ionescu's 17 points per game and Stewart's 21.9 points over the last 10 games have made them indispensable to the Liberty's winning formula.
Recent Performance
The Liberty's 8-2 record in the last 10 games, including their victory over one of the best teams in the league, highlights their form. Their cohesive team play and execution under pressure have been vital in maintaining this momentum.
Chicago Sky: A Closer Look
Season Struggles
The Sky's 12-16 overall record, including 3-10 against Eastern Conference opponents, reveals their struggles. Inconsistency has been their Achilles heel, making it difficult to build momentum.
Shooting Proficiency
Chicago ranks second in the Eastern Conference in 3-point shooting at 37.4%. This outside threat, however, has not translated into overall success due to their struggles in other areas of the game.
Key Players: Williams and Copper
Courtney Williams and Kahleah Copper have been bright spots for the Sky, with Copper averaging 24.5 points in the last 10 games. Their individual brilliance, however, hasn't been enough to lead the team to consistent victories.
Injuries
With players like Isabelle Harrison out with a knee injury, the Sky's depth has been tested, and their lack of healthy players has hindered their progress.
Prediction
The Liberty's offensive and defensive balance, coupled with the Sky's inconsistencies, creates a matchup advantage for New York. Their ability to exploit Chicago's weaknesses can be pivotal in this game.
New York's momentum, coming from recent victories, including their massive win over the Aces, adds to their confidence. This confidence, matched with their superior performance, can make the difference in this game. While the Sky won the last match 86-82, the Liberty's current form is likely to reverse that outcome. Their enhanced gameplay and strategy give them the edge this time.
With a detailed analysis of both teams, their players, recent performances, and overall season trends, it's clear that the New York Liberty are in prime position to win this game and cover the -12.5 spread. Fans can expect a thrilling contest that could further solidify the Liberty's standing as one of the elite teams of the season.
Stay tuned to KingPin.pro for more WNBA analysis, previews, and predictions. Betting on sports always carries risks, so consider various factors and consult different sources before making a wager. Good luck!
Pick: Liberty -12.5
Upgrade to View Prediction
#1

#2

#4