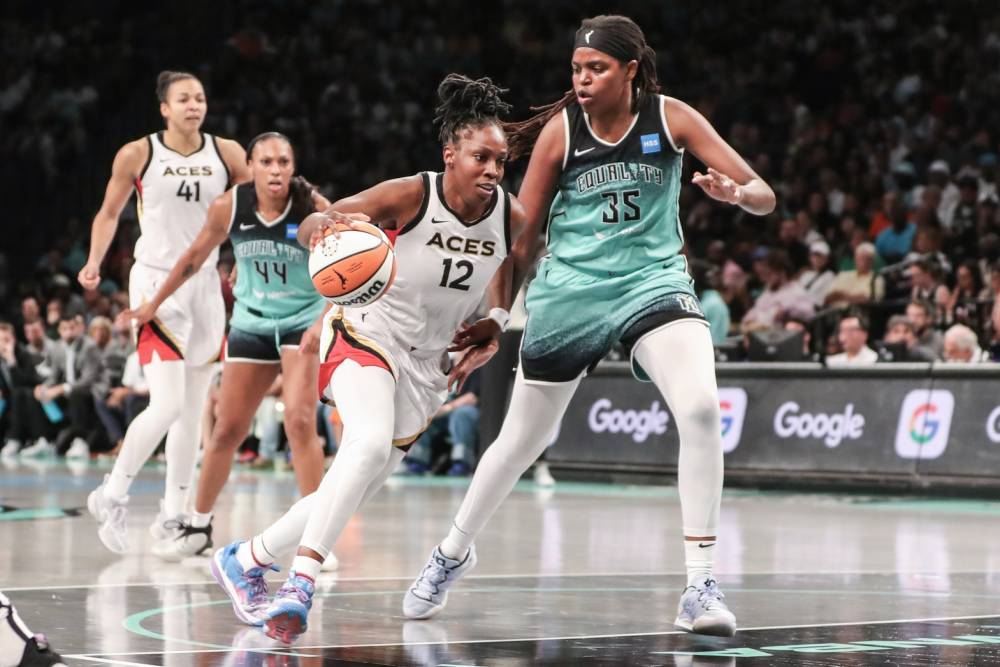 Las Vegas Aces vs New York Liberty Prediction WNBA 8/15
Aug 15, 2023, 12:43:36 AM
© Wendell Cruz-USA TODAY Sports
New York Liberty vs Las Vegas Aces: A Battle of Titans
Game Details
Date: Aug 14, 2023
Time: 9 p.m. EDT
Location: Las Vegas
Las Vegas Aces: Dominant at Home
Unbeaten Record
The Aces have gone 15-0 at home, showcasing their dominance in Las Vegas. The team has found a rhythm that's nearly impossible to break, holding opponents to 42.6% shooting and allowing only 80.1 points per game.
Top Performers
Chelsea Gray's leadership as a playmaker, averaging 15.1 points and 6.9 assists, combined with A'ja Wilson's stunning performance of 21.3 points, 9.7 rebounds, and 2.2 blocks over the last 10 games, makes this duo a force to reckon with.
Last 10 Games
Averaging 95.4 points, 34.6 rebounds, 21.6 assists, 8.3 steals, and 3.8 blocks, the Aces have won 9 out of their last 10 games. Their impressive 49.1% shooting from the field has been a key to success.
New York Liberty: Chasing Victory
Road Warriors
The Liberty, with a 12-2 record away from home, have shown resilience on the road. Their scoring prowess, at 88.5 points, and their margin of victory, outscoring opponents by 7.8 points per game, make them a challenging opponent.
Key Players
Sabrina Ionescu and Breanna Stewart are leading the Liberty's charge. Ionescu's stellar performance against the Aces in their last meeting, scoring 31 points, and Stewart's average of 23.3 points over the last 10 games, puts them in the spotlight.
Injuries
Both teams are dealing with injuries. Aces: Candace Parker (foot), Riquna Williams (back). Liberty: Stefanie Dolson (ankle). These absences may impact the game's dynamics.
Prediction
Home Advantage
Las Vegas's unbeatable home record puts them in the driver's seat. Their balanced attack and tight defense, particularly at home, make them favorites against the Liberty.
Momentum and Form
The Aces' 9-1 run in the last 10 games shows their form and confidence. Their previous home wins and high-octane offense provide them the tools to cover the -7.5 spread against a strong Liberty team.
Final Thoughts
This clash between two of the WNBA's top teams promises to be a thrilling contest. Despite New York's strong showing this season, Las Vegas's home dominance tips the scales in their favor. Expect the Aces to win and cover the spread, further cementing their status as one of the elite teams of the season.
For more WNBA analysis, previews, and predictions, follow KingPin.pro. Always remember that betting on sports carries risks, and consider multiple factors and consult different sources before making a wager. Good luck!
Pick: Las Vegas Aces -7.5
Upgrade to View Prediction
#1

#2

#4