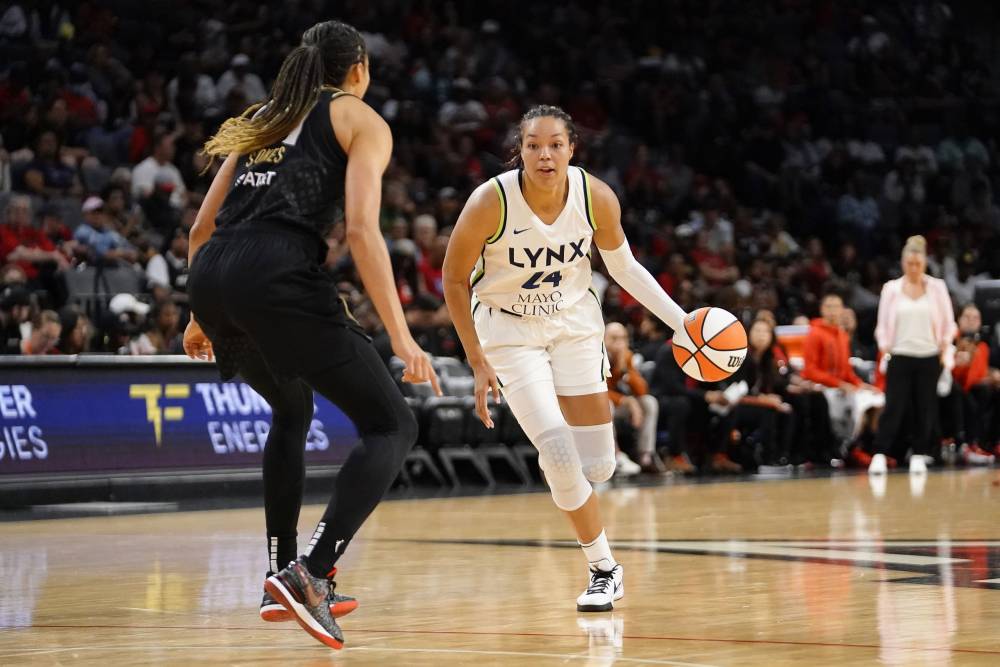 Dream vs Lynx Prediction WNBA Picks, Odds, and Analysis 7/18
Jul 18, 2023, 8:28:15 AM
© Lucas Peltier-USA TODAY Sports
WNBA Predictions: Minnesota Lynx vs. Atlanta Dream | Expert Picks, Odds, and Analysis
The WNBA season is heating up, and on Tuesday, an exciting matchup awaits as the Minnesota Lynx (9-11) put their three-game road winning streak on the line against the Atlanta Dream (11-8). Both teams have shown glimpses of their potential throughout the season, making this game an intriguing one for basketball fans and sports bettors alike. In this preview, we'll analyze the offense, defense, and injury situations of both teams to provide you with expert picks and predictions for this highly anticipated clash.
But before we dive into the game analysis, it's worth mentioning the KingPin.pro app, available for iOS and Android. With KingPin.pro, you can access expert WNBA picks, get the latest odds, track your bets, and stay up-to-date with real-time game updates. It's the ultimate tool for passionate sports bettors looking to gain an edge. So, make sure to download the app and take your betting experience to the next level.
Offense:
When it comes to scoring, the Atlanta Dream have been a force to be reckoned with this season. Ranking second in the Eastern Conference, they have been averaging an impressive 86.6 points per game. Their offensive success can be attributed to their efficiency, shooting 44.3% from the field. Allisha Gray has been a standout performer, averaging 18.2 points, 5.1 rebounds, and 3.2 assists for the Dream. Rhyne Howard has also been impressive, averaging 18.5 points and 3.5 assists in the last 10 games. With such firepower, the Dream pose a significant threat to any defense they face.
On the other side, the Minnesota Lynx have had their offensive struggles, averaging 80.7 points per game. However, they have shown resilience and determination, evident in their three-game road winning streak. Napheesa Collier has been the key offensive catalyst for the Lynx, averaging an impressive 21.3 points and 7.7 rebounds per game. Kayla McBride has been a reliable shooter, making an average of 2.1 three-pointers in the last 10 games. Despite their offensive inconsistencies, the Lynx have managed to find ways to win on the road.
Defense:
Defense plays a crucial role in determining the outcome of any game, and the Atlanta Dream have been solid on that end of the court. They have held their opponents to an average of 87.0 points per game, showcasing their ability to limit scoring opportunities. With 7.7 steals and 5.2 blocks per game, the Dream have proven to be disruptive defensively. Their ability to stifle the Lynx's offensive flow will be critical in securing a victory.
The Minnesota Lynx, on the other hand, have had some defensive struggles recently. Allowing an average of 87.6 points per game in their last 10 outings, they have faced challenges in containing opposing offenses. However, they have compensated with their ability to generate steals (7.3 per game) and blocks (3.2 per game). The Lynx will need to step up their defensive intensity to contain the Dream's potent scoring threats.
Injury Update:
Injuries can have a significant impact on a team's performance, and both the Dream and the Lynx have players on the sidelines. The Dream will be missing Aari McDonald, who is out with a torn labrum. While McDonald's absence is notable, the Dream have shown resilience and adaptability, as evidenced by their recent form.
The Lynx, on the other hand, have been dealing with multiple injury concerns. Aerial Powers (ankle), Jessica Shepard (illness), Tiffany Mitchell (wrist), and Natalie Achonwa (personal) will all be unavailable for this game. These absences will undoubtedly test the Lynx's depth and require other players to step up.
Prediction
After a comprehensive review of both teams' offense, defense, and injury situations, the Atlanta Dream emerge as the favorites in this matchup. Their potent offense, combined with their solid defense and home-court advantage, give them an edge over the injury-depleted Lynx.
With the Dream's offensive firepower and ability to limit opponents' scoring, they are well-positioned to secure a victory and cover the -6 points spread. Allisha Gray and Rhyne Howard will be key contributors on the offensive end, while the Dream's defense aims to stifle the Lynx's scoring efforts.
However, it's important to remember that in sports, anything can happen. The Lynx have shown resilience and determination, and they will be motivated to prove themselves against the odds. Fans can expect an intense battle between two talented teams, but ultimately, the Dream's overall strength and favorable circumstances make them the recommended pick.
Remember, for more expert picks and analysis for WNBA and other sports, download the KingPin.pro app. Stay informed, make smarter bets, and enhance your sports betting experience with KingPin.pro.
Pick: Dream -6
Upgrade to View Prediction
#1

#2

#4