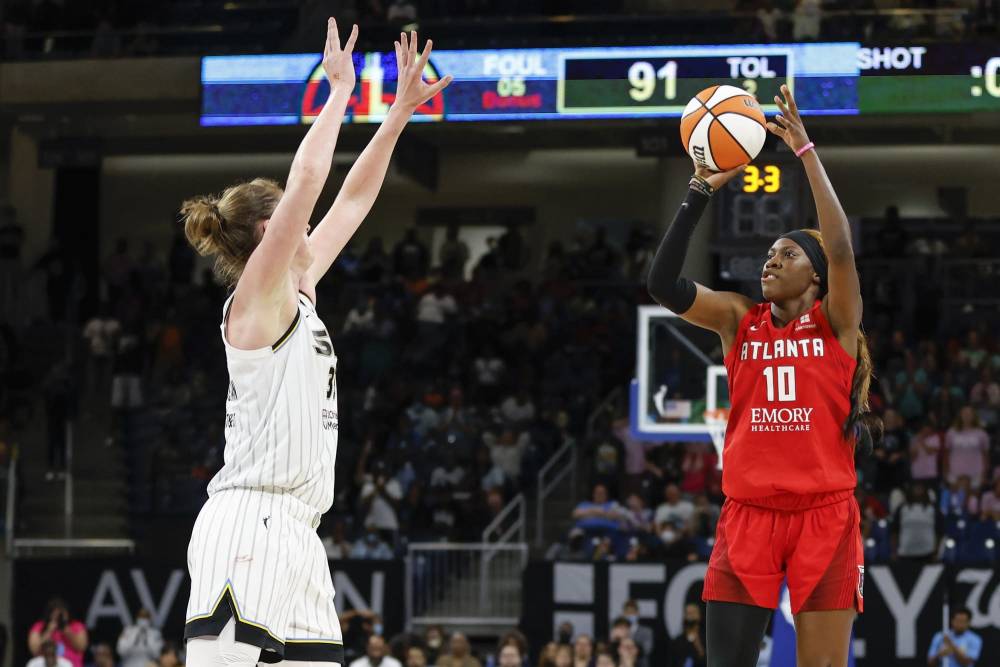 Chicago Sky vs Atlanta Dream Prediction WNBA Picks 7/9
Jul 9, 2023, 7:25:08 AM
© Kamil Krzaczynski-USA TODAY Sports
Atlanta Dream Looks to Continue Dominance Over Chicago Sky
Introduction
In a highly anticipated Eastern Conference matchup, the Atlanta Dream (8-8, 6-5 Eastern Conference) led by Rhyne Howard will take on the Chicago Sky (8-9, 3-8 Eastern Conference) anchored by Courtney Williams. The Dream has had the upper hand against the Sky this season and will aim to extend their dominance in this game.
Atlanta Dream Offense vs. Chicago Sky Defense
The Atlanta Dream have showcased their offensive prowess throughout the season, averaging 89.0 points per game. Led by Rhyne Howard's scoring prowess of 18 points per game and the consistent contributions of Allisha Gray, who averages 19.3 points, the Dream pose a significant offensive threat. Shooting at a field goal percentage of 45.3%, they have been efficient in converting their scoring opportunities. On the defensive end, the Chicago Sky have struggled this season, allowing opponents to score an average of 84.6 points per game. Their defense will face a tough challenge containing the high-scoring Dream. The combination of Howard's versatility and Gray's offensive efficiency could exploit the Sky's defensive vulnerabilities.
Chicago Sky Offense vs. Atlanta Dream Defense
The Chicago Sky's offense has had its ups and downs this season, averaging 79.5 points per game. Courtney Williams has been a key facilitator for the Sky, leading the team with an average of 6.1 assists per game. Marina Mabrey has also emerged as a reliable scoring option, averaging 16.6 points over the last 10 games. The Atlanta Dream's defense has been solid, allowing an average of 90.6 points per game. They have shown the ability to contest shots and disrupt opponents with their 5.0 blocks and 6.9 steals per game. The Dream's defensive intensity could pose challenges for the Sky's offensive execution.
Prediction
Based on the previous matchups between these teams and the current form of both squads, the Atlanta Dream hold the advantage in this contest. The Dream have dominated the Sky in their previous meetings this season and have showcased a balanced offensive attack led by Rhyne Howard and Allisha Gray. Furthermore, the Sky's defensive struggles and inconsistency on offense make it difficult for them to overcome the Dream's defensive pressure and offensive firepower. With their ability to disrupt the Sky's game plan and maintain their offensive efficiency, the Dream are well-positioned to secure another victory. In conclusion, the prediction for this game leans in favor of the Atlanta Dream. Their dominant performances against the Chicago Sky this season, combined with their balanced offense and solid defense, make them the more likely team to emerge victorious once again.
Pick: Dream ML +100
Upgrade to View Prediction
#1

#2

#4