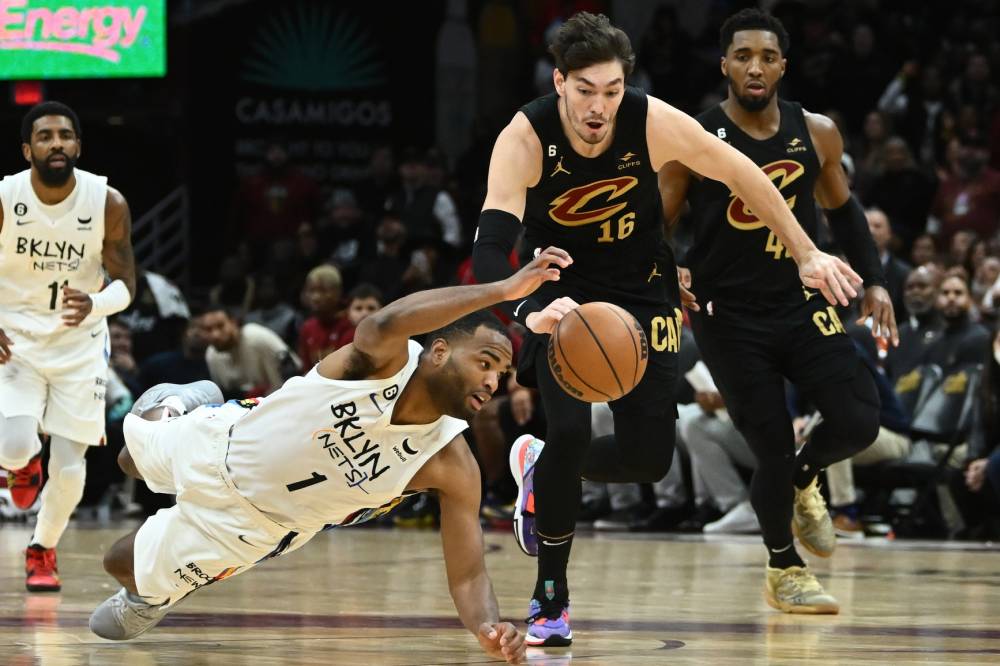 Cavaliers vs Nets Prediction NBA Picks Experts 3/21
Mar 20, 2023, 5:18:18 PM
© Ken Blaze-USA TODAY Sports
Game Preview: Cleveland Cavaliers vs. Brooklyn Nets - March 21, 2023
The Brooklyn Nets are set to take on the Cleveland Cavaliers in a highly-anticipated NBA matchup on March 21, 2023. This game is crucial for both teams as they aim to secure a spot in the playoffs. The Nets will be looking to break their three-game skid and improve their record in the Eastern Conference. On the other hand, the Cavaliers have been performing well in conference play and will be seeking to extend their winning streak. NBA Picks experts, computer models, and prediction algorithms are weighing in on this clash, with NBA today experts offering their picks and projections. As both teams have experienced ups and downs this season, the best NBA bets today may be hard to predict. The Nets have been averaging 14.8 fast break points per game, led by Mikal Bridges, who is averaging 19.2 points and 3.4 assists. Meanwhile, the Cavaliers are currently outscoring their opponents by 5.6 points per game. The two teams previously met on December 27, 2022, with the Nets emerging victorious with a 125-117 win. Kyrie Irving led the Nets to victory, scoring 32 points. With both teams boasting top performers, including Spencer Dinwiddie for the Nets and Evan Mobley for the Cavaliers, this game is set to be a nail-biter. The NBA picks with spread and NBA predictions today will play a critical role in determining who triumphs in the end. Will the Nets break their three-game losing streak, or will the Cavaliers extend their winning streak? Only time will tell, but this game is sure to be an exciting one for NBA fans.
Cavaliers: Offensive Analysis
The Cavaliers have been playing exceptional basketball lately, going 7-3 in their last 10 games and averaging 114.2 points per game. However, they will face a tough challenge against the Brooklyn Nets, who boast a solid defense that ranks 12th in the league in points allowed per game. The key to success for the Cavaliers will be their ability to score in the paint. They average 52.8 points in the paint per game, which ranks 11th in the league. This is largely due to the outstanding play of Evan Mobley, who averages 16.2 points and 8.9 rebounds per game. If he can establish himself early in the paint, it could open up opportunities for their perimeter players. The Cavaliers also need their backcourt to play at a high level. Donovan Mitchell has been on fire lately, averaging 26.3 points per game in his last 10 games. He will need to continue this scoring prowess to keep up with the Nets. However, the Cavaliers will need more than just scoring from their backcourt. They will need to generate quality looks for their teammates and move the ball around the court effectively. The Nets have a solid defense that can shut down one-dimensional offenses, so the Cavaliers will need to be versatile. Overall, the Cavaliers will need to play an all-around offensive game to keep pace with the Nets. While they have been playing well lately, they will need to step up their game to beat a team as talented as Brooklyn. NBA picks experts and computer models may have the Nets as the favorites, but the Cavaliers can still make a statement with a win if they execute their offensive game plan effectively.
Cavaliers: Defensive Analysis
As the Cleveland Cavaliers gear up to face the Brooklyn Nets, their focus must primarily be on defense. The Cavaliers have been exceptional in defense this season, allowing just 106.6 points per game, which is the best in the league. They also have a point margin of +5.5, which again, ranks at the top of the league. Looking at their defensive stats breakdown, the Cavaliers rank high in most categories. They have a low opposing effective field goal percentage of just 53.7%, making it difficult for their opponents to score effectively. In addition, Cleveland has a strong defensive presence under the rim, allowing only 46.0 points in the paint per game. The Cavaliers have also been successful in disrupting their opponents with their defensive playmaking skills. They have an impressive 7.1 steals per game, which is higher than the Nets' average of 7.2 steals per game. Cleveland's opponents have averaged 15.6 turnovers per game, while the Cavaliers have managed to keep their turnovers to a minimum with 13.5 per game. Furthermore, Cleveland's defensive rebounding prowess has been an asset in the majority of their games, ranking at the top of the league with an average of 31.3 defensive rebounds per game. While Brooklyn's offense does pose a challenge for the Cavaliers, the excellent defensive performance of Cleveland could help them secure a win in this game. If the Cavaliers can continue their defensive dominance in this match, shutting down the Nets' key players, they could emerge as winners in this contest. In conclusion, as NBA picks experts and NBA picks computer make their predictions, Cleveland's defensive analysis stands out as a significant factor that could decide the outcome of the game. Considering their strong defense stats and the danger posed by Brooklyn's offense, the Cavaliers must remain focused and aligned in defense to come out on top.
Nets: Offense Analysis
The Brooklyn Nets will have a tough match-up against the Cleveland Cavaliers as they try to break their three-game losing streak. Despite having a strong fast break game led by Mikal Bridges and averaging 113.4 points per game, the Nets' offense has been struggling lately, only averaging 111.7 points in their last 10 games. Their offensive struggles may stem from their poor rebounding, averaging only 47.2 rebounds per game, which is the worst in the league. This failure to secure rebounds leads to fewer offensive possessions and missed opportunities, ultimately resulting in a weaker offense. Additionally, the Nets have been inconsistent in shooting, averaging 49.0% shooting with a 38.2% three-point percentage. While they have strong shooters like Bridges and Spencer Dinwiddie, they will need to improve their shooting performance to compete with the Cavaliers' efficient defense, which ranks first in the league in points allowed per game. Although the Nets have some offensive weaknesses, they still have the potential to put up points with their talented roster. However, they will need to focus on rebounding and improving their shooting to break their losing streak and secure the win against the Cavaliers. NBA picks experts and NBA picks computer predictions may favor the Cavaliers due to their strong defense, but with the right adjustments, the Nets could surprise NBA today experts with an upset victory. Best NBA bets today would be for the Cavaliers, but the Nets could potentially cover the spread with a strong offensive performance. Overall, the Nets will need a strong offensive showing to defeat the Cavaliers, and improving their rebounding and shooting performances will be crucial in doing so. NBA picks and parlay predictions may be uncertain, but the Nets have the talent to compete and potentially secure the win.
Nets: Defensive Analysis
The Brooklyn Nets have a significant challenge ahead of them when they take on the Cleveland Cavaliers, a team that boasts a top-ranked defense in the league. However, the Nets are no slouch on defense either, and they'll need to bring their A-game if they hope to break their three-game losing streak. The Nets will need to focus on stopping Cleveland from scoring in the paint, as the Cavaliers are ranked third in the league in points in the paint per game. This means that Brooklyn's big men, including Nic Claxton and Moses Brown, will need to step up their defense down low to prevent Evan Mobley, one of Cleveland's top performers, from racking up points. Brooklyn's perimeter defense will also be crucial in this game, as Cleveland is ranked 14th in the league in three-point percentage. Mikal Bridges and Joe Harris will need to use their length and athleticism to disrupt Cleveland's outside shooters and prevent them from getting open looks. In addition, Brooklyn's defense has been effective in creating turnovers, averaging 8.1 steals per game. They'll need to continue this trend against Cleveland, who are averaging 15.6 turnovers per game. Spencer Dinwiddie, who is averaging 1.0 steals per game, will need to be at his best to disrupt Cleveland's ball-handling. Overall, the Nets will need to bring their best defensive effort if they hope to break their losing streak against a tough Cleveland team. With the leadership of head coach Steve Nash, the Nets will undoubtedly have a game plan in place to contain Cleveland's top performers and come out on top. Keywords: nba picks experts, nba picks computer, nba picks em predictions, nba today experts, nba picks, nba picks and parlay, nba experts picks today, best nba bets today, nba picks with spread, nba predictions today, nba picks for today, nba picks odds, nba picks and parlays, nba picks today
Injury Report Analysis for Cavaliers vs. Nets Game on March 21, 2023
Injuries can play a significant role in determining the outcome of NBA games. Therefore, it's crucial to consider the injury statuses of the players before making NBA picks, whether you rely on expert opinions or computer-generated predictions. For the Cleveland Cavaliers, Jarrett Allen is listed as day-to-day due to an eye injury. Allen is a crucial player for the Cavaliers, averaging 10.3 points, 9.7 rebounds, and 1.8 blocks per game. His presence in the paint is essential for the Cavaliers' defense and rebounding, making his absence a significant blow to the team's chances of winning. For the Brooklyn Nets, Ben Simmons is out due to a knee injury. Simmons is a versatile player who can contribute on both ends of the court, averaging 15.7 points, 7.9 rebounds, and 8.2 assists per game. The Nets will miss his ball-handling, passing, and defense in this game. However, the Nets have enough depth and talent to compensate for his absence and win the game. Overall, the Cavaliers will miss Allen's presence in the paint, but they still have enough firepower to compete against the Nets. On the other hand, the Nets will miss Simmons, but they have enough talent and depth to overcome his absence. So, the injury report is not likely to significantly affect the game's outcome. Therefore, when making NBA picks and parlay, consider this injury report analysis but also pay attention to other factors such as the teams' recent performances, head-to-head records, and injuries' impact on their playing styles. Based on these factors, the best NBA bets for today may differ from the injury report analysis alone.
| Player | Team | Position | Injury Status |
| --- | --- | --- | --- |
| Jarrett Allen | Cleveland Cavaliers | C | Day to day (eye) |
| Ben Simmons | Brooklyn Nets | PG | Out (knee) |
Betting Trends Analysis
Looking at the current betting trends, the Cleveland Cavaliers are favored by most NBA experts and prediction models. The Cavaliers have been performing exceptionally well lately, winning seven of their last ten games and averaging 114.2 points per game. In contrast, the Brooklyn Nets have lost three consecutive games and hold a 5-5 record in the last ten games. Based on the spread, the Cavaliers are expected to win by 2.5 points, and the over/under stands at 222.5 points. NBA picks and parlays suggest that the Cavaliers will cover the spread and that the game's total points will be under 222.5. In terms of head-to-head record, the Brooklyn Nets won the first matchup between these teams this season. However, the Cleveland Cavaliers have a better record in conference play and are playing with better momentum currently. This could be why NBA experts and prediction models favor the Cavaliers to come out on top in this game. Thus, the best NBA bets for today's matchup seem to suggest that the Cleveland Cavaliers will win and cover the spread. However, as always, NBA games can be unpredictable, and one can never be too sure about the final outcome. Prediction: The Cleveland Cavaliers and Brooklyn Nets will face off on Tuesday, March 21, 2023, at 7:30 p.m. EDT. Brooklyn is looking to break a three-game losing streak, while Cleveland is coming off a strong 7-3 record in their last 10 games. Despite Brooklyn's home-court advantage, Cleveland's strong performance in conference play and defensive prowess make them the favorite to win.
Pick: Cleveland Cavaliers (+2.5)
#1

last 30 days winnings
$1,440
#2

last 30 days winnings
$3,470