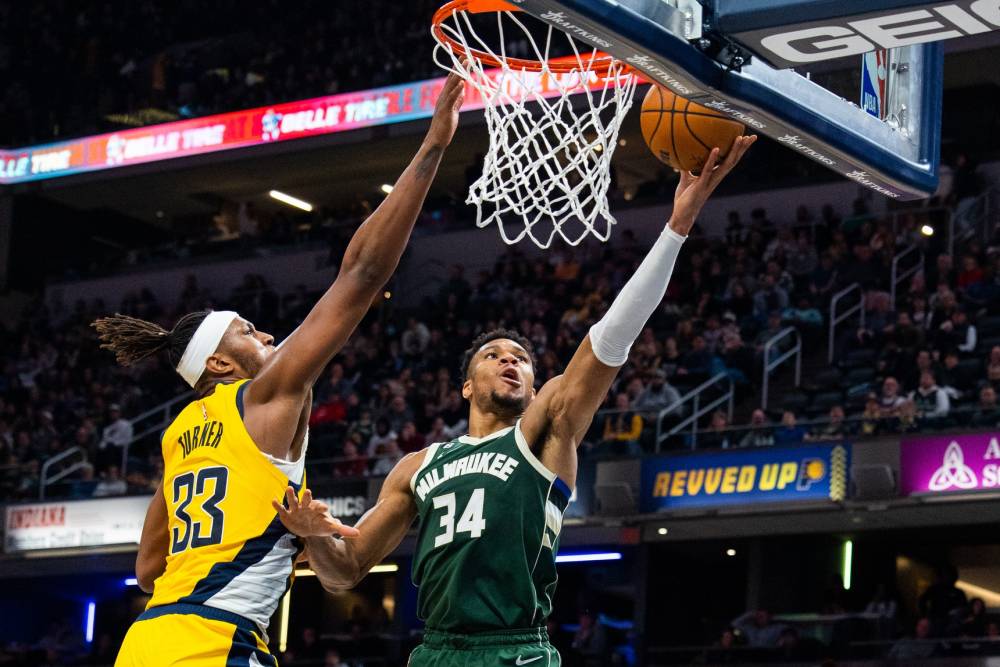 Bucks vs Pacers Prediction NBA Picks and Betting Trends 3/16
Mar 16, 2023, 1:16:10 AM
Photo Credit: © Trevor Ruszkowski-USA TODAY Sports
The Indiana Pacers take on the Milwaukee Bucks in an exciting NBA matchup on March 16, 2023. Our team of experts at KingPin.pro are here to provide you with the best NBA picks and predictions, including betting trends and public betting data. Don't forget to download the KingPin.pro iOS and Android app for real-time updates and analysis.
Indiana Pacers
The Pacers have a record of 31-38, placing them 12th in the Eastern Conference. They've been performing well in recent games, going 6-4 in their last 10 games. Indiana ranks eighth in the Eastern Conference in scoring, with Myles Turner averaging 9.3 points per game in the paint. However, their defense has been a weak point, allowing opponents to score an average of 117.9 points per game.
Milwaukee Bucks
The Milwaukee Bucks are dominating the league with a 50-19 record, placing them first in the Eastern Conference. Giannis Antetokounmpo is a key player, ranking fifth in the league with an average of 30.9 points per game. The Bucks have an impressive 8-2 record in their last 10 games, showcasing their consistency on both offense and defense. They have a strong defensive record, allowing just 112.0 points per game on average.
Betting Trends
The Bucks have been performing well against the spread this season, with a 60.0% cover rate. They are particularly strong as a home favorite, with a 60.6% cover rate in those situations. The Pacers, on the other hand, have been struggling against the spread, with a 46.7% cover rate when playing with a rest advantage.
Public Betting Data
Public betting data shows that the majority of bets are being placed on the Milwaukee Bucks, with a strong belief in their ability to continue their dominant performance this season.
Prediction
Based on the analysis of both teams, the Milwaukee Bucks are expected to come out on top in this matchup. They have a solid record on both offense and defense, and their star player, Giannis Antetokounmpo, is expected to make a significant impact in the game.
Pick: Milwaukee Bucks (-14)
#1

last 30 days winnings
$1,440
#2

last 30 days winnings
$3,470