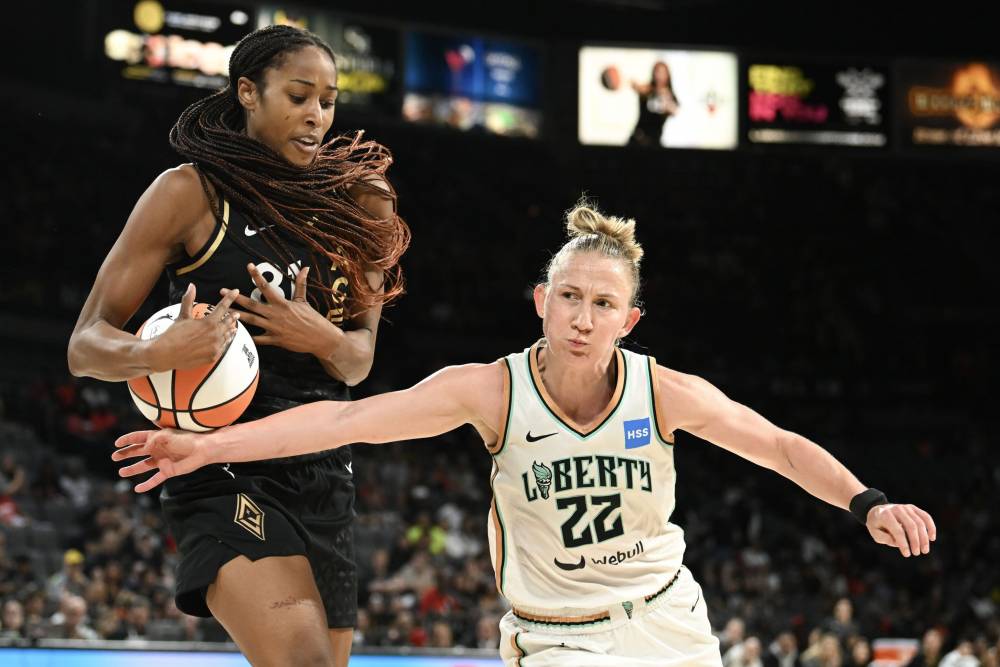 Aces vs LIberty Prediction WNBA Picks 8/17
Aug 16, 2023, 10:54:18 PM
© Candice Ward-USA TODAY Sports
New York Liberty Seeks 25th Victory This Season in Matchup with Las Vegas Aces
Las Vegas Aces (27-3, 15-1 Western Conference) will host the New York Liberty (24-6, 13-3 Eastern Conference) on Thursday at 10 p.m. EDT, with the Aces favored at -6.5.
Las Vegas Aces: An Overview
Home Dominance
The Aces are undefeated at home, displaying a perfect 15-0 record. Their home court advantage has been instrumental in their season's success, making them a threat to any visiting team. Chelsea Gray's leadership, averaging 6.9 assists, has been key to their impressive offensive display.
Key Players: Gray and Wilson
Chelsea Gray and A'ja Wilson have been standout performers. Gray's 15 points per game, paired with Wilson's stellar 24.7 points over the last 10 games, demonstrate their offensive prowess. Their coordination and ability to make big plays have been instrumental to the Aces' form.
Last 10 Games Performance
The Aces are 9-1 in their last 10 games, showcasing a remarkable offensive and defensive balance. With an average of 94.2 points, 34.9 rebounds, 20.8 assists, 9.3 steals, and 4.1 blocks per game, they have been a force to reckon with.
Injuries
Despite the absence of Candace Parker (foot) and Riquna Williams (back), the Aces have maintained their winning momentum, displaying their depth and resilience.
New York Liberty: An Overview
Road Warriors
The Liberty's 12-2 road record and 8-4 standing against opponents over .500 showcase their ability to perform under pressure. Aiming for their 25th victory of the season, they are a formidable adversary for the Aces.
Top Performers: Stewart and Ionescu
Breanna Stewart and Sabrina Ionescu have been key to the Liberty's success. Stewart's all-around game and Ionescu's consistent scoring have powered New York's remarkable season.
Last 10 Games Performance
New York's 9-1 record in their last 10 outings demonstrates their consistency and determination. Their balanced game has been a highlight, and they will look to carry this form into the matchup against the Aces.
Injuries
The Liberty enters the game with no listed injuries, an advantage that may play a crucial role in this high-stakes encounter.
Previous Encounters
This game marks the fourth meeting between the teams this season. The Liberty secured a win in their last matchup on Aug. 16, with a score of 82-63. However, this game poses new challenges and dynamics, setting the stage for an exciting clash.
Prediction
The Aces' home advantage and offensive depth create a favorable matchup. Their ability to maintain intensity on both ends of the court provides them an edge against the Liberty.
Las Vegas's effective ball movement and rebounding, coupled with the Liberty's road success, make this a close contest. However, the Aces' home record and individual brilliance of key players give them a slight edge.
With an in-depth analysis of both teams' performances, recent trends, and individual strengths, the Las Vegas Aces are predicted to win this game and cover the -6.5 spread. Their home dominance and resilient play are likely to overcome the Liberty's challenge. Fans can expect a thrilling and closely contested game that may have significant implications on the season's standings.
Stay tuned to KingPin.pro for more WNBA analysis, previews, and predictions. Remember, betting on sports always carries risks, so consider various factors and consult different sources before making a wager. Good luck!
Pick: Aces -6.5 -110
Upgrade to View Prediction
#1

#2

#4