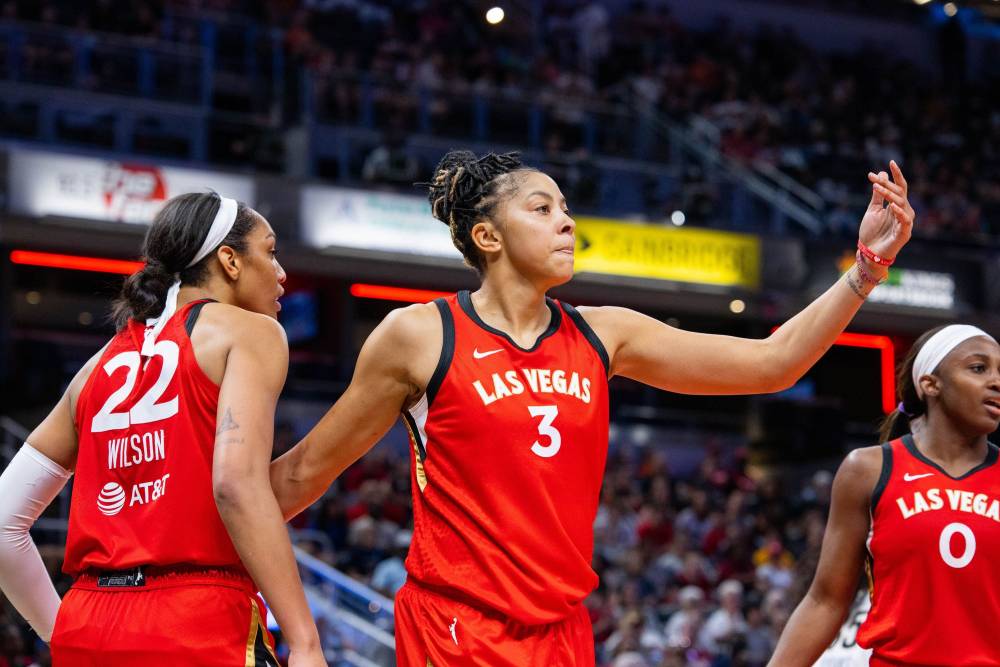 Aces vs LIberty Prediction WNBA Picks 6/29
Jun 29, 2023, 8:45:18 AM
© Trevor Ruszkowski-USA TODAY Sports
New York Liberty vs. Las Vegas Aces WNBA Prediction: Exciting Clash of Offenses
Welcome to KingPin.pro, your trusted source for WNBA predictions and expert picks. In this article, we'll provide an in-depth analysis of the highly anticipated game between the New York Liberty and Las Vegas Aces. Both teams boast formidable offenses and star power, making this matchup a must-watch for basketball fans. Join us as we break down each team's offensive and defensive strengths, evaluate their injury reports, and provide our prediction for the game. Don't forget to download the KingPin.pro iOS and Android app to stay up to date with the latest WNBA picks and predictions.
Team Reviews
New York Liberty
The New York Liberty have been on a roll this season with a 10-3 record, sitting at the top of the Eastern Conference. Their offense has been a major driving force behind their success, averaging 90.9 points per game in their last 10 games. Led by the sensational Breanna Stewart, who is averaging 22.6 points, 10.3 rebounds, four assists, 1.6 steals, and 1.7 blocks, the Liberty possess a versatile and high-scoring offensive attack. Stewart's ability to dominate in multiple facets of the game makes her a true game-changer.
The Liberty also excel in sharing the ball, averaging 24.1 assists per game. Their ball movement and unselfish play have allowed them to create scoring opportunities for themselves and their teammates. With an impressive field goal percentage of 46.2%, the Liberty's efficient shooting has been a key factor in their offensive success.
Defensively, the Liberty have been solid, holding their opponents to an average of 82.2 points per game. Their ability to disrupt passing lanes and protect the rim with 5.6 blocks per game has made it challenging for opposing offenses to find easy baskets. Overall, the Liberty's combination of offensive firepower and defensive prowess makes them a formidable opponent.
Las Vegas Aces
The Las Vegas Aces have been nothing short of dominant this season, boasting a league-best 13-1 record and remaining unbeaten at home. Their offense has been lighting up the scoreboard, averaging an impressive 91.3 points per game in their last 10 outings. Led by A'ja Wilson, who is scoring 19.6 points and grabbing 9.4 rebounds per game, the Aces possess a strong inside presence that can overpower any defense.
The Aces' ball movement has been exceptional, ranking second in the WNBA with 21.9 assists per game. Chelsea Gray has been instrumental in orchestrating the offense, averaging 6.6 assists and creating scoring opportunities for her teammates. The Aces' ability to find open shooters and make the extra pass has been a key factor in their offensive efficiency.
Defensively, the Aces have been stifling their opponents, holding them to an average of 79.7 points per game. Their ability to generate turnovers and turn them into transition points adds another dimension to their game. With 7.3 steals and 5.2 blocks per game, the Aces' defense can quickly change the momentum of the game.
Injury Report
Both teams enter this matchup without any players listed on the injury report. This is excellent news for fans, as we can expect to see both teams at full strength and witness an exciting clash between two of the best offenses in the league.
Prediction
With two high-scoring offenses taking the court, our prediction for this game is that the total points scored will exceed 173.5. The Liberty and the Aces have consistently showcased their offensive prowess throughout the season, averaging 90.9 and 91.3 points per game, respectively, in their last 10 outings. The combination of Breanna Stewart's scoring ability and the Liberty's efficient ball movement, coupled with A'ja Wilson's dominance in the paint and the Aces' unselfish play, sets the stage for a high-scoring affair.
Both teams possess the firepower to light up the scoreboard, and their fast-paced styles of play will likely lead to a frenetic and exciting game. The absence of any key injuries further enhances the likelihood of a high-scoring contest.
As WNBA experts, we believe the over of 173.5 points is the best bet for this game. Fans can expect a thrilling matchup between the New York Liberty and Las Vegas Aces, with both teams pushing the pace and showcasing their offensive capabilities.
Remember to visit the KingPin.pro iOS and Android app to access our WNBA picks for today and stay up to date with the latest WNBA predictions from our expert team.
Pick: Over 173.5
#1

#2

#4