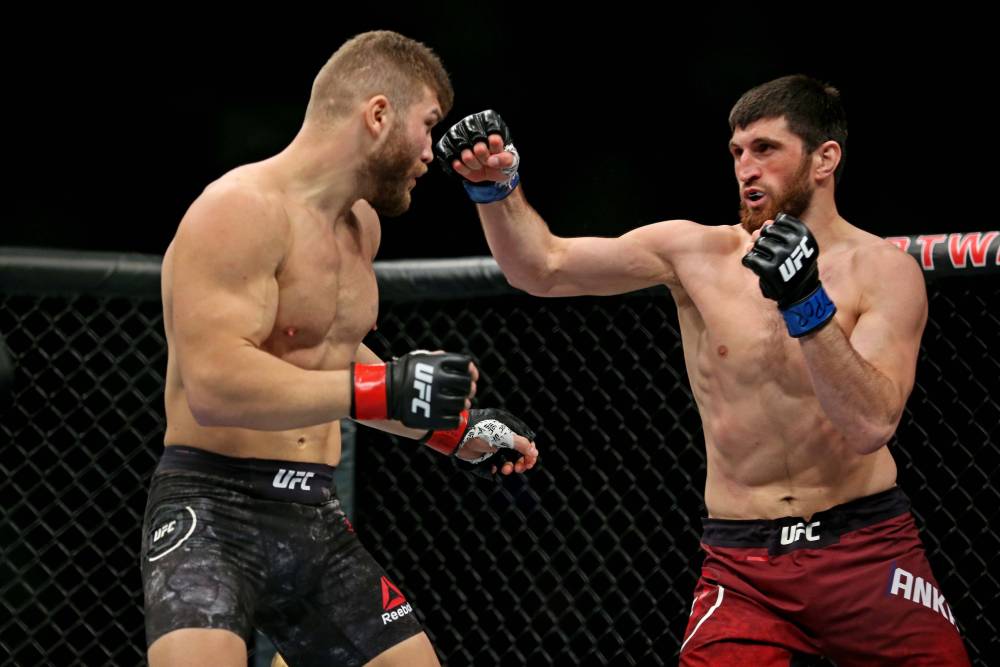 UFC Vegas 50 Predictions and Picks for Every Fight, March 12
Mar 11, 2022, 8:36:49 PM
Credit: photo by Peter Casey-USA TODAY Sports
March 12, 2022: UFC APEX, Las Vegas, NV
Kingpin's two staff writers predict the winners for every matchup for UFC Vegas 50 and provide a preview for each fight.
Main Event: Thiago Santos vs. Magomed Akalaev (Light Heavyweight)
Jackson: Ankalaev
Not much to say here; Ankalaev has Santos beat almost everywhere in this fight. The fight could be competitive on the feet, but Ankalaev will likely be landing with more output in the striking, in addition to having a significant wrestling and grappling edge that he could use similar to Glover Teixiera on Santos. In fact, Ankalaev's best path to victory is probably his grappling. Santos hasn't looked good as of late, as he hasn't had good output or been icing fools, so as far as I'm concerned, Thiago is almost limited to having a puncher's chance in this fight. At 205 lbs and with La Marreta especially, this is always a possibility, but I think Ankalaev should probably roll pretty easily here. I see a G&P TKO victory for Magomed here.
Brandon: Ankalaev
It's not fair to Santos to say that this fight shouldn't be close, as La Marreta is still a seasoned veteran and one of the best in the business. But the reality is that this fight is the perfect setup for Ankalaev - a matchup against a highly regarded veteran coming off a win that he should in theory dominate - which will almost certainly put him in a title eliminator fight next. His kickboxing is every bit as good as Santos' and will push the pace and be the more active fighter. He is a capable grappler if need be, but I don't think he even needs it. Ankalaev should win with a KO somewhere in the middle rounds.
Co-Main Event: Marlon Moraes vs. Song Yadong (Bantamweight)
Jackson: Yadong
Song is the younger and much more durable fighter than Moraes here. This should be enough to outlast Moraes' early onslaught, and put him away after he gasses with his sharp boxing and pressure. At this point in his career, Moraes is just wayyyyy too untrustworthy for my liking. He has been fighting a much higher level of competition than Yadong, but he's got bad cardio, and very cracked chin- two things I can't get behind. I think Yadong gets a very nice KO victory here, and continues to climb in the division.
Brandon: Moraes
I understand that this may not be the most popular pick. However, no matter which way you personally choose to cap the fight, it is undeniable that this line is too wide. Since entering the UFC in 2017, Moraes has only fought the very best in the division, and Yadong is the worst fighter he has faced to date in the UFC. Yes, he has been knocked out in four of his last five fights, but these were to Cejudo, Font, Sandhagen, and Merab. It's possible his chin may be cracked, but Song hits nowhere near as hard as any of these fighters. Song is not as good as many think - he has decent striking and good defensive wrestling but is great nowhere. In his last fight out, Moraes had Merab dead to rights, and somehow didn't finish him, blowing his gas tank in the process. I expect a more composed fight from Moraes, putting his power and technical boxing on display and threatening with his grappling ability to make his striking more effective. After years as a title contender, the UFC is giving Moraes a chance to be a gatekeeper, and I expect him to succeed here against the younger fighter.
Sodiq Yusuff vs. Alex Caceres (Featherweight)
Jackson: Yusuff
Plain and simple, Sodiq Yusuff is much higher level fighter than Caceres. Yes, Caceres is on a nice little win streak, but he's been fighting the likes of Chase Hooper, Steven Peterson, and Kevin Croom. Meanwhile, Yusuff has been ranked and won a round against Arnold Allen. Yusuff will tear Bruce Leeroy up on the feet, and I don't think Caceres is strong enough to get a takedown. Barring a strange grappling exchange, which is absolutely live and happened in Caceres' last fight, Yusuff should cruise here.
Brandon: Yusuff
It's undeniably impressive what Alex Caceres has done, turning his career around after being on the brink of being cut and sneaking into the top 15 with five straight wins. However, Yusuff is a fighter unlike the ones he has recently defeated. Yusuff is lightning quick, has remarkable fight IQ and octagon awareness, and should look to be the aggressor on the feet. While Yusuff's wrestling leaves a lot to be desired, Caceres is an overrated grappler and I don't see him being able to take Yusuff down nearly enough to win this fight. Yusuff's power and technicality behind his striking will overwhelm Caceres en route to a victory.
Khalil Rountree Jr. vs. Karl Roberson (Light Heavyweight)
Jackson: Rountree
I expect this fight to be a very close kickboxing affair. In that case, I'll be on Rountree, as I think he is the more technical and better kickboxer in this scenario. I guess there's a chance Roberson can mix in the grappling, but I don't think he'll be strong enough to get Rountree down. To add, Rountree has better wins than Roberson. The only concern is Rountree's fight IQ and low output. The Prachnio fight was miserable to watch as a Rountree backer. But, he looked good in his last fight, so I'll go with that version of Rountree.
Brandon: Rountree
I will never, ever feel confident picking Khalil Rountree, but here we are. He's undeniably a strong, experienced fighter, and his pure strength should render Roberson's ground game ineffective, especially as Roberson is more of a natural Middleweight. This fight will likely play out on the feet, where based on pure skill, Rountree should win fairly easily. However, his fight IQ is low and he often goes dormant in the octagon. I think Rountree has more to lose here with a loss, and should look to push the pace. If he does, this should be a fairly easy win for him.
Drew Dober vs. Terrance McKinney (Lightweight)
Jackson: Dober
Trust me, I'm in no hurry to stand in the way of the buzzsaw that is Terrance McKinney. However, I think that Drew Dober has the durability and cardio to really expose McKinney in the later rounds similar to Sean Woodson, especially when McKinney is on short notice. I think this will be a very close fight in which McKinney is winning the fight until he isn't and gasses out. Dober has somewhat bad takedown defense, which will be McKinney's best path to victory given Dober's durability. However, Dober's lasting to the third round against Islam Makachev leads me to believe that he can avoid submissions from McKinney for long enough, and then crack him on the feet. I'm not super confident in this play, but I think Dober will force McKinney to face adversity, which he historically has not done well with. If McKinney makes it through this test, he will have serious legitimacy as a lightweight contender.
Brandon: Dober
I love Terrance McKinney, but with him taking the fight on short notice and having fought a combined six minutes in the last three years, I'm struggling to see how his cardio could possibly be prepared for what Dober is going to put him through here. Dober is durable as hell, and while he isn't the best wrestler, his Jiu-Jitsu is strong enough to avoid the submission attempts from McKinney, which will likely tire out T-Wrecks in the process. McKinney should at a slower pace than what he is used to, but I think Dober will drag him into waters deeper than he has been in in a while (AKA: Round 2). I think Dober gets the win here, but I expect the UFC to reward T-Wrecks for accepting this fight on short notice with another good fight soon.
Alex Pereira vs. Bruno Silva (Middleweight)
Jackson: Pereira
In the Fight of the Year (Part A), I expect Pereira to outpoint Silva in an extremely violent kickboxing affair, and likely knock him out (because that's what Pereira does). While this will be a thrilling fight, I'm not particularly happy with the matchmaking, given that I like both of these fighters as prospects in the MW division, and one of them will likely be taking a canvas nap. Both of these guys have the Death Touch, which makes me not overly confident in this selection, but Pereira has significant advantages in technicality and reach on the feet. Thus, I see Silva having to blitz in to close the distance, in which Pereira blasts him with nasty counters. An X-factor in this fight could be possible grappling by Silva, as he has much more extensive MMA experience. However, I just don't think Silva has the strongest grappling, and Pereira has showcased that he's not a total fish out of the water on the mat. To a certain degree, I think this fight comes down to who can land on the chin first, which I expect to be Pereira in this one.
Brandon: Pereira
This fight couldn't be a more perfect embodiment of the death touch. The question is, who lands first? For those who have been following the page for the past few months, you all know how much I love Bruno Silva. He is incredibly powerful and a ferocious boxer with serious grappling deficiencies. His opponent, the only man to have ever knocked out Israel Adesanya, is equally powerful and a masterful kickboxer. Neither will threaten to go to the ground, and we will get a slugfest on the feet until someone drops. Neither man has been knocked out before, so I am interested to see the chins on both of them. I think Pereira will be able to use his big size advantage to keep Blindado out of range with leg kicks, and Blindado will struggle to force his way in without getting sent to the shadow realm. This is incredible matchmaking and essentially a prospect eliminator, and whoever wins this fight is a serious contender in the division (unless they face an elite wrestler).
Matthew Semelsberger vs. AJ Fletcher (Welterweight)
Jackson: Semelsberger
While it's difficult to judge both of these fighters' real talent level given Semelsbergers' can crushing in the UFC along with losing to a stud in Khaos Williams, and AJ Fletcher's can crushing on the regional scene, I think Semelsberger is going to knockout Fletcher here. In addition to his UFC experience, Semelsberger's hands are straight and powerful, and AJ Fletcher is a bit of a wild striker that leaves himself open to get hit. To add, Semelsberger has a whopping 8 inch reach advantage, which will make Fletcher's striking even more wild. I really only see Fletcher's path to victory being his wrestling, which he actually did show a decent double leg in his DWCS fight. However, I think he will have to shoot from far out due to the reach disadvantage, which will make the takedowns much more difficult. I also just don't think that he'll be able to push a grappling pace for a full 15 minutes. I like Semelsberger quite a bit here, and likely by KO.
Brandon: Semelsberger
These fighters are pretty tough to judge. Fletcher hasn't fought anyone competent, and Semelsberger's fights have either been so quick or hard to judge. What I will say is that Semelsberger is a tremendous counter-puncher, and AJ Fletcher often has some awkward entries that leave him vulnerable to the type of striking that Semi the Jedi has made a career out of. If he enters successfully, he should have success on the ground, but an eight-inch reach disadvantage only complicates that further for Fletcher. I'm intrigued to watch Fletcher's debut (with Poirier in the corner, no less), but I don't see him coming out of it without getting knocked out.
JJ Aldrich vs. Gillian Robertson (Women's Flyweight)
Jackson: Aldrich
This fight is fairly simple to breakdown: JJ will be the sharper boxer/striker on the feet, and Gillian is the better grappler. So, whoever takes/keeps the fight where they want it to be, will win.Gillian Robertson has been shown to fare poorly when her grappling doesn't work early and often, and I expect JJ to make her work in this one. I don't think JJ will be easy to takedown or submit, which will lead to the fight being on the feet to some degree, and Gillian getting tired. This will result in a huge advantage for JJ, where I think she will outland Robertson to earn a solid decision victory.
Brandon: Robertson
Gillian Robertson has done a lot to impress me lately. She looked fantastic in a dominant first-round win over Cachoeira, is one of the most active fighters in the division, and is a real finisher. JJ Aldrich, while a good wrestler in her own regard and a better striker than Robertson, is not as good as her last fight would suggest. She dominated Demopoulos with her wrestling, but Demopoulos is a defensive wrestling liability and hardly a UFC-Caliber fighter. Because of this performance, there has been more hype around her than her skills suggest, and I think she will struggle against the incoming Jiu-Jitsu onslaught from Robertson. I'm backing Robertson here.
Trevin Jones vs. Javid Basharat(Bantamweight)
Jackson: Basharat
In most of his fights, Trevin Jones has relied on a big punch/strike to escape defeat. While he has done this successfully in a couple of his UFC fights, I don't see this path to victory here; Basharat is a pretty fast striker that moves in and out of the pocket well, and appears to have a good chin. Honestly, there's a lot to like about Basharat – he's got a great motor on him, lands often, is pretty defensively responsible, has solid grappling, and is training out of Xtreme Couture. I think he rolls here, as I expect him to far out-strike and outlast Jones, who has struggled with output and cardio in the past. That bomb from Jones is always live, but I think Basharat has all the tools to pull out a victory in this one.
Brandon: Basharat
I was unnecessarily high on Jones after defeating Valiev and Bautista, but now I've realized that Valiev is overrated and so is Trevin Jones. Jones has a well-rounded skill-set, combining powerful hands with decent wrestling, but Basharat is better at just about everything except for power. His training at Xtreme Couture, where their fighters are becoming noticeably better wrestlers, should help prepare him for a ground-heavy approach, but he could also push the pace and out-box Jones if he needs. I'm not sure how strong Basharat's chin is, but I'm trusting in the threat of his wrestling game to keep himself out of the way of the big shot from Jones.
Damon Jackson vs. Kamuela Kirk (Featherweight)
Jackson: Jackson
In a card full of close fights that I have a hard time breaking down, this one might be the one I'm having the toughest time with. On paper, Kamuela Kirk has all of the tools to beat Damon Jackson – he's younger, likely stronger, has good takedown defense, great grappling, and decent pop on the feet. However, his lack of pace and urgency just really rubs me the wrong way in this one. On the other side, Damon Jackson was on demon time in his last fight, and pushed a hellish pace to outwork Charles Rosa to a decision victory. While Charles Rosa has comically bad takedown defense, Damon Jackson was WORKING in that fight pillar to post. Thus, I'm really at a crossroads. If I could rely on Kirk to push a much higher pace than I've seen him have in previous fights, then I would be all over him. I've just got this sneaking suspicion that Jackson is gonna outwork Kirk, both on the feet and the mat, to a submission or decision victory. I could be totally off on this one, and Kirk could either flatline Jackson on the feet or end up on top with his wrestling, but I guess I'm gonna go with the guy that will fight for my dollar on this one.
Brandon: Kirk
Don't buy into the Damon Jackson hype train. Yes, he's a squirrely veteran grappler, but Charles Rosa would make my wrestling look UFC-Caliber. Jackson being able to control him throughout his last fight does not impress me. His striking is almost nonexistent, and he is going up against an equally good grappler in Kirk. Kirk is coming off a victory over Makwan Amirkhani in his UFC debut - a great win for a debutant to take on a grappler as talented as Amirkhani. Damon Jackson represents a step down in competition here for Kirk, and he capitalizes to get it done by decision.
Sabina Mazo vs. Miranda Maverick (Women's Flyweight)
Jackson: Maverick
This fight is a total mismatch. Maverick is still a solid and well-rounded prospect for the women's flyweight decision with solid wrestling and grappling, and Sabina Mazo is a largely busted prospect that likes to strike and struggles with grapplers. I expect Maverick to roll here with the grappling, and either find a submission or fairly one-sided decision victory.
Brandon: Maverick
Miranda Maverick is my lock of the week. She is a comparable striker to Mazo, albeit gives up size, but is light-years ahead of her on the ground. Mazo has really struggled on the ground, and I expect Maverick's wrestling to be similar to that of Alexis Davis against Mazo, but with more finishing capability. Maverick could get this done by submission, ground and pound TKO, or a lopsided decision, but regardless of how it happens I have Maverick rolling over Mazo here.
Dalcha Lungiambula vs. Cody Brundage (Middleweight)
Jackson: Lungiambula
This is another fight that I have really struggled with. I want to be more behind Dalcha, but his lack of cardio and striking technicality are hard to back. Brundage is a wrestler, but I think he will have difficult taking the specimen that is Dalcha down. However, he's training at Elevation and will likely have much better cardio than Dalcha. This is definitely a path to victory for him, to just grind on Dalcha and outwork him to a decision victory. However, I think that Dalcha is going to knock Brundage out here. Brundage's striking is not super well refined, he has been knocked out multiple times before, and will be closing the distance to initiate grappling throughout the fight - all of which leave an opening for Dalcha to land a huge bomb. Additionally, Dalcha showed improvements with his striking and cardio in his first camp at Sanford MMA, and I expect to see an even better Dalcha with regards to his striking and cardio in this one. He's got serious power, and if he lands on Brundage as I expect him to here, Brundage is going out.
Brandon: Lungiambula
Neither of these fighters are very skilled, making this fight hard to cap. Brundage can wrestle and will have an advantage in cardio, but Dalcha is not particularly easy to take down and Dalcha has the striking advantage. Dalcha can land bombs if given the chance and is a solid counter-striker, leaving me to believe Brundage will leave his chin open for the taking at some point. I am worried about Dalcha's poor fight IQ, but training at Sanford should help right the ship as he secures better coaching for this fight.
Kris Moutinho vs. Guido Cannetti (Bantamweight)
Jackson: Cannetti
Here it is folks, Fight of the Year (Part B). In a bout between two of the worst fighters on the UFC roster, I'm taking the 42 year old bantamweight (yes, you heard that correctly). In short, this is one of the few fights Canetti can win in this promotion at this point in his career. He's a much better martial artist than Moutinho, with solid kicks and striking technique. Meanwhile, Moutinho is just an absolute brick that comes forward and throws strikes with little pop and technicality. There's definitely a chance Moutinho will outlast Canetti in this one, given Canetti's age and historically bad gas tank. However, I think Canetti will be able to land the more meaningful strikes for at least a round and a half, and even has a chance of knocking Moutinho out in the first. It feels icky, but I like Guido here.
Brandon: Moutinho
Fight of the year alert! I have been waiting eight months to see Moutinho back in action - I guess that's how long it took for the dents to heal in that metal face of his. He took an iconic beating from Suga Sean in his UFC debut, and now is taking on essentially the polar opposite fighter. Cannetti is 42 years old, is 8-7 professionally, and has been finished six times. I'm not sure how he is still A) fighting and B) fighting in the UFC, but here we are. Moutinho really does not have any skills to write home about, but he is cast-iron and showed good cardio last time out. Cannetti is neither a good striker or a good grappler, and Moutinho should be able to win this fight on either output or cracking the already-cracked chin of Cannetti.
Tafon Nchukwi vs. Azamat Murzakanov (Light Heavyweight)
Jackson: Murzakanov
This fight will come down to Murzakanov's huge speed advantage. He's a very agile and athletic light heavyweight that will be able land strikes at will against the slow and plodding Tafon. I'm not sure he'll be able to finish Nchukwi, as I think he's got an extraordinary chin, but Murzakanov has tremendous pop and KO is always live for him. While I feel pretty strongly that Murzakanov will win, I think Nchukwi could win this fight by pushing Murzakanov against the fence, and really grinding on him until he loses his bounce and speed. However, I think Tafon will struggle to take the center of the cage, and really get ahold of Murzakanov, given his great speed. I like Murzakanov to win here, either by decision or KO.
Brandon: Murzakanov
Outside of size, Azamat should have this fight won everywhere. His wrestling is sufficient enough (he has a Sambo background) to keep the fight on the feet, and this should be all he needs. Nchukwi has good output but has slow, undamaging hands - Azamat is the opposite. He may not throw the most strikes, but he throws hard and fast, and will land the far more damaging shots here. I am excited to watch him make his UFC debut as a prospect, and Azamat keeps his undefeated record clean here.
Find more sports picks from the top sports bettors and UFC and MMA experts all in one place using our iOS and Google Play apps, as well as our other articles at Kingpin.pro. We are the home for UFC and MMA picks, sports picks and sports betting.
#1

last 30 days winnings
$1,050
#2