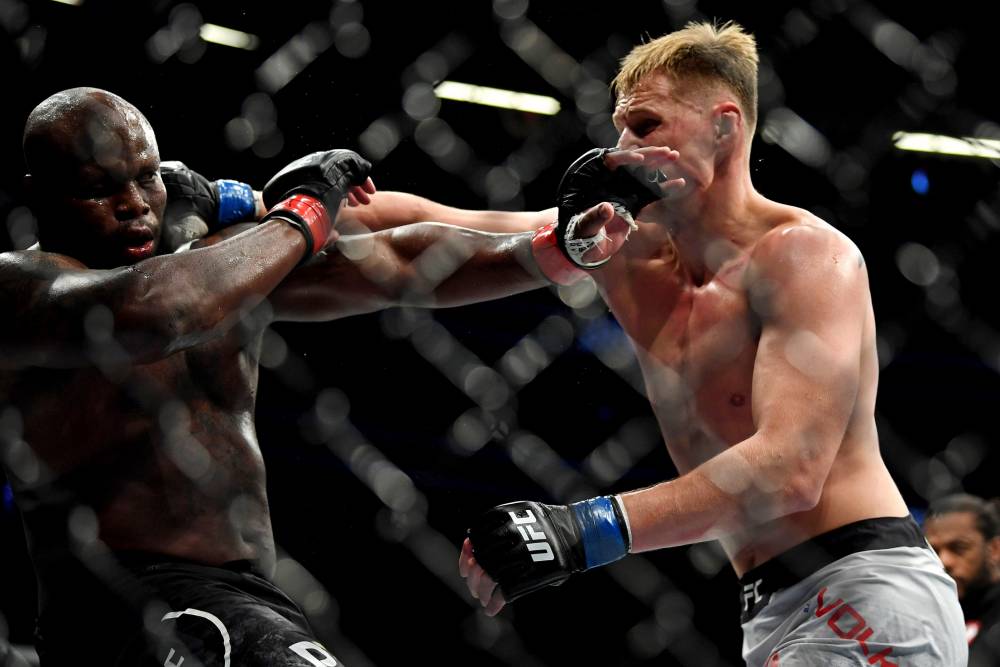 UFC London: Volkov vs. Aspinall - Predictions and Picks for Every Fight, March 19
Mar 18, 2022, 10:25:15 PM
Credit: photo by Stephen R. Sylvanie-USA TODAY Sports
March 19, 2022: O2 Arena, London, England
Kingpin's two staff writers predict the winners for every matchup for UFC London: Volkov vs. Aspinall and provide a preview for each fight.
Main Event: Tom Aspinall vs. Alexander Volkov (Heavyweight)
Jackson: Volkov
I've had a tough time with this one, but Volkov's durability, cardio, and size are putting me on him. I'm extremely high on Aspinall, but the fact that this is a 5 round fight is really scaring me. While Aspinall is undoubtedly the more dynamic and powerful fighter, I suspect that his cardio will fail him in his first 5 round fight, given that he has a 100% finish rate and how much he puts on his punches. Meanwhile, Volkov's cardio has checked out in multiple main events in the past. Volkov is also a huge step up in competition for Aspinall. Stylistically, I think this fight will play out on the feet, and Aspinall will struggle to take Volkov down, if he decides to try. This favors Volkov, an experienced striker that has out struck nearly all of his opponents other than Cyril Gane, the best striker in the division. However, I think that Aspinall of course has a chance for the KO, and also, Volkov didn't look particularly good in his last fight. This, combined with problems in Russia right now concern me, but stylistically, my pick is the veteran in Volkov by late KO or decision.
Brandon: Aspinall
I'm way too high on Aspinall not to pick him. He's freakishly athletic for his size, with lightning quick hands and great wrestling when he needs it. Volkov is a massive step up in competition, but I don't think they are rushing Aspinall like they did with Daukaus. He's ready for this and they wouldn't throw him into a fight in his home country if he wasn't. Volkov's form isn't great as of late, and he came in 10 pounds lighter than normal on the scales. I think Aspinall sets the pace early and gets it done within three rounds.
Co-Main Event: Dan Hooker vs. Arnold Allen (Featherweight)
Jackson: Hooker
I'm picking Hooker here due to his size and a lack of strength of schedule for Arnold Allen. It's fair to say that Arnold Allen got out struck by Sodiq Yusuff in his last fight, save for a few big strikes landed by Allen, and Dan Hooker is one of the best kickboxers in the sport who has fought nearly every contender in the Lightweight division. Additionally, he'll have a 5 inch reach advantage. This, coupled with his size, should help him defend Allen's takedowns and keep this fight on the feet. However, I do have some concerns about Hooker, mostly involving his weight cut to 145. This will be a brutal weight cut for him, which could result in bad cardio and a compromised chin.
Brandon: Allen
As much as Hangman claims the cut to 145 is easy for him, it absolutely is not. He showed up looking terrible to the press conferences, wore sunglasses to weigh-ins, and rumors have been swirling about how brutal this cut has been. I don't think he will be himself against Allen, who is about as well rounded as they come in terms of balance between striking and wrestling. I think this fight will be a wakeup call for Hooker that he needs to stay in Lightweight after Allen gets the win. I think this one goes to decision, where England judges have been known to be biased.
Paddy Pimblett vs. Kazula Vargas (Lightweight)
Jackson: Pimblett
I'm not particularly high on Paddy the Baddy, but he should have more than enough opportunity to beat up Kazula Vargas in this one. Vargas is not particularly good at anything, and has poor grappling. Pimblett's pace and grappling should be enough to overwhelm Vargas in this one, and I don't think Vargas is good enough to capitalize on Paddy's shortcomings in striking defense and wrestling. Paddy has a clear path to victory with his grappling against Vargas. Finally, I think this is a setup fight for Paddy by the UFC's marketing machine, and I expect him to find a finish by Vargas, likely a submission.
Brandon: Pimblett
I'm not fully aboard the Paddy Pimblett hype train yet, as much as I would like to be. He got wobbled pretty bad by a far inferior fighter in Vendramini in his UFC debut, and managed to put it together and produce a knockout in the first round. I think he has the skills to be a great fighter, as a solid, athletic striker with grappling prowess. Kazula Vargas is by no means a difficult matchup for him, but I don't think he will get a flashy finish like many expect him to. Kazula can hold his own on the ground, and the Mexican Fighting Spirit is instilled in him as he has never been knocked out. Nonetheless, I think Paddy holds the edge everywhere, and gets a dominant decision victory.
Gunnar Nelson vs. Takashi Sato (Welterweight)
Jackson: Nelson
Striker vs grappler matchup to the MAX here. Gunnar Nelson is one of the best submission artists that the UFC has ever seen, and Takashi Sato is a striker with clear grappling deficiencies. This fight should end in a Nelson submission, but he has been off for nearly 3 years, which could result in some ring rust. Nonetheless, Gunnar Nelson has an experience and strength of schedule edge, in addition to a clear path to victory. Nelson should roll here.
Brandon: Nelson
Gunnar Nelson hasn't fought in over two years, but he gets the perfect matchup here to put him back on the map. Fighting against Takashi Sato, who is a terrible grappler and is stepping in on short notice, should be no issue for the UFC veteran. Sato is easily taken to the mat and does not have the skills to defend against submissions, even being taken advantage of by a known striker in Miguel Baeza on the mat. Nelson should have no problem taking Sato down and using his excellent Jiu-Jitsu to get a submission.
Molly McCann vs. Luana Carolina (Women's Flyweight)
Jackson: Carolina
I expect this to be a close striking affair that goes to decision, with both women landing with great volume. I think Carolina will land the more meaningful and strikes, and hopefully use her massive height and reach advantage to really dominate the striking. Carolina is the better striker, and I think her takedown defense is good enough to keep this fight standing. But, this fight is in England, and Molly McCann will be getting a bump from the crowd and possibly the judges, which all leads to a greasy decision. I think Carolina should win this fight, but it will likely be pretty close.
Brandon: Carolina
I'm not super high on either, but Meatball isn't really skilled anywhere. Carolina is bigger, stronger, and has been finding ways to pull out gritty wins. I think she does it again here in London.
Ilia Topuria vs. Jai Herbert (Lightweight)
Jackson: Topuria
Topuria has a clear path to victory with his grappling, but I expect this fight to be closer than the massive line suggests. Jai Herbert is a solid striker with good power, and is much larger than Topuria (he is a natural lightweight, while Topuria is a natural featherweight), and has an 8 inch reach advantage. Thus, I expect Herbert to win the striking exchanges. However, Herbert has shown a grappling deficiency, which I expect Topuria to be able to exploit with relative ease. I think we get Topuria by submission, or a fairly one sided decision victory here.
Brandon: Topuria
Jai Herbert is by no means a bad fighter, but this is just a complete mismatch. Ilian can likely finish this any way he wants, but his easiest path to victory is to take Herbert down and get a quick submission, just as Moicano did to Herbert. This fight may not make it out of the first round, and Ilia will have his hand raised.
Mike Grundy vs. Makwan Amirkhani (Featherweight)
Jackson: Grundy
In a matchup between fairly one-dimensional wrestlers whose game I don't like, I'm going to take Grundy, who I believe to be the better striker and have better cardio. I expect the wrestling to be nullified, but this fight could also be decided by who ends up on top. The truth is that Makwan has been on a bad run as of late, and I'm not particularly eager to get behind him at this point in his career, especially when Grundy could have an edge on the scorecards, being British.
Brandon: Amirkhani
This fight is going to be ugly. These two are both poor strikers and mediocre wrestlers with good Jiu-Jitsu, and the fight could certainly go either way. I expect damage on the feet to be a non-factor here, and should end up being whoever gets the most control time and takedowns wins. Grundy's wrestling is very high volume, but very low success. In his last outing he attempted 20 takedowns, secured only 3, and lost by split decision. Makwan is a stronger wrestler, and has the slight edge in the skill of his Jiu-Jitsu. If Makwan decides to be the aggressor in the wrestling game, look for him to walk away with a decision victory in Grundy's backyard.
Shamil Abdurakhimov vs. Sergei Pavlovich (Heavyweight)
Jackson: Pavlovich
The writing is on the wall in this one. Pavlovich is a young, athletic Russian savage with dynamite in his hands, and Shamil is a 40 year old, slow heavyweight with a compromised chin. Shamil was doing alright in his last fight against Chris Daukaus until he got absolutely flatlined, and I expect this fight to playout similarly. Pavlovich isn't particularly fast, and doesn't have super adept striking, but his boxing fundamentals are solid, and he has vicious finishing combinations. This fight will be slow and competitive until Pavlovich knocks Shamil clean out.
Brandon: Pavlovich
Pavlovich hasn't fought in a while, and his only ranked fight was a knockout loss to Overeem. That being said, he has dynamite in his hands, and inevitably will land on the chin of Shamil. Shamil is old and his chin is cracked, and I expect an early power shot to put him away just as Daukaus did to him in his last outing.
Nikita Krylov vs. Paul Craig (Light Heavyweight)
Jackson: Krylov
As long as Krylov minds his p's and q's, he should cruise to a victory here. He'll have a massive advantage on the feet and has fought a much higher level of competition than Craig. Craig's only path to victory will be a submission, which is always live since he's probably the best submission artist in the division and Krylov has 5 submission losses. But, if Krylov fights smart, this fight won't hit the mat. I expect a finish here, likely Krylov by knockout. But, Craig's grappling is very very dangerous.
Brandon: Craig
This one won't go the distance. Craig has only been to decision once in his career, and Krylov is a finisher as well. Craig is a wizard on the ground, and although Krylov is adept on the ground too, it's not the same – Krylov has been submitted three times in the UFC. After snapping Jamahal Hill's arm in his last fight, he will look to inflict more damage, this time on his home turf. Few people love Scotland more than Paul Craig, and I think he's going to show out with extra motivation as he looks to take down Krylov.
Jack Shore vs. Timur Valiev (Bantamweight)
Jackson: Shore
Timur Valiev is an extremely hard fighter to read. He does a lot of things well, but he also has a very questionable chin and gas tank. For these reasons, coupled with the fact that he hasn't faced someone that will shoot many takedowns on him, I'm going to go with Shore. His identity as a tough welsh grappler that's going to make Timur face adversity is what makes me like him in this matchup. If this fight stays on the feet, I expect Timur to have a decent advantage with the striking. But, he throws a fair amount of kicks that also could put him at risk of being taken down. I think Shore will take Timur down throughout the fight, and just wear him out to a decision or submission victory.
Brandon: Shore
I think both these guys are both overrated as prospects, but I can't deny the skill that Jack Shore has. He's a capable striker, but can be an absolute magician on the ground at times. If he can wrestle Valiev, which is at times a tough task, he will get the win here. Valiev isn't as good as his record suggests, he isn't a finisher, and Jack Shore is. Shore by submission.
Cory McKenna vs. Elise Reed (Women's Strawweight)
Jackson: McKenna
I'm not really a huge fan of McKenna, but her skills should be enough to beat Elise Reed. A natural atomweight and a recent recipient of a Sijara Eubanks beatdown, Reed is someone that I can't back against almost any UFC fighter until she proves me wrong. Albeit young and small, McKenna has at least been in the octagon a couple times, and shown good boxing fundamentals, decent wrestling, and durability. Not to mention, she still should be improving fight to fight, being 22 and out of a good gym in Team Alpha Male. I think the wrestling game plan that Eubanks used against Reed could still be on the table here, but McKenna could probably also just out box her. I like McKenna by decision or TKO victory here.
Brandon: McKenna
This prediction is more of a testament to thinking that Elise Reed is just really bad, but McKenna is young and can make some noise in the division with a few wins in a row. McKenna has an unfathomably small reach, and likely won't have a big advantage on the feet, but she has experience in the UFC and has gotten it done against two UFC caliber fighters before. Reed is not UFC caliber and I expect McKenna to beat her easily.
Muhammad Mokaev vs. Cody Durden (Flyweight)
Jackson: Durden
I can't believe I got myself to pick a +330 underdog, but here we are. Straight up, I'm just not buying the hype with Mokaev. From the tape I've watched, he's still really green. There isn't a part of his game that I'm particularly impressed with, and he's still only 21 years old and hasn't fought anyone good yet. Durden is by no means an excellent UFC fighter, but he's been in the octagon before, and has a victory against another solid fighter. He's a 30 year old man that I see somewhat rag dolling Mokaev, at least in the early going. My only concern is the cardio battle. Mokaev is young and might be able to outwork Durden in the later going. Nonetheless, I'm not sold on Mokaev yet, so I'm going with Durden.
Brandon: Mokaev
Mokaev is being referred to as a blue-chip, top tier prospect in this division, and I haven't seen nearly enough to justify it. However, Mokaev should be both a better striker and grappler than Durden, and I don't see many paths to victory for Durden other than the off chance that he grinds Mokaev into the mat for long stretches of time. I don't see it happening, and I have Mokaev getting it done by decision.
Find more sports picks from the top sports bettors and UFC and MMA experts all in one place using our iOS and Google Play apps, as well as our other articles at Kingpin.pro. We are the home for UFC and MMA picks, sports picks and sports betting.
#1

last 30 days winnings
$1,050
#2