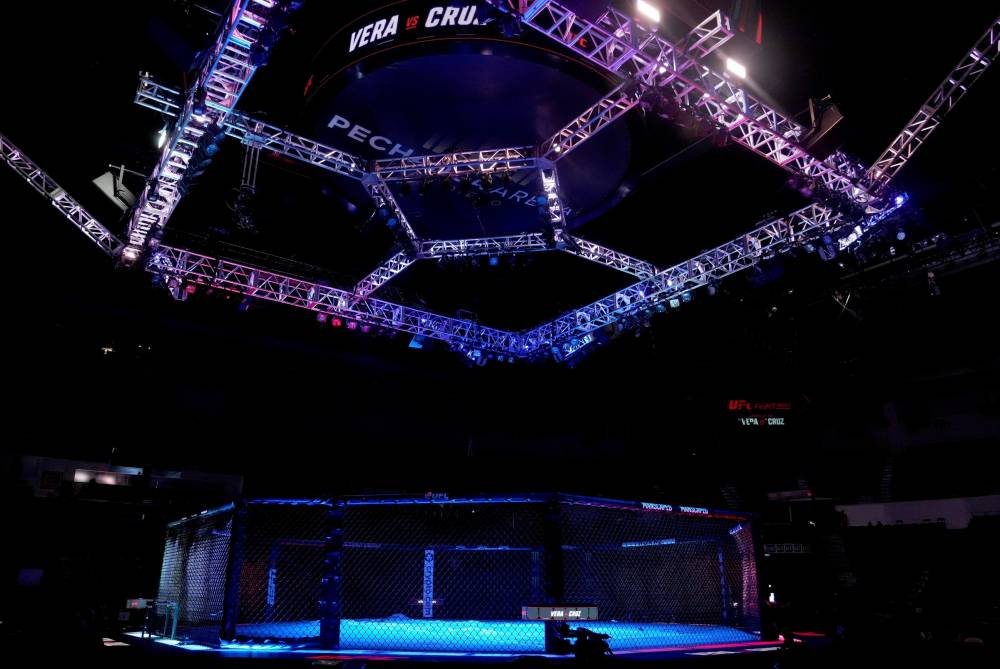 UFC 286: Sam Patterson vs Yanal Ashmoz prediction, 03/18
Mar 16, 2023, 7:47:15 PM
© Joe Camporeale-USA TODAY Sports
UFC 286: Sam Patterson vs. Yanal Ashmoz
The Ultimate Fighting Championship (UFC) is set to host a lightweight bout between Sam Patterson and Yanal Ashmoz on March 18, 2023. Both fighters are relatively new to the UFC, but have impressive records in their respective careers. This fight promises to be an exciting encounter, as both fighters are skilled in striking and grappling.
In the following sections, I will provide a detailed preview of each fighter, looking at their past performances, notable skills, and potential game plans for the upcoming bout. Based on this analysis, I will then make a final prediction on the likely outcome of the fight. So buckle up and get ready for a detailed breakdown of this fight.
Sam Patterson
Sam "The Future" Patterson is a 26-year-old English fighter who fights out of Team Crossface. He has a professional record of 10 wins, 1 loss, and 1 draw. Patterson stands at 6'3" and weighs 155 lbs, which gives him a significant height and reach advantage over his opponent. Patterson is known for his crisp striking and his ability to finish fights.
In his last fight, Patterson defeated Vinicius Cenci via submission in the second round of Dana White's Contender Series: Season 6, Week 10. Prior to that, he knocked out Khunkar-Pasha Osmaev in the second round of Brave CF 57. He also holds wins over Kamal Magomedov, Ylies Djiroun, and Felipe Silva.
Patterson's only loss came against Hardeep Rai, where he was knocked out in the first round of Brave CF 9. Since then, he has gone on an impressive winning streak, finishing all of his opponents except for one, which ended in a draw.
Patterson's striking is his biggest weapon, and he has shown that he can end fights with his fists. He has a wide range of striking techniques, including jabs, hooks, uppercuts, and kicks, which he uses to keep his opponents guessing. His striking is not just limited to standing, he also has a decent ground-and-pound game that he uses to finish opponents.
In addition to his striking, Patterson has also shown impressive grappling skills. He has a solid wrestling base and is adept at taking opponents down and controlling them on the ground. He also has a good submission game, with five of his ten wins coming via submission.
Yanal Ashmoz
Yanal "Red Fox" Ashmoz is a 27-year-old Israeli fighter with an undefeated professional record of 6 wins and no losses. He stands at 5'9" and weighs 155 lbs, which makes him significantly shorter than his opponent. Ashmoz is known for his striking ability and has finished three of his six fights via knockout.
In his last fight, Ashmoz defeated Dennis Hughes via unanimous decision in the PFL Challenger Series: Week 5. Prior to that, he knocked out Ryan Rizco in the third round of CFFC 102: Burrell vs. Stewart. Ashmoz has also finished Armando Gjetja, Luiz Abdalla, Yona Cohana, and Erik Sianov.
Ashmoz's striking is his biggest weapon, and he has shown that he has the power to knock out opponents with a single punch. He has a boxing-based style, with a focus on throwing powerful punches to the head and body. Ashmoz's striking is also complemented by his footwork, which allows him to move in and out of range quickly.
Prediction
While Yanal Ashmoz has an impressive record, we believe that Sam Patterson will win this fight. Patterson's height and reach advantage will make it difficult for Ashmoz to land strikes, and Patterson's striking ability is far superior to Ashmoz's. Additionally, Patterson's grappling skills are also top-notch, which could give him an advantage if the fight goes to the ground.
Ashmoz's knockout power is certainly a threat, but Patterson has shown that he can take a punch and keep going. Patterson has also shown a willingness to mix it up and take risks, which could lead to an exciting finish.
In conclusion, while both fighters are skilled, we believe that Sam Patterson will win this fight. His striking ability, height and reach advantage, and well-rounded skills make him the favorite to come out on top.
Pick: Sam Patterson ML -300
Looking for the best UFC 286 predictions and UFC parlays? KingPin.pro has got you covered. This top-rated sports betting app is available on both iOS and Android and provides real-time odds, public betting data, and comprehensive data analysis to help you make informed decisions when placing your bets.
But that's not all. KingPin.pro takes it a step further by offering users access to expert handicappers and their UFC picks. Users can purchase picks from handicappers for a variety of sports, including the NBA, NFL, MLB, and more. The handicappers on the site are experts in their field and have a proven track record of success, making their UFC picks and UFC 286 predictions tonight reliable and valuable.
In addition to expert picks, KingPin.pro also allows users to place their own picks and compete for a spot in the top 10 leaderboard. This is a great opportunity to test your skills against other sports bettors and potentially earn a payout if your pick makes it to the top 10.
One of the unique features of KingPin.pro is that users can view all the picks on the site, not just those from the handicappers they choose to follow. This allows users to gain more insight into the overall trends and predictions of the community and make more informed betting decisions.
Overall, KingPin.pro is a comprehensive and user-friendly platform for sports bettors looking for the best UFC parlays and UFC picks. Whether you're a seasoned bettor or new to the game, this app offers valuable insights and expert advice to help you make informed decisions and potentially earn some money.
#1

#2

last 30 days winnings
$4,740
#5