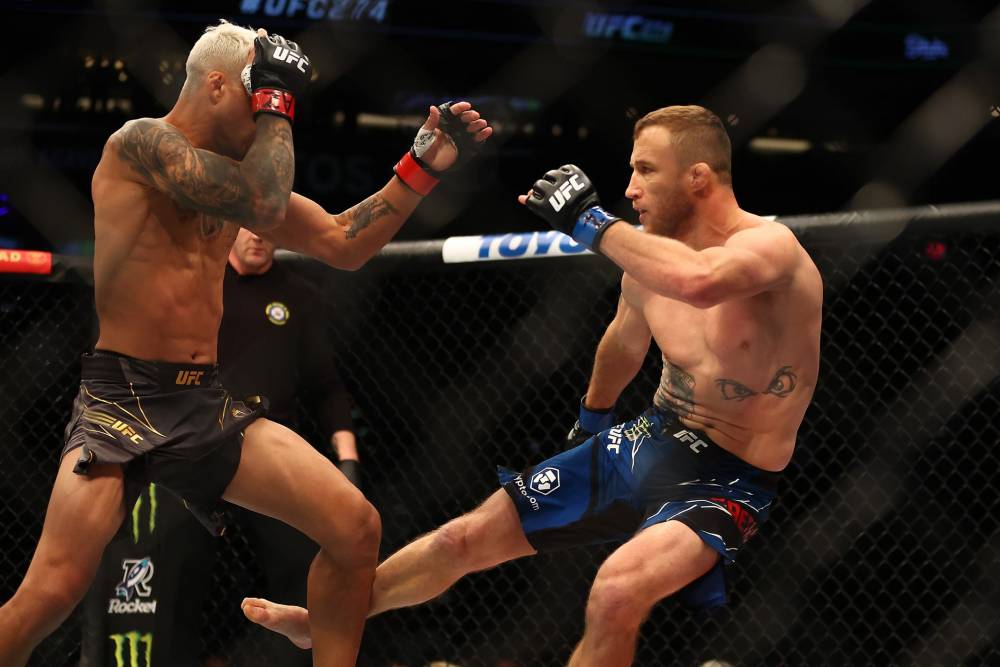 UFC 286: Justin Gaethje vs. Rafael Fiziev prediction, 03/18
Mar 13, 2023, 3:07:21 AM
Photo credit: © Mark J. Rebilas-USA TODAY Sports
UFC 286: Justin Gaethje vs. Rafael Fiziev
The UFC 286 event is set to feature a highly anticipated lightweight matchup between Justin Gaethje and Rafael Fiziev. Gaethje, also known as "The Highlight," is a top-ranked contender in the division, with a professional record of 23-4-0. Meanwhile, Fiziev, also known as "Ataman," is a rising star in the UFC, with a professional record of 12-1-0. Both fighters possess remarkable striking skills, which sets the stage for an exciting bout.
In the following sections, I will provide a detailed preview of each fighter, looking at their past performances, notable skills, and potential game plans for the upcoming bout. Based on this analysis, I will then make a final prediction on the likely outcome of the fight. So buckle up and get ready for a detailed breakdown of what could be one of the most exhilarating fights of the year.
Justin Gaethje
Justin Gaethje is a fighter that always brings the heat to the octagon. He has been competing in mixed martial arts since 2011 and has had an impressive career so far, with a record of 23-4-0. Gaethje is a former World Series of Fighting lightweight champion and has been competing in the UFC since 2017.
One of Gaethje's biggest strengths is his striking power. He is known for his ability to knock out his opponents with his heavy hands and is one of the most exciting fighters to watch in the UFC. Gaethje's significant strikes landed per minute (SLpM) of 7.46 and striking accuracy of 60% are impressive numbers that highlight his striking ability.
In addition to his striking skills, Gaethje also has a solid takedown defense. He has successfully defended 75% of his opponent's takedown attempts, which shows that he is difficult to take down and control on the ground. However, Gaethje has not attempted any takedowns in his UFC career, indicating his preference for striking.
Despite his striking prowess, Gaethje's grappling skills have been questioned in the past. In his most recent fight against Charles Oliveira at UFC 274, Gaethje suffered a submission loss, which raised concerns about his ability to defend against grappling attacks. It will be interesting to see how Gaethje addresses this weakness in his upcoming fight against Rafael Fiziev.
Another aspect of Gaethje's fighting style is his relentless pace and pressure. He is always pushing forward and looking to finish the fight, which often leads to exciting slugfests in the octagon. Gaethje's willingness to engage in striking exchanges and his durability make him a dangerous opponent for anyone in the lightweight division.
Looking ahead to his upcoming fight against Rafael Fiziev at UFC 286, Gaethje will need to bring his A-game if he wants to come out on top. Fiziev is a tough and skilled opponent who will pose a challenge to Gaethje's striking abilities. However, Gaethje's experience and striking power could be the difference-maker in this matchup.
Overall, Justin Gaethje is a fighter who always puts on an exciting show for fans. His striking power and relentless pace make him a dangerous opponent for anyone in the lightweight division. However, his recent loss to Charles Oliveira has raised concerns about his grappling skills, which could be exploited by opponents in the future. Gaethje will need to address this weakness if he wants to continue his ascent in the UFC.
Rafael Fiziev
Rafael Fiziev is a fighter who has been on a roll since he joined the UFC. His record stands at an impressive 12-1-0, and he has won three consecutive fights since his debut in 2019. Fiziev hails from Kyrgyzstan and has a strong background in Muay Thai, which has translated well into his striking skills in the octagon.
Fiziev's SLpM of 4.81 and striking accuracy of 50% are impressive, but it's his flashy striking style that has caught the attention of fans and analysts alike. His striking defense is also solid, with a success rate of 50%, meaning he avoids half of his opponent's significant strikes. But Fiziev is not just a striker, as he has also shown good takedown skills with an average of 0.36 takedowns landed per 15 minutes and a takedown defense of 92%. He has also shown his grappling skills in his UFC debut against Alex White, where he secured a submission victory.
In his most recent fight, Fiziev scored a spectacular knockout victory over Rafael Dos Anjos at UFC Fight Night: Dos Anjos vs. Fiziev. The win was his third consecutive victory in the UFC and marked a significant step forward in his career. Prior to that, Fiziev had won against Renato Moicano and Brad Riddell, showcasing his skills against top-level competition.
Fiziev's exciting striking style and well-rounded skill set make him a dangerous opponent for any fighter in the UFC's lightweight division. He is an excellent striker who can finish fights with his punches and kicks, but he is also comfortable grappling, which gives him an advantage against opponents who focus solely on striking.
Fiziev's rise to prominence in the UFC has been impressive, and he is quickly becoming a fan favorite. His flashy striking skills and exciting fights have earned him a reputation as a fighter to watch, and he will be looking to make a statement in his upcoming fight against Justin Gaethje.
In conclusion, Fiziev's well-rounded skill set, flashy striking style, and impressive record make him a dangerous opponent for any fighter in the UFC's lightweight division. His recent performances against tough opponents have shown that he is a rising star in the sport, and he will be looking to continue his winning streak against Gaethje.
Prediction
This matchup between Gaethje and Fiziev is an intriguing clash of styles. Gaethje's striking power and aggressive fighting style make him a dangerous opponent for any fighter. However, Fiziev's striking skills and well-rounded game could pose problems for Gaethje.
In this fight, Fiziev's striking skills and technical proficiency give him the edge. Fiziev's Muay Thai background and flashy striking make him a difficult opponent to handle, even for Gaethje. Additionally, Fiziev's well-rounded game and grappling skills give him more tools to work with compared to Gaethje, who primarily relies on his striking.
Gaethje's recent submission loss to Oliveira also raises concerns about his grappling ability, which could make him hesitant to engage in the clinch or on the ground with Fiziev. Fiziev's takedown defense and submission defense are both strong, which could limit Gaethje's options in the fight.
If the fight stays standing, it could turn into a striking battle that favors Fiziev. Gaethje's striking defense, while solid, is not as good as Fiziev's, and Fiziev's technique and precision could allow him to land the cleaner shots. If the fight goes to the ground, Fiziev's grappling skills could give him the advantage, especially if he is able to control Gaethje on the mat.
Overall, Fiziev's well-rounded game, striking skills, and grappling ability give him the edge in this matchup. Gaethje's aggression and striking power could pose a threat, but Fiziev's technical proficiency and ability to control the fight in different areas give him a better chance to emerge victorious.
In conclusion, Rafael Fiziev is predicted to win the fight against Justin Gaethje. However, anything can happen in the octagon, and Gaethje's power and relentless fighting style could make for an exciting and unpredictable fight.
Pick: Rafael Fiziev ML -230
Looking for the best UFC predictions and UFC parlays? KingPin.pro has got you covered. This top-rated sports betting app is available on both iOS and Android and provides real-time odds, public betting data, and comprehensive data analysis to help you make informed decisions when placing your bets.
But that's not all. KingPin.pro takes it a step further by offering users access to expert handicappers and their UFC picks. Users can purchase picks from handicappers for a variety of sports, including the NBA, NFL, MLB, and more. The handicappers on the site are experts in their field and have a proven track record of success, making their UFC picks and UFC predictions tonight reliable and valuable.
In addition to expert picks, KingPin.pro also allows users to place their own picks and compete for a spot in the top 10 leaderboard. This is a great opportunity to test your skills against other sports bettors and potentially earn a payout if your pick makes it to the top 10.
One of the unique features of KingPin.pro is that users can view all the picks on the site, not just those from the handicappers they choose to follow. This allows users to gain more insight into the overall trends and predictions of the community and make more informed betting decisions.
Overall, KingPin.pro is a comprehensive and user-friendly platform for sports bettors looking for the best UFC parlays and UFC picks. Whether you're a seasoned bettor or new to the game, this app offers valuable insights and expert advice to help you make informed decisions and potentially earn some money.
#1

#2

last 30 days winnings
$4,740
#5