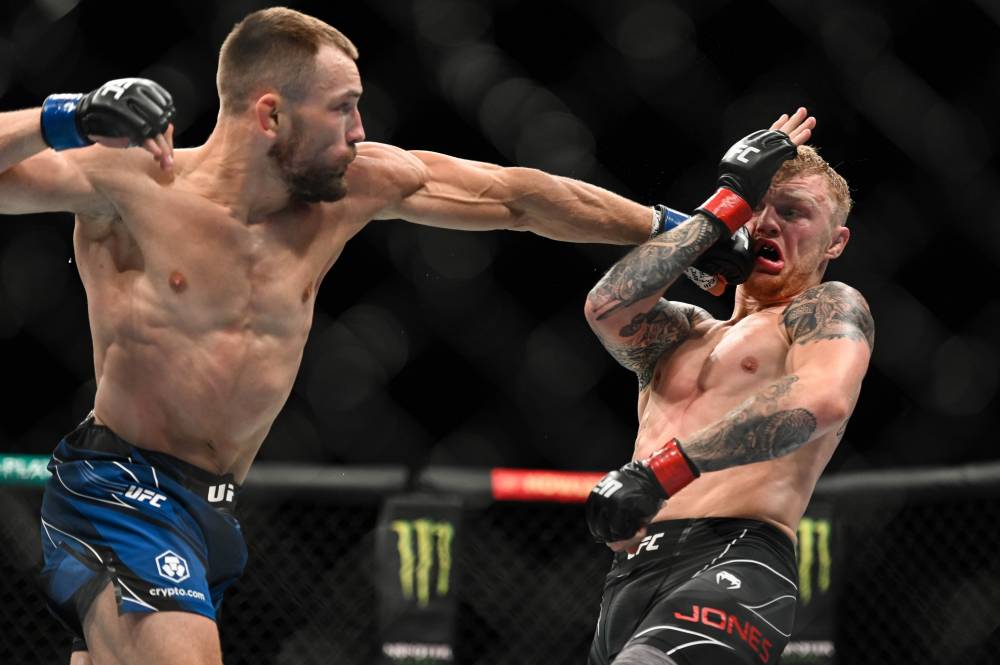 UFC 286 Fight Predictions: Jai Herbert vs. Ludovit Klein
Mar 17, 2023, 4:49:17 AM
Photo Credit: © Per Haljestam-USA TODAY Sports
UFC 286: Ludovit Klein vs Jai Herbert
On March 18, 2023, the O2 Arena in London, England will be the stage for an electrifying match between Jai Herbert and Ludovit Klein in the UFC 286 event. Both fighters have established themselves as serious contenders in the featherweight division and their styles and abilities make for an intriguing fight. As fans eagerly await this match, KingPin.pro has provided expert analysis and UFC picks tonight for fight enthusiasts.
Ludovit Klein
Ludovit Klein is a highly skilled fighter who is comfortable both on the feet and on the ground. He has a dynamic striking style with a mix of kicks, punches, and knees, which makes him unpredictable and difficult to read. Klein is also a skilled grappler with a solid ground game, including a variety of submission techniques such as the rear-naked choke and guillotine.
Klein began his professional MMA career in 2014, fighting for various European promotions before signing with the UFC in 2020. In his UFC debut, he showcased his striking ability with a first-round knockout of Shane Young. He then suffered a submission loss to Nate Landwehr, but bounced back with unanimous decision victories over Joao Paulo Rodrigues de Souza and Mason Jones.
Klein's impressive grappling and striking ability make him a formidable opponent for anyone in the featherweight division. He has a great sense of timing and is always looking for an opportunity to finish the fight. It will be interesting to see how he matches up against Herbert's striking and whether he will look to take the fight to the ground.
Jai Herbert
Jai Herbert is a dynamic striker with an extensive kickboxing background, which is evident in his aggressive style and powerful kicks. Herbert has a great sense of timing and utilizes a lot of feints to set up his strikes. He is also known for his counterpunching ability, using his opponent's aggression to his advantage. In addition to his striking skills, Herbert has a decent grappling game, with a submission win over Tony Morgan early in his career.
Herbert's professional MMA career began in 2015, fighting for regional promotions such as Full Contact Contender and BAMMA. He made his way to Cage Warriors, where he won the lightweight championship in 2019 with a knockout victory over Jack Grant. He then defended his title with a first-round knockout of Cain Carrizosa later that year. In 2020, Herbert signed with the UFC and has had mixed results so far.
While Herbert has shown great promise with his striking ability, he has also shown a weakness in his grappling defense. His losses have come against opponents who were able to take him down and control him on the ground. Therefore, it will be crucial for Herbert to work on his takedown defense and grappling if he wants to be successful against a well-rounded fighter like Ludovit Klein.
Prediction
While both fighters are talented in their own right, KingPin.pro predicts that Ludovit Klein will come out on top in this fight. Klein's ability to mix his striking and grappling will be key in this fight, and his takedown defense will make it difficult for Herbert to get the fight to the ground. Additionally, Klein has proven to be a tough fighter, having never been knocked out in his career.
Herbert's striking ability is a significant threat, but Klein's well-rounded approach will be difficult for him to overcome. If Klein can control the pace of the fight and keep Herbert at bay with his grappling, he will have a good chance of winning this match. As always, anything can happen in the octagon, but KingPin.pro's UFC fight predictions are that Klein will win by decision.
Pick: Ludovit Klein -188
Get UFC picks and MMA betting tips on the go with the Kingpin.pro iOS and Android app. Our team of experts provides in-depth analysis and expert UFC fight predictions to help you make informed betting decisions. With live odds and betting trends, our app is the ultimate tool for MMA betting enthusiasts. Download the app today and start winning with KingPin.pro!
#1

#2

last 30 days winnings
$4,740
#5