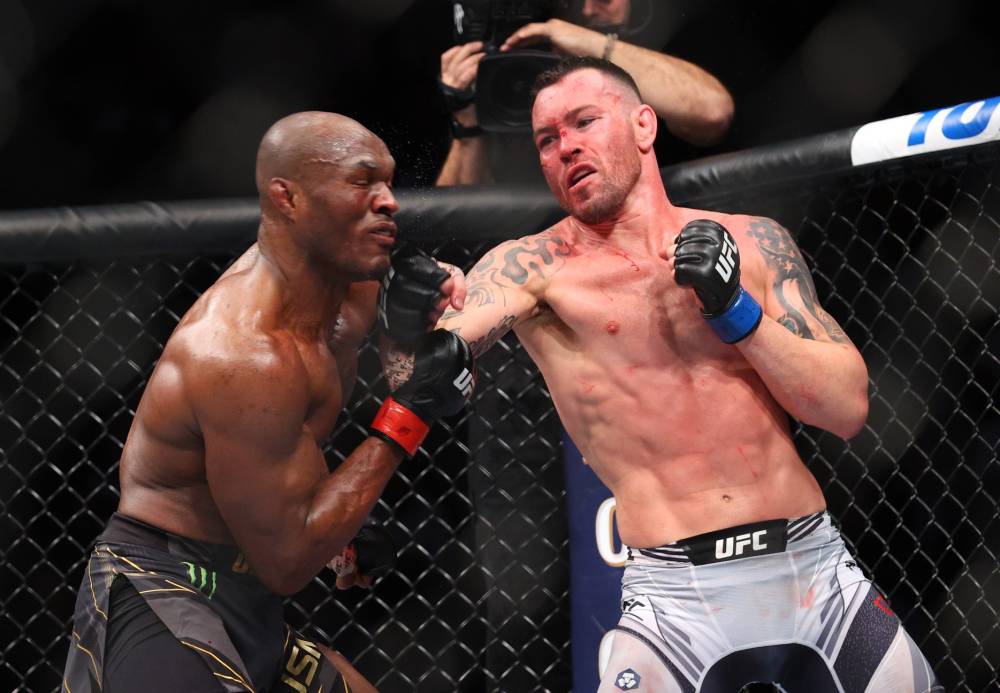 UFC 272 Predictions and Picks for Every Fight, March 5: MMA
Mar 4, 2022, 9:35:16 PM
Credit: photo by Ed Mulholland-USA TODAY Sports
March 5, 2022: T-Mobile Arena, Las Vegas, NV
Kingpin's two staff writers predict the winners for every matchup for UFC 272 and provide a preview for each fight.
Main Event: Colby Covington vs. Jorge Masvidal (Welterweight)
Jackson: Covington
To be fair, I think this fight will be much closer than expected. I believe that Colby will struggle to wet blanket Masvidal for five rounds, and Masvidal will have a fairly significant striking advantage. Given these points, I have been very torn on this pick - that is until I looked at the over/under betting line. This fight is favored to go the distance, which heavily favors Covington, as he will have a significant cardio and wrestling advantage. When combined with his record of only losing to Kamaru Usman and to a fluke guillotine submission, it makes it difficult to pick against Colby in this fight.
Brandon: Covington
I so badly want to take Masvidal. So badly. Covington has been pieced up twice by Usman, who is a far inferior striker to the often masterful striking that Gamebred possesses. But what I think allowed for that is the fact that Colby's wrestling could be matched by Usman, allowing both fights to occur on the feet. As for Masvidal, he won't be able to keep this on the feet nearly as well as Usman did. We've seen Gamebred taken down by Usman multiple times, and I think Colby will find similar success here. I expect Masvidal to land a knockdown or two just as Usman did, but Colby is tough as nails and I think his cardio and ground game are the determining factor here.
Co-Main Event: Rafael Dos Anjos vs. Renato Moicano (Catchweight 160 Lbs)
Jackson: Dos Anjos
While Moicano is coming off a great performance against Alexander Hernandez at UFC 271, it is important to not buy into recency bias in this fight. Historically, Moicano has struggled against the upper echelon of UFC competition - and RDA undoubtedly is that, being a former champion, and having fought nearly every contender in the lightweight and welterweight divisions. His losses are largely to the world's best. Stylistically, I believe that RDA could wrestle Moicano with relative ease. The striking will likely be competitive. However, the biggest deciding factor in this fight will be cardio. RDA has been training for a 5 round fight for months at this point, and has a wealth of experience with the championship rounds. Meanwhile, Moicano is coming in a weeks notice into a 5 round fight, of which I think he has only fought 1 5 round fight (in which he got knocked out in the first). For these reasons, I'm confident RDA gets the job done here.
Brandon: Dos Anjos
Will the Curse of the Dragon finally break? Paul Felder claims his retirement should end the curse, but we will know for sure after this fight. For me personally, I think this is where it ends. Moicano is coming in on short notice to face a much more experienced opponent than himself, and one who will likely be much bigger than him as he is closer to his natural division than Moicano is. Moicano looked great against Alexander Hernandez, but Hernandez's game is far different than RDA. RDA is similar to Moicano in the technicality of his striking, has more power, and can handle himself on the mat. In a five-round fight, I expect RDA to test Moicano's suspect chin and walk away with a KO finish.
Edson Barboza vs. Bryce Mitchell (Featherweight)
Jackson: Mitchell
I'm having a tough time with this fight. On one hand, you have a surging prospect with some of the best grappling in the division. On the other, you have a veteran striker that has a wealth of experience fighting a who's who of both the featherweight and lightweight divisions. While every fiber of my being tells me to pick Barboza because of his experience, and that Thug Nasty is a hype train, and he hasn't fought anyone remotely close to the level of Edson (or with decent takedown defense), I'm going with Mitchell because of round 1. I'm starting to think that Barboza is a bad nail at this point in his career, and if Mitchell dominates him in the first as I expect, he will fold and struggle to win rounds 2 and 3. It's no secret that Edson will undoubtedly maul Mitchell on the feet, but I just don't see him being able to avoid takedowns enough to keep it there. I guess I'm wearing camo for this fight, but I have alarm bells going off in my head.
Brandon: Mitchell
This fight will almost certainly produce at least one $50,000 bonus, possibly two. This is great matchmaking, providing Mitchell with easily his biggest test yet, and giving Barboza a grappling-heavy opponent of the likes he hasn't faced in a long time. If Mitchell's chin can survive the striking on the long, athletic Barboza, he has this fight won and it will likely come via submission. Edson sports a 78% takedown defense, but as he has gotten older this has begun to show its cracks. A powerful chain wrestler like Thug Nasty should be able to control Barboza at length once he gets him to the mat, and will work until he holds him there for the round or gets the submission. Also, I could never fade Thug Nasty in his camo shorts.
Kevin Holland vs. Alex Oliveira (Welterweight)
Jackson: Holland
I don't think this fight will be particularly close. In a clear bounce-back spot, I expect Welterweight Big Mouth to shine, as he will style on Oliveira on the feet, and show improved takedown defense - especially against a smaller opponent. Cowboy Oliveira is nothing special, and I expect Holland to be able to combat his grappling attack (best path to victory) with decent takedown defense and solid jiu jitsu on the mat, if it gets there. Nonetheless, I think Holland will be able to keep this on the feet, where he can use his long reach and solid striking to earn a KO victory.
Brandon: Holland
I see this fight playing out almost exactly how the Randy Brown fight went for Cowboy Oliveira. Facing a long, rangy striker, getting pieced up at distance, and ultimately knocked down for either a KO finish or a club and sub. Holland's welterweight debut is certainly a fight to watch as he adjusts to this new division, one in which he will look enormous in.
Sergey Spivak vs. Greg Hardy Jr. (Heavyweight)
Jackson: Spivak
Barring a quick knockout (which is undoubtedly live from Hardy), I expect Spivac to take Hardy to the mat and pound him into oblivion. Granted, Hardy is a HUGE and athletic heavyweight who will be difficult to takedown in the early going. But, Spivac is a big dude himself, has shown solid grappling for this division, and has been showing improvements from fight to fight. Thus, I expect him to weather the early storm, and pounce on Hardy in the second round. Neither of these fighters have a notable win and have largely only beaten bums, so this fight could determine who becomes fringe-ranked fighter, and who goes into the Arlovski-Collier-Tafa tier of UFC heavyweights.
Brandon: Spivak
This fight isn't going the distance. If you get close to Greg Hardy, you are always risking being sent into a canvas nap. Tai Tuivasa nearly learned this the hard way, as he was undeniably wobbled before collecting himself and putting Hardy away. However, Hardy can be taken down by Spivac, who has strong wrestling and ground and pound for the heavyweight decision. If Hardy ends up on his back, I'm expecting a ground and pound finish, as Hardy's chin is pretty questionable. Spivac could also win on control time, a standing KO, or even a submission, giving him more avenues to win this fight. I'm backing him here.
Jalin Turner vs. Jamie Mullarkey (Lightweight)
Jackson: Mullarkey
I'm going with the junkyard dog in Mullarkey here. To give credit where credit's due, Turner has shown great finishing ability, and is a great prospect for this division. But, these performances have been against non-UFC caliber cans. This is a tale as old as time, that when the young potent finisher faces someone that will put them through adversity and not fold with the first onslaught, the veteran wins. Mullarkey is durable, and I expect him to successfully use his wrestling against Turner. Turner could be legit, and is definitely more athletic and talented than Mullarkey, but I've read this book before.
Brandon: Turner
Third time's the charm for me. This is my third time in a row fading Jamie Mullarkey, and the previous two decisions did not go in my favor. However, I think this is the one – Turner is long, strong, and durable. Mullarkey is a good boxer and has done some damage on the feet in recent fights, but Turner is the better striker and should be able to keep Jamie out of the pocket with his exceptional length for this division. If this fight goes to the mat, Turner is equally as dangerous – Mullarkey is a solid wrestler but does not have the Jiu-Jitsu threat like Turner does. This should be a great fight, but I'm taking a shot with Turner here.
Marina Rodriguez vs. Yan Xiaonan (Women's Strawweight)
Jackson: Rodriguez
Simply put, I'm picking Marina Rodriguez in any stand up fight in the women's strawweight division. She's mean, got the power, the output, the length, and technique to beat almost every fighter in the decision. I don't think Yan has the wrestling chops to take this fight to the mat, which results in her being in serious trouble for this fight. I expect Rodriguez to win a unanimous decision victory here.
Brandon: Rodriguez
Marina Rodriguez has some of the most beautiful striking in all of Women's MMA, if not the most beautiful. She is incredibly technical, possesses power that few Strawweights do, and has elite Muay Thai skills that make her a serious contender in this division. Yan Xiaonan is a good fighter, but her fight with Esparza has shown me that she is not elite in this division. She doesn't have the wrestling or Jiu-Jitsu necessary to control Rodriguez on the ground and win on points, and she will lose in a standup match. Give me Rodriguez.
Nicolae Negumereanu vs. Kennedy Nzechukwu (Light Heavyweight)
Jackson: Nzechukwu
Besides his last fight against Da Un Jung (who actually might be a sneaky good LHW), Kennedy Nzechukwu has shown a great ability to weather an early storm with fighters, and mount his own offense after they gas (Ulberg and Marques). Negumereanu has shown his game plan to play right into this scenario for Kennedy, in which I expect him to take control of the fight and make Negumereanu become the nail (which I don't will go well for him).
Brandon: Negumereanu
I like to think I'm a pretty smart guy, but there is absolutely no shot I can correctly pronounce either of their names. Anyways, I'm a little lower on Nzechukwu than most, but I think his striking is slow, albeit technical. He has a big range advantage on Nicolae, but I think the Romanian can get in close enough to land takedowns and grind out a win. Nzechukwu's takedown defense, when tested, is not strong – and Nicolae's aggressive pace should allow him to get within range for these takedowns. Both fighters are very high output and this fight should be a fun one, but I'm rolling with Nicolae to have the edge here with his wrestling ability.
Maryna Moroz vs. Mariya Agapova (Women's Flyweight)
Jackson: Agapova
When Agapova comes into a fight week in shape, she is a force to be reckoned with. She truly is a dynamic athlete, with explosive power, speed, and strength. Her identity as a crazy bitch allows her to unload on her opponent with great output. And trust me, she's going to fight like a crazy bitch this week with how much shit Moroz has talked about her. Simply put, I don't think that Moroz will be successful in getting Agapova to the mat, given how good of an athlete she is. Thus, she will likely lose a standup battle. However, there are two factors that I am worried about for Agapova in this fight that make me uneasy about picking her:
Her takedown defense is largely unproven, so Moroz could use that as a path to victory

Moroz is fighting for Ukraine, and likely is highly motivated to give them a victory at this point in time
There are evident paths for Moroz to win, but I'm taking the crazy bitch to go apeshit in this one.
Brandon: Moroz
In global news, Ukrainian fighting spirit is at an all-time high, and I am expecting Moroz to carry this with her into the Octagon as she promised to do. She is making her first appearance in two years, but has had some impressive wins and has demonstrated both good boxing and grappling prowess in doing so. Agapova is the more talented fighter, but she often gets wild, letting her gas tank run low in the process. Moroz is talented enough to take advantage of this, and can make her pay for it. If Agapova fights a more composed fight, Moroz could be in trouble, but I expect her mentality and also impressive skill set to carry her to victory.
Brian Kelleher vs. Umar Nurmagomedov (Featherweight)
Jackson: Nurmagomedov
Brian Kelleher is an exceptional gatekeeper for the bantamweight division, but I believe he is far outmatched with Umar. Nurmagomedov is a dynamic striker, with the Dagestani wrestling we are all too familiar with. In my eyes, the only path to victory for Kelleher is one of his famous guillotine chokes while Umar is shooting in on him, as I believe Umar has a striking advantage, will be able to defend Kelleher's takedowns, and will be able to implement his wrestling attack. As long as Umar is mindful of where Kelleher is dangerous, this should be an easy fight for him. With this victory, Umar will become a legitimate prospect, and begin his ascent to the top of the rankings.
Brandon: Nurmagomedov
Not much to say here. Kelleher may have a slight advantage on the feet, but this fight won't be there long. The Eagles MMA product will grind Kelleher into the mat throughout the fight, and win this one handily. Set it and forget it.
Tim Elliott vs. Tagir Ulanbekov (Flyweight)
Jackson: Elliott
In a strange pick against an "-ov", I think Tim Elliott can use his veteran savvy to outwork Tagir for a victory here. More than anything, I'm picking Tim because he 1) largely has only lost to top tier flyweights, which I don't believe Tagir is based upon his last fight, and 2) has James Krause in his corner, who will have him ready to perform at the peak of his abilities. I'm relying on the old veteran to still be able to filter out the pretenders in this one.
Brandon: Ulanbekov
I like Tim Elliott, and for the most part, he has only lost to the best of the best in this division. I've been on the right side of Tim in his last few fights, and I look to continue that by fading him here. Tagir is undeniably overrated, but I am in no rush to ever fade a Dagestani Eagles MMA product, especially against someone who doesn't have dangerous striking to counteract the wrestling. It won't be pretty, but Ulanbekov should walk away with a decision victory.
Devonte Smith vs. Ludovit Klein (Lightweight)
Jackson: Smith
I'm not sold on either of these guys, but I'm going to pick Smith because he's not coming in on short notice (and Klein already has a suspect gas tank), and because he has super tight and powerful striking in the first round and a half, which is likely similar to the gas tank Klein has anyway. Klein has shown flashes of great skill and technique, but has largely failed to put together a good body of work in the UFC. However, Klein could have a path to victory with his wrestling, and it could be an x-factor in this fight, if he has the fight IQ to implement it. In a violent fight between two fighters I'm not particularly high on, I'll go with Smith, despite not being overly confident in the pick.
Brandon: Smith
A little anecdote: I ran into Smith late one night at a bar this summer, and while the night was rather hazy, we somehow got to talking about UFC. That was when he told me who he was, that he had a fight coming up, he told me to hammer him, and in return for betting on him he bought me a shot. That shot turned out to be costly, as he was then promptly knocked out by Mullarkey. Anyways, back to the fight. I'm still ride or die with Smith, and I think he has unreal power and athleticism for this division. I watched Ludovit Klein get wrecked in person last fight, and I am in no rush to pick him again. He's overrated everywhere, and should get finished here inside of two rounds. This fight won't go the distance and I expect Smith's hand to be raised.
Dustin Jacoby vs. Michal Oleksiejczuk (Light Heavyweight)
Jackson: Jacoby
In the big octagon, I expect Jacoby to pick apart Lord Michal in this fight. He is much larger than Michal, and I expect him to use his height, reach, and kicking game to stay to the outside of Oleksiejczuk, largely a pressure-boxer with a limited kicking game, and land the more meaningful strikes. I don't expect this fight to hit the mat, and it is likely to be a close striking affair. However, I'd like to have the true light heavyweight kickboxer in Jacoby over the smaller boxer in Lord Michal in this matchup.
Brandon: Jacoby
Confession time: I've been a Dustin Jacoby hater as long as I can remember. I've never thought he was that good, and I have now realized I'm pretty wrong there. He isn't exceptional at anything, but he has clean boxing and high output, as well as being big and strong, all of which make him a solid fighter in this division. Michal is a good fighter, but Jacoby should continue to utilize output, clinch wrestling, and technical boxing to pull out another decision victory.
Find more sports picks from the top sports bettors and UFC and MMA experts all in one place using our iOS and Google Play apps, as well as our other articles at Kingpin.pro. We are the home for UFC and MMA picks, sports picks and sports betting.
#1

last 30 days winnings
$510
#2