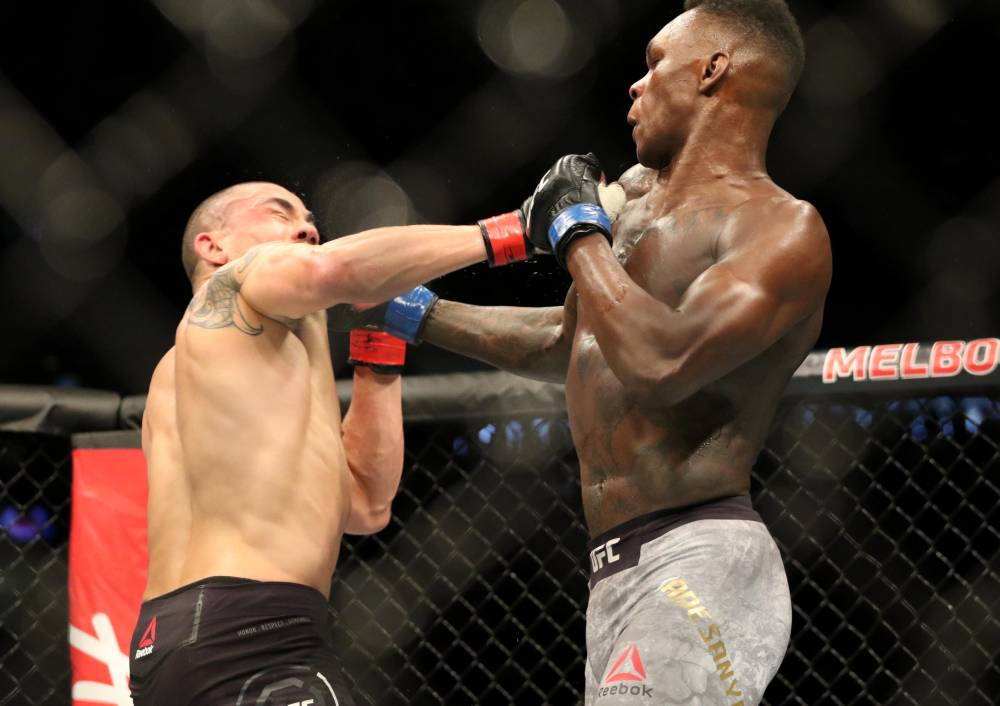 UFC 271 Predictions and Picks for Every Fight, February 12 (2/12), Adesanya vs Whittaker: MMA
Feb 11, 2022, 10:18:08 PM
Credit: photo by Jasmin Frank-USA TODAY Sports
February 12, 2022: Houston, TX
Kingpin's two staff writers predict every matchup for UFC 271 and provide a preview for each fight.
Main Event: Israel Adesanya vs. Robert Whittaker II (Middleweight Title Fight)
Jackson: Adesanya
This is going to be an extremely high level fight. Izzy and Whittaker are by far the best middleweights in the division, both among the best pound-for-pound fighters in the UFC, and Bobby Knuckles is likely the only fighter that is capable of a competitive fight against Izzy at middleweight. Bobby Knuckles has had some impressive victories since their first matchup, but I am in no hurry to stand in front of Adesanya at middleweight. Nobody in this division, including Whittaker, will be able to take Adesanya down and hold him there like Blachowicz did, which leads to a fight on the feet with Izzy - where he is the best striker in the division. While Robert is a very solid striker himself, Izzy will eventually use his length to pick Robert apart on the feet. I'm not sure if Izzy will knock out Robert, but I'm firmly on Izzy by decision or KO.
Brandon: Adesanya
I think Bobby Knuckles has improved immensely since being knocked out by Adesanya at UFC 243. His patience and fight IQ have improved significantly, complementing his already impressive karate-style striking and wrestling prowess. With that being said, I don't think he has improved enough to beat Adesanya. Izzy is so long, creative, and such a brilliant counter-striker that I have a hard time seeing how Whittaker will be able to get in close for shots without taking damage himself. Whittaker could elect to wrestle, but despite being the farthest thing from a wrestler, Izzy is nearly impossible to take down - only Jan has been able to take him down, and he was at least 20 pounds heavier than Whittaker will be Saturday. While Bobby Knuckles is the clear number two in this division right now, I don't see a clear path to victory for him in this fight. However, I think he will fare better than last time, and this fight will go the distance.
Co-Main Event: Derrick Lewis vs. Tai Tuivasa (Heavyweight)
Jackson: Lewis
Say what you want about the Black Beast's technique, but on almost every non-elite fighter he fights, and even contenders such as Curtis Blaydes, he finds their chin at some point. In essence, he's an elite gatekeeper similar to Chookagian, where he's not good enough to hang with the best of the best, but consistently beats pretenders on their way to the top. Personally, I was very impressed with Tai's last performance, but I don't have enough information to conclude that he's among the upper echelon of the heavyweight division. Beating Sakai, Greg Hardy, and Harry Hunsucker as of late is not a particularly resounding level of competion (especially when getting stanky legged by Hardy). Much like every Lewis fight, I expect him to be losing until he lands the big shot. Tai has exceptional pressure and kickboxing, and an ability to throw a diversity of strikes in combination. To be fair, he could definitely catch Lewis here, he has shown great power as well. However, this fight style will bring him within range of the Black Beast, who I expect to land the one shot he needs and send Tai to sleep. Tai's best strategy will be to keep Lewis at range and piece him up, but I just don't see that happening, being on a Co-Main event on a PPV card. Expect a short and action filled fight here, where I expect Tai to be winning until he gets KO'd.
Brandon: Lewis
I can't decide whether I love this fight or hate this fight. I don't want either to lose, with a matchup of easily two of the most entertaining heavyweights in the world, and I'm a little disappointed in the UFC for rushing Tuivasa this quickly. While he has a bright future, the UFC saw what Lewis just did to Chris Daukaus, and I fear the same fate for Tuivasa. I would have much rather seen him fighting either Tybura or Rozenstruik, up on the cage doing a post-fight shoey before making a jump like this. Tai throws some great combinations, but he gets aggressive at times and rushes inward, leaving him exposed to heavy shots. He did this against Greg Hardy and got wobbled, before continuing his blitz and getting the finish. Derrick Lewis is a lot better than Greg Hardy, as well as Stefan Struve, Harry Hunsucker, and Augusto Sakai. There will be no shoey in Houston this weekend, as Lewis gets the KO in front of his hometown crowd.
Jared Cannonier vs. Derek Brunson (Middleweight)
Jackson: Cannonier
I'm kind of confused by the line and line movement of this fight with Cannonier only being a moderate favorite and money coming in on Brunson; this is an absolute nightmare matchup for Brunson. His greatest strength is his wrestling, and his biggest weakness is his chin - both of which are accounted for by Cannonier, who has excellent takedown defense, and arguably the greatest power in the division. Brunson's win streak is undoubtedly fraudulent, as he used his wrestling to secure victories against fighters with among the worst takedown defense in the division. I expect Cannonier to use his great strength to stuff Brunson's takedowns, and probably KO Brunson on the feet. I understand Cannonier can at times be low-volume, but in no world do I see Brunson out-striking Cannonier.
Brandon: Cannonier
The plan should be simple - stuff the takedowns, and throw punches. Cannonier's striking is light-years ahead of Brunson's, and his takedown defense at MW is a staggering 85%. This fight should be pretty straightforward, except it isn't. The Killa Gorilla tends to be passive in big fights, as evidenced by his low output against Whittaker and Gastelum. Fortunately, he was able to do just enough to get by Gastelum, but if he continues this trend of inactivity in big fights, he may lose. I don't think he will continue this trend, knowing his sheer power and technicality should be more than enough to overwhelm Brunson on the feet. This is both fighter's last shot at getting a title fight, and Cannonier throws enough to get the win and put himself next in line.
Kyler Phillips vs. Marcelo Rojo (Bantamweight)
Jackson: Phillips
As long as Phillips doesn't blow his load like he did in the Paiva fight, this fight should be extremely one-sided. He's talented everywhere, an exceptional athlete, and is levels above Rojo in almost every facet of the game. Phillips is arguably a ranked fighter, and Rojo is 0-1 in the UFC. Phillips should roll here in a nice bounce-back spot, and a finish is live for certain. However, make sure to pay attention to Phillips at the weigh-ins to make sure he's not too sucked out, or we could see him gas like he did against Paiva.
Brandon: Phillips
If Phillips fights smart, he wins easily. He is a tremendous athlete, and is the superior fighter to Rojo in every aspect. However, he has shown some questionable game plans that don't utilize his strengths and burn his gas tank, especially against Paiva. He fought smart against Song Yadong and won easily, and with Rojo being far inferior to Yadong, I see Phillips running away with this one.
Bobby Green vs. Nasrat Haqparast (Lightweight)
Jackson: Green
In a fight between lightweights that have failed against legitimate ranked opponents, Green has had for more success and experience in fights of this caliber. Both of these fighters are also on different trajectories, as Green is coming off an incredible knockout against Al Iaquinta, and a debatable win against Rafael Fiziev (one of the hottest talents in the division), and Haqparast is coming off of a ground smothering by Dan Hooker (a kickboxer) and a close win over Rafa Garcia, who is nowhere near the caliber of Bobby Green and his competition. I expect Green to continue rolling here, and to either take a page out of Dan Hooker's book and use his jiu-jitsu, or just to stay at range and win on volume on the feet.
Brandon: Green
Bobby Green is rolling into this fight with a head of steam. There are no such thing as "moral victories" in the UFC, but if there were to be one, it would be Bobby Green's third round against Rafael Fiziev. He put on an absolute striking clinic to nearly mount a comeback in one of the best individual rounds of 2021, and followed it up by quickly sending Al Iaquinta into retirement via first round KO in front of Al's home crowd. Haqparast is on the opposite end of the spectrum, after getting dominated from start to finish by Dan Hooker. Haqparast has beaten most of the guys he is supposed to beat easily, but has really struggled against any shred of competition, such as Hooker and Dober. Green falls into the latter category here, and I think Haqparast is too one dimensional to beat Green. He has decent boxing, but that's really about it, whereas Green combines high-output, effective striking with the threat of wrestling and Jiu-Jitsu. Green has more tools to win this fight, and should do so.
Andrei Arlovski vs. Jared Vanderaa (Heavyweight)
Jackson: Vanderaa
Either way, this is going to be a sloppy fight. Arlovski is far over the hill at 43, and Vanderaa is not a talented fighter. But, he has decent volume on the feet, and is going to be much larger than Arlovski. Thus, I could see Vanderaa possibly taking Andrei down and just using his size to lay on him and eat up minutes, or we will have a competitive fight on the feet. Arlovski's last performance was far from impressive, as he gassed BAD, and in a fight that's likely going to decision, I'll take Vanderaa.
Brandon: Arlovski
Fun Fact (courtesy of Prataap): Until his last fight with Carlos Felipe, Andrei Arlovski had never opened and closed as a favorite in the UFC. Everyone has this image of Arlovski as a washed fighter strictly because of his age. Meanwhile, he has gone on to win 4 of his last 5 fights, with his only loss coming against a top-10 fighter in Tom Aspinall. I was in attendance as Arlovski took on Felipe, and his punches and kicks were the loudest I heard all night, echoing across the whole Apex. Vanderaa is a tough son of a bitch, but Arlovski has mostly only lost to the best of the best, a level Vanderaa is nowhere near. I think this fight is very close, and Vanderaa would be smart to mix in some wrestling, but I think Arlovski uses his experience to keep Vanderaa at bay and eke out a decision win.
Roxanne Modafferi vs. Casey O'Neill (Women's Flyweight)
Jackson: O'Neill
Props to the ever-likable and WMMA pioneer Roxanne Modafferi, but I don't see this fight going well for her. O'Neill is a great athlete, and has possibly the biggest motor in the division; her foot is always on the gas, fighting at a pace few can hang with. This is particularly bad for the older and weaker Roxy, who will struggle with O'Neill's athleticism. Additionally, this is a favorable stylistic matchup for O'Neill. Roxanne won't be able to make O'Neill pay on the feet where she's the most vulnerable, and won't be physically strong enough to keep O'Neill off of on top of her - which is a HUGE problem, considering how strong O'Neill's jiu-jitsu and ground and pound is. I see O'Neill by TKO being the most likely outcome in this fight.
Brandon: O'Neill
This fight will not be close. The Happy Warrior enters her retirement fight as a massive underdog, and for good reason. O'Neill is arguably a top five talent in this division, and another dominant victory here would secure her a fight of that caliber. She has great wrestling with tremendous ground and pound, offering her the chance to finish many of the opponents she gets down to the mat. She should have no problem doing that to Modafferi, who despite having decent Jiu-Jitsu, really struggles with her takedown defense against good fighters. Modafferi is also one of the worst strikers in this division, and it's also possible she loses this fight early on the feet as well. No matter where this fight is, King Casey has the advantage. O'Neill will dominate.
Alex Perez vs. Matt Schnell (Flyweight)
Jackson: Perez
I think Perez has Schnell covered almost everywhere here, and Schnell generally struggles with the weight cut down to flyweight, which is why the last booking of this fight got called off. Perez should be able to out-volume Schnell on the feet, and potentially knock Schnell out given his history, even though Perez isn't a potent power puncher, and then also mix in the wrestling to dominate Schnell - all of which leads to a Perez victory by KO or decision. As long as Perez doesn't get submitted from the bottom by Schnell, or Schnell doesn't end up on top, which I don't think his wrestling is good enough to make happen, I think this is Perez's fight to lose.
Brandon: Perez
This line seems a little off to me. Perez, who is undoubtedly a talented and well-rounded fighter, is a nearly -400 favorite coming into this bout against a fellow Top 10 contender. Matt Schnell doesn't do anything great, but he does everything pretty well. He is elusive on the feet, looking to pick opponents apart with jabs and crosses from distance as opposed to getting into firefights with combinations, and is skilled on the ground as well. However, Perez is a far more dominant wrestler, and a capable striker in his own regard, featuring frequent onslaughts to the legs of his opponents. Perez should be able to get this fight to the ground several times, and while Schnell is a threat from the bottom, I don't expect it to be an issue for Perez. Neither fighter has knockout power, so I expect to see this fight playing out primarily from control time, which Perez should take.
William Knight vs. Maxim Grishin (Light Heavyweight)
Jackson: Grishin
In a sloppy, likely low-pace light heavyweight fight, I'm taking Grishin. He's a large and durable light heavyweight with a wealth of fight experience. He's decent everywhere, but not particularly great anywhere. However, Knight's striking leaves a lot to be desired (especially his striking defense), which leads me to believe that Grishin will win by decision on the feet. He also could go to the well with taking Thick Willy down as Da Un Jung did, but I'm not sure Grishin's wrestling is strong enough for that. Thick Willy could very well catch Grishin as he did with Cherant being an insanely jacked human being, and also could have success if he uses his strength to take Grishin down and just wear on him, but I don't see either of these outcomes as likely. I expect Grishin to play things smart, and get a veteran decision victory here.
Brandon: Knight
I really do think Thick Willy has all the skills to be a factor in this division. He's a decent striker and a great wrestler when he incorporates it into his gameplay. Unfortunately, as of late, he hasn't used his wrestling as much as I would have liked. It failed him in a lopsided loss to Da Un Jung, and although he got the win in both, underutilized it as well against Menifield and Cherant. I think it would serve him very well against Grishin, who can be taken down. Grishin is a decent striker who probably has a slight edge on Knight on the feet, but Knight has more tools in his belt that he can use to win this fight. I'm backing Thick Willy here to get a big win for his career.
Mana Martinez vs. Ronnie Lawrence (Bantamweight)
Jackson: Lawrence
As long has Mana Martinez doesn't catch Ronnie Lawrence, I think this fight is a wrap. Lawrence has serious pace/output, along with serious wrestling ability. Mana Martinez is a decent striker with lots of regional KO's, but only edged out a victory over 41 year old bantamweight Guido Canetti in his UFC debut. Lawrence has shown that he is a legitimate UFC prospect, and Mana has not. I see Lawrence moving in and out a lot on the feet, touching Mana here and there, which will result on Mana swinging wildly, hitting air, and then Ronnie Lawrence taking him down as he over extends. Rinse, repeat - that is if Mana is able to get back up. Lawrence should dominate the grappling in this fight against a fighter that is questionably UFC-caliber.
Brandon: Lawrence
This could be ugly. For the past year, the MMA community has been touting some sort of "other-worldly power" that Mana Martinez possesses, and I simply don't see it. Yes, he knocked out eight people in lower promotions, but when faced with his first UFC opponent in Guido Cannetti, a 41 year-old fighter with 6 losses (all by finish), he demonstrated some of the worst fight IQ I've ever seen and a lack of power. He was lucky to win by split decision. On the other hand, Ronnie Lawrence had one of the most dominant debuts of the year last year, showing off effortless cardio, motor, and wrestling technique. Unless you were a friend or family member of Vince Cachero, it was beautiful to watch. I see no chance for Mana to avoid an onslaught of wrestling, and Lawrence grinds his way to another ground-and-pound finish or lopsided decision victory. Ronnie Lawrence, lock of the week.
Alexander Hernandez vs. Renato Moicano (Lightweight)
Jackson: Hernandez
I think this will be a really close fight, as both have the tools to significantly disrupt the other's game plans. Hernandez is a wrestler with power on the feet and decent striking, while Moicano has good striking with great output, and excellent jiu jitsu. Moicano probably wins the striking battle with output and good cardio, as Hernandez tends to gas, but Renato just isn't a lightweight, and he has proven that he already struggles taking a big shot. Hernandez does have big power, and could definitely KO Moicano. He also could wrestle Renato, but he may run into problems with Moicano's jiu-jitsu. The most one sided exchange will be if Renato gains top position, where I expect him to style if he gets the takedown. However, Hernandez is extremely strong. I think Hernandez will win this fight by either KO, or striking and mixing in the takedowns (while minding his business to not get submitted by Moicano). However, this fight is close, and Moicano definitely has paths to victory with point fighting and submissions.
Brandon: Hernandez
One way or another, someone (or both) will walk away from this fight with an extra 50 grand in their pocket. This is an incredible feat of matchmaking, pairing a high level Brazilian Jiu-Jitsu fighter in Moicano with a powerful striker and adept wrestler in Hernandez. Moicano has only lost to the best of the best in Aldo, Korean Zombie, Ortega, and Fiziev, but these were in his former division of Featherweight. He has no knockout power whatsoever in the Lightweight division, and although he is a rather technical striker, his striking only serves as a distraction before getting the fight to the mat. Unfortunately for Moicano, Hernandez is the superior wrestler, and he may struggle to get him down. Additionally, Moicano has a suspect chin, and Hernandez can throw some spectacular power shots. Ever since being violently humbled by Cowboy earlier in his career, Hernandez has really started to put the pieces together in his game, and is walking into this fight with real confidence, not the type he had when he ran his mouth to Cowboy. Hernandez takes this one in a banger of a fight.
Carlos Ulberg vs. Fabio Cherant (Light Heavyweight)
Jackson: Ulberg
Fight of the Year here folks. If this fight hasn't been on your radar, you better prepare yourself. This fight will be an absolute dumpster fire, as we have a 3-1 kickboxer that absolutely just throws hands paired against possibly the worst light heavyweight on the roster. This fight will last all of 3 minutes, as Ulberg will have thrown 150 strikes by that point and has either cracked the glass chin of Cherant, or has absolutely gassed and Cherant takes the kickboxer down and submits him with ease. I wouldn't lean heavily one way or another as both fighters STINK, save for one reason: it's clear that Cherant is a hand-picked opponent for Ulberg, given that he's getting to fight on his teammate Izzy's card, and Cherant is coming off of two horrible performances in the UFC. Thus, I'm gonna take Ulberg, who will likely knock Cherant out.
Brandon: Ulberg
This is just hilarious matchmaking - Jackson and I actually laughed when we saw this fight announced. If you haven't watched the Carlos Ulberg-Kennedy Nzechukwu fight, watch it. This fight featured two minutes of relentless output from Ulberg, and then his gas tank evaporated and the fight devolved into the fighters planting their feet in the ground and swinging wildly until their arms could barely move, with Nzechukwu finally knocking out Ulberg. However, after rewatching it for the 10th time, I saw some things I liked from Ulberg. He mixes in kicks creatively and effectively, and while he has the energy for it, is clearly a skilled kickboxer. I am taking Ulberg in part because of this, but equally as much because Cherant is simply not a UFC-caliber fighter. We have yet to see him use his ground game in the UFC, which he may look to utilize, but I don't think he gets the chance to. Ulberg by KO.
AJ Dobson vs. Jacob Malkoun (Middleweight)
Jackson: Malkoun
Man, it feels gross to pick Jacob Malkoun. But, I don't like at all what I saw from Dobson in his DWCS fight. His striking was incredibly wild, and he fights at a completely unsustainable pace. I see Malkoun being able to easily get takedowns when Dobson crashes in, and being able to zap that energy with control time, similar to Alhassan. However, it is entirely possible the Dobson catches Malkoun early, as he has done throughout his regional career. Generally, that fight style just doesn't work in the UFC. Look for a Malkoun decision here, or a late sub.
Brandon: Dobson
Malkoun is hard to evaluate. In his two UFC performances, he has been sent to the shadow realm in 17 seconds by Phil Hawes, and absolutely dominated Alhassan on the ground. It is clear he has striking deficiencies but strong wrestling, especially against those who are not competent wrestlers. Dobson, meanwhile, is a competent wrestler and a far better striker. Dobson certainly doesn't look to wrestle, but can use it when necessary and combine it with ground and pound as well, as he displayed on DWCS. If Dobson can stuff the takedowns enough times to have time to operate on the feet, which I think he will, look for him to put Malkoun away Phil Hawes-style.
Douglas Silva de Andrade vs. Sergey Morozov (Bantamweight)
Jackson: de Andrade
Not my most confident pick, but Douglas Silva de Andrade has quietly had an exceptional UFC career. Although never a contender, he has become an excellent gatekeeper, only losing to real prospects (his only losses in the UFC are to Petr Yan, Rob Font, Lerone Murphy, Zubaira Tukhugov), and he's even beaten Marlon Vera. Morozov is a very talented prospect with great wrestling and decent striking, but I'm going to lean with D'Silva until proven otherwise. His striking is ferocious, and I think he's strong enough and has decent enough BJJ to allow him to use his striking amid relentless takedown attempts from Morozov. Look for de Andrade by KO or possibly even a decision here.
Brandon: Morozov
I like this matchup a lot. It features a dangerous striker in Silva de Andrade and a talented wrestler in Morozov, and both know that their strengths in these areas are their paths to victory. D'Silva isn't the most technical striker, but he is a freak athlete with a ton of power for this division, often catching his opponent off-guard and securing a knockout, which he has done 20 times in his pro career (an insane number for a BW). On the other hand, after his loss to Umar Nurmagomedov and win over Khalid Taha, Morozov now knows that wrestling is where he can dominate, especially against a poor defensive wrestler in D'Silva. Morozov finds a way to get this fight to the mat, and wins by decision.
Jeremiah Wells vs. Blood Diamond (Welterweight)
Jackson: Wells
I don't expect this fight to be close. If it is, it's because Wells is fighting a horrible game plan. He's an extremely strong and powerful fighter, with a Renzo Gracie black belt, facing a 3-0 former kickboxer. Wells should have no problem taking Blood Diamond down and submitting him, as Blood Diamond almost certainly lacks the ground game to defend Wells'. Given Wells' pace, this fight will be over the first. He has serious power and could probably catch Blood Diamond as well, but he should just use his explosive and raw strength to take Blood Diamond down and pound him out or submit him. However, I guess there is a chance that Blood Diamond catches Wells in his reckless attack, or Wells gasses in the first and Blood Diamond knocks him out late/gets a decision victory. Nonetheless, I'm riding with Jeremiah here, almost certainly by finish.
Brandon: Wells
The highly-anticipated debut of Blood Diamond has finally arrived, and he is immediately being thrown into the fire in somewhat of a matchup nightmare. While Blood Diamond is clearly an experienced and talented kickboxer, as an Adesanya prodigy and with 50 professional kickboxing fights under his belt, his MMA game lacks many of the facets involved in MMA. Wells is as tough as they come, and I don't see Blood Diamond being able to knock him out. Wells can take him down or keep it standing, and although the ground is a much safer route for Wells, I think he has Blood Diamond beat. Wells gets a finish here.
Find more sports picks from the top sports bettors and UFC and MMA experts all in one place using our iOS and Google Play apps, as well as our other articles at Kingpin.pro. We are the home for UFC and MMA picks, sports picks and sports betting.
#1

last 30 days winnings
$1,050
#2