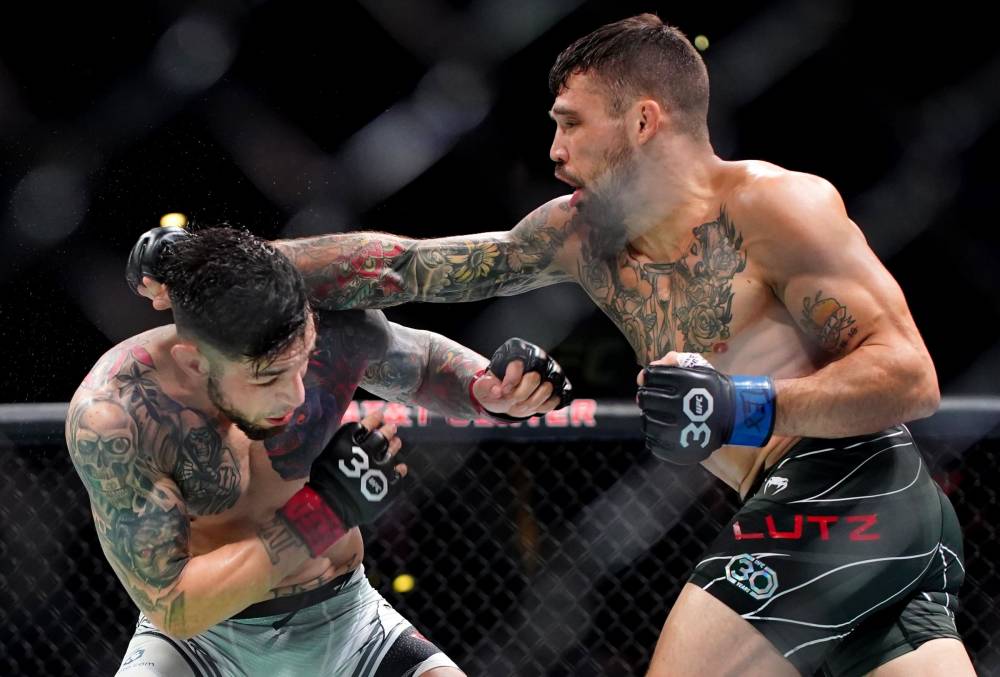 Tucker Lutz vs Melsik Baghdasaryan Prediction UFC Picks
Jul 11, 2023, 2:41:35 AM
© Aaron Meullion-USA TODAY Sports
Tucker Lutz vs Melsik Baghdasaryan: Fight Preview
In this highly anticipated bout, Tucker Lutz and Melsik Baghdasaryan will square off in the octagon. Both fighters have impressive records and skill sets, making this an exciting matchup for fans. Tucker Lutz, with a record of 12-3-0, stands at 5'8" and weighs in at 145lbs. Known for his orthodox stance, Lutz possesses a reach of 72". Lutz has showcased his striking ability with a significant strike accuracy of 49% and an impressive striking defense of 45%. He also displays strong takedown skills, with an average of 1.77 takedowns landed per 15 minutes and a takedown accuracy of 50%. On the other side, Melsik Baghdasaryan holds a record of 7-2-0. Standing at 5'9" and weighing 145lbs, Baghdasaryan utilizes a southpaw stance and has a reach of 70". Baghdasaryan is known for his exceptional striking, with a significant strike accuracy of 61% and a striking defense of 55%. Although he may not have as much experience in takedowns, his takedown defense is impressive at 76%. Both fighters have faced tough opponents in their careers and have showcased their skills in various UFC events. Lutz's most recent loss came against Daniel Pineda, while Baghdasaryan suffered a defeat against Josh Culibao. However, they have also displayed their resilience and capabilities with notable victories. With both fighters possessing strong striking abilities and well-rounded skill sets, this fight is expected to be a thrilling clash in the octagon. Fans can anticipate intense stand-up exchanges and potentially explosive finishes. As Lutz and Baghdasaryan step into the cage, they will undoubtedly be looking to make a statement and secure a victory. Don't miss this exciting showdown between Tucker Lutz and Melsik Baghdasaryan at UFC Fight Night: Holm vs. Silva.
Tucker Lutz
Tucker Lutz is known for his impressive striking skills inside the octagon. With a professional record of 12-3-0, Lutz has proven himself as a formidable opponent in the featherweight division. Standing at 5'8" and weighing 145lbs, Lutz possesses a reach of 72 inches. He fights in the orthodox stance and was born on July 12, 1994. Let's take a closer look at his striking statistics: - SLpM (Significant Strikes Landed per Minute): 4.04 - Str. Acc. (Significant Striking Accuracy): 49% - SApM (Significant Strikes Absorbed per Minute): 3.02 - Str. Def. (Significant Strike Defense): 45% These numbers indicate Lutz's effectiveness and precision on his feet. He lands significant strikes at a rate of 4.04 per minute, showcasing his offensive capabilities. His striking accuracy stands at 49%, indicating that almost half of his strikes find their target. Defensively, Lutz showcases a 45% strike defense, meaning that he's able to avoid nearly 55% of his opponents' strikes. This showcases his ability to move and evade strikes effectively. In addition to his striking, Lutz also has a well-rounded game. He has an average takedown per 15 minutes of 1.77, with a takedown accuracy of 50% and a takedown defense of 69%. This demonstrates his ability to mix up his attacks and utilize his grappling skills when needed. With an average of 0.2 submissions attempted per 15 minutes, it is evident that Lutz's focus primarily lies on his striking game. In his previous fights, Lutz has faced tough opponents such as Daniel Pineda, Pat Sabatini, and Kevin Aguilar. He has showcased his striking prowess in these matchups and has secured victories against high-level competition. As Lutz prepares for his upcoming fight against Melsik Baghdasaryan, it will be interesting to see how his striking skills match up against his opponent's style. Baghdasaryan also possesses impressive striking statistics, making this an intriguing matchup in the featherweight division. Overall, Tucker Lutz's striking skills, combined with his well-rounded game, make him a formidable force in the featherweight division. Fans can expect an action-packed fight whenever Lutz steps inside the octagon.
Melsik Baghdasaryan
Melsik Baghdasaryan has proven himself to be a force to be reckoned with in the striking department. With a record of 7-2-0, Baghdasaryan has consistently showcased his impressive striking skills in the octagon. Standing at 5'9" and weighing 145lbs, Baghdasaryan possesses a reach of 70". He fights primarily in a southpaw stance, which presents a unique challenge for his opponents. Baghdasaryan's significant strikes landed per minute (SLpM) average is an impressive 5.63, with a striking accuracy of 61%. This means that he is not only able to throw a high volume of strikes, but he also lands them with precision and accuracy. His opponents struggle to defend against his striking onslaught, as his significant strike defense percentage stands at 55%. One of Baghdasaryan's notable strengths is his ability to avoid takedowns. He has an impressive takedown defense percentage of 76%, meaning that opponents have a difficult time taking him down to the mat. Additionally, his average takedowns landed per 15 minutes is 0.00, showcasing his preference for staying on his feet and utilizing his striking skills. In his recent fights, Baghdasaryan has put on impressive performances. He secured a victory against Collin Anglin with a knockout via kick in the second round, demonstrating his power and precision in his strikes. In another fight, he defeated Dennis Buzukja via unanimous decision, highlighting his ability to consistently land significant strikes throughout the duration of the fight. With his impressive striking statistics and notable victories, Melsik Baghdasaryan is undoubtedly a force to be reckoned with in the striking department. His precision, power, and ability to avoid takedowns make him a formidable opponent for anyone in the UFC featherweight division.
Prediction
This matchup promises to be an exciting one, as both Lutz and Baghdasaryan possess solid skills in their respective areas. Lutz's well-rounded game and grappling ability might give him an advantage in this fight. Baghdasaryan's striking prowess can be dangerous, but Lutz's ability to mix striking with takedowns might disrupt Baghdasaryan's rhythm and control the fight.
Considering their recent performances, Lutz should enter the fight as the favorite. If he can implement his game plan and avoid getting caught in Baghdasaryan's striking, he has a good chance of securing a victory, possibly via decision or submission.
However, Baghdasaryan has shown the ability to finish fights with his striking, so he cannot be counted out. If he can keep the fight on the feet and land clean shots, he may find success against Lutz.
Ultimately, this fight has the potential to be a closely contested battle, with both fighters showcasing their skills. Fans can look forward to an action-packed matchup that will likely go the distance.
Pick: Melsik Baghdasaryan (+150)
#1

#2