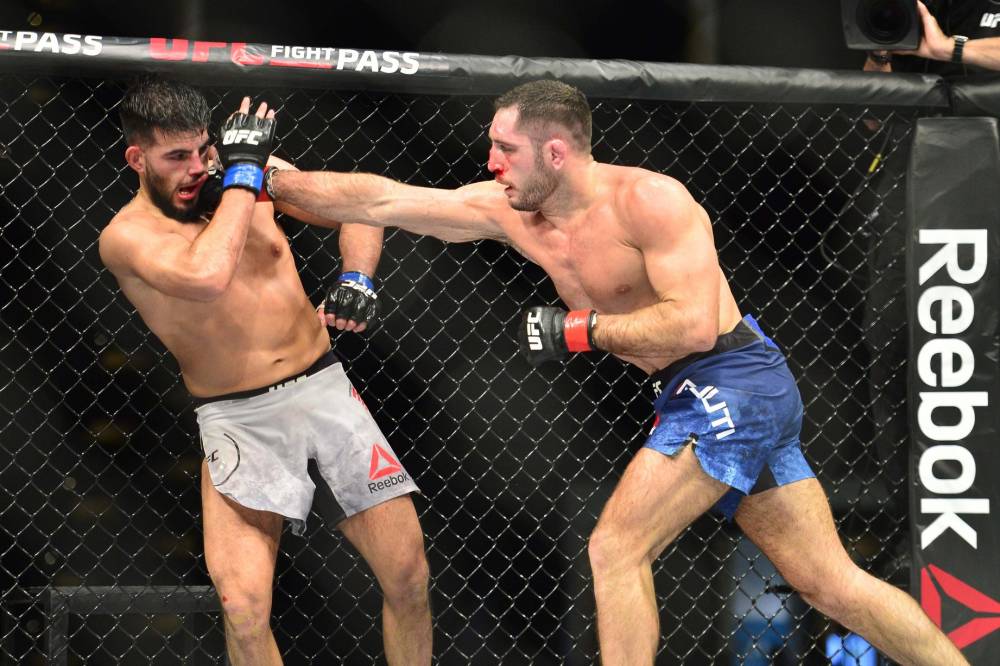 Thibault Gouti vs Kane Mousah Prediction Bellator 296 5/12
May 12, 2023, 1:42:31 AM
© Trevor MacMillan-USA TODAY Sports
Introduction
Bellator 296 is set to take place on May 12, 2023, at the Accor Arena in Paris, France. Among the exciting lineup of bouts, one that catches the attention of fans and analysts alike is the lightweight clash between Thibault "GT" Gouti and Kane "The Danger" Mousah. This article will provide an extensive review of both fighters and offer a prediction for how the fight will unfold.
Before we delve into the analysis, it's worth mentioning that KingPin.pro offers comprehensive MMA picks and parlays, including Bellator fight predictions and Bellator picks. To stay up to date with expert predictions and maximize your chances of success, make sure to download the KingPin.pro iOS and Android app.
Thibault "GT" Gouti: Determined to Make an Impact
Thibault Gouti enters the Bellator 296 bout with a professional MMA record of 16-6-0. The French lightweight fighter, known by his nickname "GT," has showcased his skills and resilience throughout his career. Gouti, fighting out of Albuquerque, New Mexico, is affiliated with Sausset FightTeam and has accumulated a wealth of experience competing in various promotions.
At 36 years old, Gouti remains an ambitious fighter, determined to make his mark in the Bellator lightweight division. Standing at 5'10" with a reach of 73.0 inches, he possesses solid physical attributes for the weight class. Gouti's fighting style is well-rounded, with a focus on striking and grappling techniques.
Analyzing Gouti's fight record, it's evident that he has found success in different areas. He has secured six wins via knockout or TKO, demonstrating his striking prowess. Gouti has also displayed a knack for submissions, with six submission victories in his career. His ability to finish fights both on the feet and on the ground makes him a dangerous opponent for anyone in the division.
However, it's important to note that Gouti has had his fair share of setbacks. In the UFC, he faced a challenging period, with five losses in six fights. Nevertheless, Gouti showed resilience and bounced back with a win in his Bellator debut. The victory served as a reminder of his skills and determination to succeed at the highest level.
Now facing Kane Mousah, Gouti recognizes the importance of this bout in solidifying his position in the Bellator lightweight division. He will undoubtedly bring his best to the Octagon, showcasing his striking precision, grappling ability, and overall fighting spirit.
Kane "The Danger" Mousah: A Test for Gouti's Ambitions
Kane Mousah, also known as "The Danger," brings his own set of skills and experiences to the Bellator 296 lightweight matchup. With a professional record of 14-4-0, the English fighter has accumulated a wealth of experience in promotions such as Bellator and ACB.
At 36 years old, Mousah shares the same age as his opponent, Thibault Gouti. Standing at 5'8" with a reach of 68.0 inches, he may have a slight disadvantage in terms of height and reach compared to Gouti. However, Mousah has proven time and again that he can overcome physical disadvantages with his technical skills and fighting IQ.
Mousah's fighting style is dynamic and adaptable. He possesses strong striking capabilities, often utilizing his boxing skills to deliver precise and powerful strikes. Additionally, he is well-versed in grappling, with a solid wrestling base and the ability to control his opponents on the ground. Mousah's versatility in both striking and grappling allows him to dictate the pace and style of the fight, making him a formidable opponent.
Analyzing Mousah's fight record, it's evident that he has faced tough competition throughout his career. In his previous Bellator bout, he secured a unanimous decision victory over Georgi Karakhanyan, showcasing his ability to outwork and outstrike his opponent over the course of three rounds. Mousah's victories have come through a combination of knockout/TKO, submissions, and decisions, demonstrating his well-rounded skill set.
With his experience in Bellator and other notable promotions, Mousah understands the significance of this bout against Gouti. A win over a seasoned fighter like Gouti would solidify his position in the lightweight division and potentially open doors to higher-profile matchups in the future. Mousah's motivation and hunger to succeed will undoubtedly be on display when he steps into the Octagon.
Prediction
When analyzing the strengths and weaknesses of both fighters, it becomes clear that Thibault Gouti and Kane Mousah are evenly matched. Gouti's well-rounded skill set and determination to prove himself will make him a tough challenge for Mousah. However, Mousah's technical prowess and ability to adapt to various styles give him the edge in this bout.
Despite their best efforts, it's unlikely that either fighter will be able to finish the other. Both Gouti and Mousah have shown resilience and durability in their previous fights, with a track record of going the distance. This matchup is expected to be a closely contested battle, with both fighters pushing the pace and testing each other's skills.
Therefore, the prediction for the Gouti vs. Mousah fight at Bellator 296 is that it will go the distance, resulting in a hard-fought decision victory for Kane Mousah. His ability to control the range and dictate the pace, combined with his technical striking and grappling, will likely earn him the judges' favor. However, Gouti will undoubtedly put up a strong fight, showcasing his determination and resilience until the final bell.
Pick: Fight to go to distance Yes -200
Upgrade to View Prediction
#1

#2

last 30 days winnings
$4,740
#5