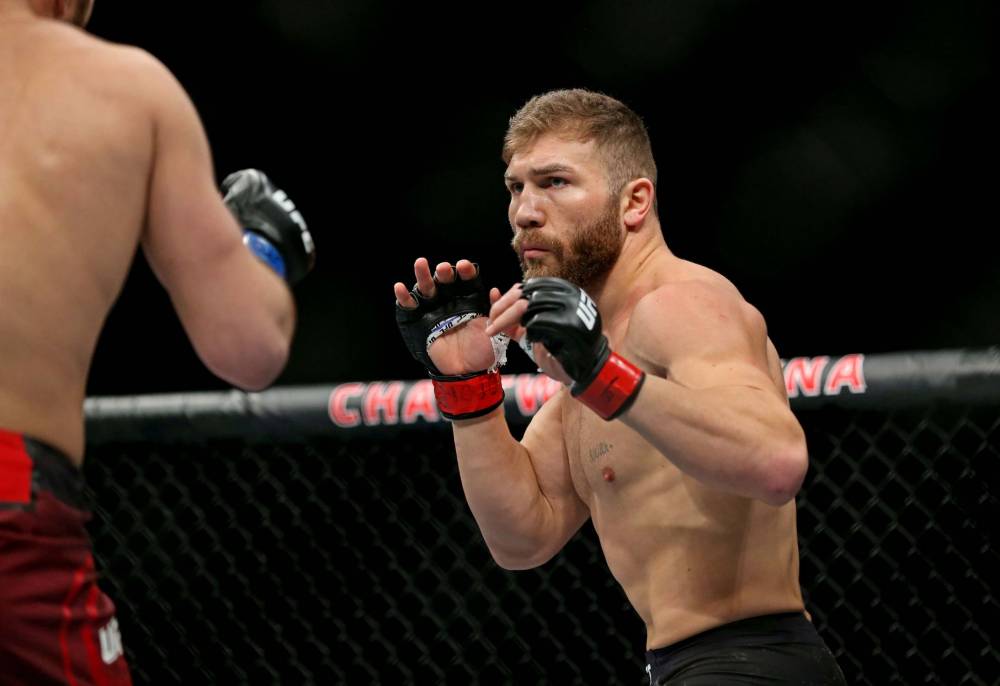 Tanner Boser vs Ion Cutelaba Prediction UFC Fight NIght 4/15
Apr 14, 2023, 7:11:09 PM
© Peter Casey-USA TODAY Sports
Tanner Boser vs Ion Cutelaba: Fight Preview
Two powerhouse fighters are set to clash in the octagon – Tanner Boser and Ion Cutelaba. Boser, also known as "The Bulldozer", has a record of 20-9-1 and stands at 6'2" tall, weighing in at 205lbs. He boasts an impressive striking accuracy of 52%, and his opponents find it tough to land significant strikes on him with a striking defense of 62%. On the other hand, Ion Cutelaba, also known as "The Hulk," has a record of 16-9-1 (1NC) and stands at 6'1" tall, weighing in at 205lbs. Cutelaba is a southpaw fighter with an average of 4.7 takedowns landed per 15 minutes, and he has an outstanding takedown defense of 77%. The clash between Boser and Cutelaba is expected to be a battle of strength and endurance. Boser will be relying on his striking skills to take down Cutelaba, who is known for his grappling skills. Cutelaba, on the other hand, will look to use his takedowns and ground game to control Boser. This fight is a thriller as both fighters are coming off losses and will look to re-establish their dominance in the division. It's expected to be a highly competitive bout with both fighters pushing each other to the limit. Who will emerge victorious? Only time will tell.
Tanner Boser's Striking Style and Ability
Tanner Boser has built his reputation as a knockout artist with tremendous striking skills, winning nine of his 20 victories via KO/TKO. The Canadian fighter has a high significant strikes landed per minute rate of 4.21 and an impressive striking accuracy of 52%. Boser uses his footwork and speed to move around the octagon and set up his powerful punches and kicks. In his last fight, Boser faced Ilir Latifi and showed his ability to adjust to his opponent's game plan. He used his size and reach advantage to keep Latifi at bay and landed significant strikes from a distance. Boser also showcased his strong chin as he absorbed several heavy blows from Latifi and continued to press forward. Boser's striking style can be described as efficient and technical, but he is not afraid to throw bombs and finish fights. He has a tendency to rely heavily on his striking and often avoids grappling exchanges, but when he does engage in grappling, he has a solid takedown defense of 64%. Overall, Tanner Boser's striking skills make him a dangerous opponent for anyone in the light heavyweight division. He has the power to end any fight with one punch or kick, and his technical ability allows him to outstrike his opponents for the duration of the fight.
Tanner Boser's wrestling abilities
When it comes to wrestling, Tanner Boser may not be the most dominant fighter in the UFC light heavyweight division, but he certainly holds his own. In fact, he has a 64% takedown defense, which means he has successfully defended against two-thirds of takedown attempts made against him. This means that he is difficult to take down and typically keeps the fight on the feet. Boser's takedown accuracy is not high, sitting at 0%, which means that he does not rely on takedowns as a means to win fights. Instead, he primarily relies on his striking abilities, which contribute to his 4.21 significant strikes landed per minute and 52% significant striking accuracy. His more recent fights have seen him go to decision and his opponents try to take him down, but Boser's takedown defense has been successful against them. While his wrestling may not be his strongest suit, he has shown that he can defend against it and keep the fight standing where he excels.
Ion Cutelaba's Striking Abilities
Ion Cutelaba, also known as "The Hulk", has a striking style that's both aggressive and powerful. This Moldovan fighter has exceptional striking abilities with a plethora of techniques and striking combinations to his credit. Cutelaba lands an average of 4.43 significant strikes per minute with an accuracy of 42%. He absorbs an average of 3.30 significant strikes per minute and has a significant strike defence rate of 47%. Cutelaba's style is characterized by heavy strikes that often land with great force, making it challenging for opponents to withstand his attacks. Cutelaba's striking prowess is complemented by his wrestling skills. With an impressive takedown average of 4.70 per 15 minutes and an accuracy rate of 57%, Cutelaba is a formidable wrestler. His opponents also find it difficult to take him down, as he has a takedown defence rate of 77%. Cutelaba's striking arsenal includes a variety of punches, kicks, and knees. He's a southpaw and uses his left hand to great effect, setting up his powerful left hooks to do the most damage. Additionally, Cutelaba employs leg kicks, which he utilizes to disrupt an opponent's rhythm and balance. His knee technique is also one to look out for, often landing as mid-air strikes. In conclusion, Ion Cutelaba's striking style is dynamic, aggressive, and powerful. His striking abilities are well complemented by his wrestling, making him a dangerous opponent in the octagon. For these reasons, Cutelaba is a fighter to watch out for in the UFC.
Ion Cutelaba Wrestling
Ion Cutelaba, also known as "The Hulk," is a Moldovan mixed martial artist who has a background in Greco-Roman wrestling. This background has helped him tremendously in his UFC career, as he has been able to use his wrestling skills to take down opponents and control them on the ground. Cutelaba's wrestling abilities were on full display in his fight against Devin Clark in September 2021. He was able to take down Clark multiple times and control him on the ground for the majority of the fight, ultimately winning via unanimous decision. However, Cutelaba has also had some struggles with his wrestling. In his fight against Magomed Ankalaev in February 2020, Ankalaev was able to defend all of Cutelaba's takedown attempts and keep the fight standing, eventually winning via knockout in the first round. Overall, Cutelaba's wrestling abilities make him a dangerous opponent for anyone in the UFC's light heavyweight division. If he is able to get his opponents to the ground, he has the grappling skills to control them and potentially finish the fight with a submission.
How Tanner Boser Can Win Against Ion Cutelaba
To win against Ion Cutelaba, Tanner Boser needs to utilize his superior striking ability and avoid getting taken down. Boser has a 62% significant strike defense, which means he can defend against Cutelaba's strikes effectively. Boser can also use his reach advantage to keep Cutelaba at bay and prevent him from getting close for a takedown. Boser should also try to tire out Cutelaba by keeping the pace high and pushing the fight into the later rounds. Cutelaba has a high takedown average, but his takedown accuracy drops to 57%, and his takedown defense is 77%. Boser can exploit this by defending against takedowns and landing strikes on Cutelaba as he shoots for a takedown. Boser has a better overall record than Cutelaba, with more wins and a higher win percentage. If Boser can maintain his composure and execute his game plan, he has a good chance of coming out on top in this fight.
How Ion Cutelaba Can Win
Ion Cutelaba can win by utilizing his superior wrestling skills and taking Tanner Boser to the ground. Cutelaba has an impressive takedown average of 4.7 per 15 minutes and a takedown accuracy of 57%, which could prove to be a challenge for Boser to defend. Additionally, Cutelaba should focus on his striking defense, which currently stands at 47%, and avoid getting caught with Boser's significant strikes. If Cutelaba can control the fight on the ground and limit Boser's striking opportunities, he has a good chance of winning by decision or possibly even securing a submission.
Prediction
While Ion Cutelaba has a solid record and impressive takedown statistics, his striking defense leaves something to be desired. Boser, on the other hand, boasts a solid striking accuracy and defense, and has shown the ability to finish fights with his striking. While Cutelaba could potentially take the fight to the ground and control from top position, I believe Boser's striking will be too much for him to handle. Look for Boser to pick apart Cutelaba on the feet and secure a finish in the later rounds.
Pick: Tanner Boser (Moneyline) +110
Upgrade to View Prediction
#1

#2